BimmerWorld Racing is Eager for IMSA MICHELIN Pilot Race and Challenges of Sebring
March 12th, 2019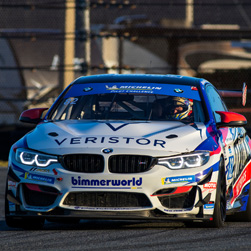 The BimmerWorld Racing team of owner/driver James Clay of Blacksburg, Va. and co-driver and reigning ST champion, Devin Jones of Mooresville, Va., are prepared and eager to face the challenges of the 3.74-mile, 17-turn Sebring International Raceway, March 14-15 for the Alan Jay Automotive Network 120. The two-hour race is round 2 of the 2019 IMSA MICHELIN Pilot Challenge series.
Clay and Jones will compete in the BimmerWorld Racing No. 82 OPTIMA Batteries/Veristor BMW M4 GT4 in the GS class. After finishing fourth in the four-hour season opener at Daytona, they are ready for the flat but bumpy former Sebring airfield circuit that is renown for its legendary 12-hour race.
Clay has competed at Sebring for over 20 years and understands the distinctions that are unique to this classic circuit. Jones has raced nearly a third fewer times and is still attempting to master the perfect lap, especially in the always challenging final turn, but he loves the test it provides and is honored to compete at this exceptional circuit. Experience is key at Sebring, and the BimmerWorld team has an abundance of that.
The two-hour race format should see plenty of action as 43 cars take to the track, with 28 GS class entries expected and 15 TCR class cars in the two-class MICHELIN Pilot series. With high temperatures expected to reach the mid-80 degrees range, heat could be a compelling factor in the Florida race outcome.
Thursday features two morning practice sessions, one at 8:30 a.m. for an hour and the second from 11:30-12:15. Practice three runs from 5:30-5:45 p.m. with qualifying scheduled for 6:15-6:30 p.m. for the GS class. The two-hour race starts on Friday afternoon at 12:05 p.m. All times are Eastern.
The Alan Jay Automotive Network 120 race can be viewed live on Friday, March 15 from 11:55 a.m.-2:05 p.m. ET on IMSA.tv. The race will be broadcasted on Thursday, March 28, 2019, from 3:00 p.m.-5:00 p.m. EDT on NBC Sports Network.
Pre-race quotes follow
James Clay, Blacksburg, Va., team owner and driver, No. 82 OPTIMA Batteries/Veristor BMW M4 GT4:
The No. 82 OPTIMA Batteries/Veristor BMW M4 GT finished 4th at Daytona in the first race of the IMSA MICHELIN Pilot Challenge series. What have you done to prepare yourself and the car for the race at Sebring?

"I think we came into Daytona ready for the season, and I'd like to think we can stay slightly ahead of the curve. We had a somewhat odd car issue earlier in the race, but the guys dug in hard, and I feel like we have our head around it now. I've been in a GT4 working with our engineer, Wayne, to develop the car for another series, and that exercise keeps us sharp for our IMSA work."
How did you and Devin get along as teammates, and what are your goals for the second race of the year?

"I didn't know what to expect from Devin in that close working relationship as co-drivers; he was solid and a great addition to the 2018 team, but that was the first year we had run two cars but in separate classes, so we didn't interface on the technical aspect. But I think it was immediately obvious from the Daytona Roar test that Devin is fast, a hard worker, and a good decision maker, and developing the car is a very collaborative effort between us. I think through this season, we're focused on wins and podiums, and I think we have the elements to make it happen."
You've been racing at Sebring for over twenty years. How is this track unique to you, and what are some of the challenges you know you are going to face?
"Sebring is a unique track in our series because it's mostly flat with not much elevation or camber, and of course, it's super bumpy. And this week it looks like it will be very hot, which our BMW doesn't always love. I think we come to this event knowing the car and track and how to make it work well, and the heat will be a big factor in the race."
You and Tyler Cooke had a pole position and finished on the podium in 2016 at this track. What is it going to take to do it again this year?

"In this year's almost 30-car GT4 field, capability and execution are enough to get you in the top half, and it's a lot of work and a little luck to move to the top of the pack. But we're consistently there, so we'll see how it goes."
Assess the competition for us going into this Sebring race.
"The McLarens were rockets at Daytona, and at the tail end of last year as well, and the weight adjustment should put them more in line with the field. I'm very aware of the new Porsche's strength, and I think we haven't seen their full strength yet. I like our driver and team package on a level playing field and think we would be at the top, but in modern racing, the Balance of Performance is a major factor, and I think we'll see where it sits once we get close to race time in Florida."
Devin Jones, Mooresville, N.C., driver, No. 82 OPTIMA Batteries/Veristor BMW M4 GT4:
You and James did really well at Daytona and barely missed out on a podium spot. What have you done to prepare yourself for a podium finish at this upcoming Sebring race?
"It was great to start the season with a top-5 finish. We're really excited for Sebring and seeing where we stack up again in the competitive GS field. Sebring is a tough track to prepare for because it's so unique, but the BimmerWorld guys always give us a car that can win any weekend, so we plan to hit the ground running right off the trailer."
This is about your seventh time to compete at the Sebring circuit. What have your previous race experiences and results prepared you for up to this point?
"I've been coming to Sebring for some time now; it's crazy how fast time goes by. I've always loved this track but haven't won here yet. I've raced here in IMSA, MX-5 Cup, and even some formula car races, but the luck has never completely fallen my way to get into victory circle at Sebring, so I am really motivated to make this the year it finally comes together."
What do you like best about the Sebring circuit? What is the most challenging?

"This track is legendary in so many ways. It just has a special vibe when you drive in; you have to respect the track. I always think turn 17 is one of the most challenging corners, not only at Sebring but in all of North America. It's so unique to any corner in racing—super bumpy and little room for error. It's an epic part of the track; there are so many ways to go fast through there, and it's hard to get perfect."
You and James co-drove together for the first time at Daytona in January. How did that go, and what are you working to improve for the second round?
"It's been an honor to drive with James. He has so much knowledge and experience; I can learn a lot from him. We both also seem to like similar setups in the car, which is always a big advantage with co-drivers. I'm looking forward to continuing to lean on him for knowledge and to learn from each other to make us, as a team, the best we can be for each race this year."
Sebring is a special little town. What do you like to do outside of the race track at Sebring?
"It's a unique place. I love coming down here! It's a festival and a huge party, especially in the infield. I expect this year to be the most packed it's been in years with the huge amount of racing slated for the whole week."
FOLLOW BIMMERWORLD AT: https://www.facebook.com/bimmerworld
STAY UP TO DATE WITH BIMMERWORLD NEWS AT: http://www.bimmerworldracing.com
ABOUT: BimmerWorld is renowned as a leader in BMW aftermarket and tuning expertise. It competes in the IMSA MICHELIN Pilot Challenge series in the Grand Sport (GS) class with a BMW Motorsport M4 GT4, where the Virginia-based outfit has become a winner and championship contender. It was also the Street Tuner champion of that series in 2018. 2019 also marks BimmerWorld Racing's return to the SRO TC America Championship in the Touring Car (TC) class with two BMW Motorsport M240i Racing cars.
Tags