BimmerWorld Racing Announces Return to SRO TC America Championship
February 20th, 2019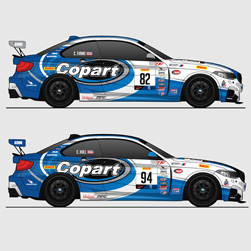 BimmerWorld Racing is proud to announce a two-car entry for the SRO TC America Championship (formerly Pirelli World Challenge), running in all seven races beginning with the opening round at Circuit of The Americas in Austin, Texas on March 1-3, 2019. The new team marks a full-time touring car return for James Clay's BimmerWorld squad after a nine-year full-season gap and features the professional series debuts of Cameron Evans (No. 82) and Chandler Hull (No. 94) in a pair of BMW M240i Racing entries.
The new TC America championship and its Touring Car (TC) category features a seven-event championship with 40-min sprint races at many of the most legendary road racing circuits in the United States; such as VIRginia International Raceway, Sonoma Raceway, Road America, and Watkins Glen International.
"I'm excited to be back in this familiar series again for a full season," said Clay, whose team also runs an IMSA BMW M4 GT4 effort. "We are beyond honored to have the opportunity to lead and manage a team sponsored by industry-leading companies like Lund International. BMW has provided us with amazing cars, and their Customer Racing program offers support of the highest caliber, giving us a true partner to allow our race team to run so many different cars and series."
Additional sponsorship for the team comes from OZIUM Air Sanitizer, Cyclo Industries, Red Line Synthetic Oil, Lifeline Fire and Safety Systems, AMP Research, and Performance Friction Brakes.
"I feel a bit like we've gotten the band back together for this season," said Clay. "Our team engineer, Dave Wagener, is a close friend and has engineered a variety of BimmerWorld programs over the last decade, including our M240i cars at Germany's Nürburgring 24-Hour endurance race. Our staff is led by Dave Simpkins, who has been with our team for almost 20 years. My longtime friend Cameron will be making his long-awaited pro debut along with pro rookie Chandler, who I've closely worked with as he has developed over the past year."
Cameron Evans said, "I have been logging a lot of miles on tracks in America and lately in Europe working for an opportunity like this. We have to thank our team owner for believing in us and pulling together the sponsorship to make it a reality. James Clay and his BimmerWorld team are like family to us, so the work we put into getting on track has been very rewarding. Now, we need to dig in and get results in this hyper-competitive series."
Chandler Hull added, "2018 involved working up to the speed of these BMWs, and it has been a whirlwind to get here. It's been hard work, but very satisfying at the same time and I have received tremendous support and coaching from my teammate Cameron, as well as James Clay and Tyler Cooke. Now it's time to put it all together and have a great season! I'm confident we're ready."
FOLLOW BIMMERWORLD AT: https://www.facebook.com/bimmerworld
STAY UP TO DATE WITH BIMMERWORLD NEWS AT: http://www.bimmerworldracing.com
ABOUT: BimmerWorld is renowned as a leader in BMW aftermarket and tuning expertise. It competes in the IMSA MICHELIN Pilot Challenge series in the Grand Sport (GS) class with a BMW Motorsport M4 GT4, where the Virginia-based outfit has become a winner and championship contender. It was also the Street Tuner champion of that series in 2018. 2019 also marks BimmerWorld Racing's return to the SRO TC America Championship in the Touring Car (TC) class with two BMW Motorsport M240i Racing cars.
Tags