BimmerWorld Racing Proves It's Not Over Until It's Over at Daytona
January 28th, 2019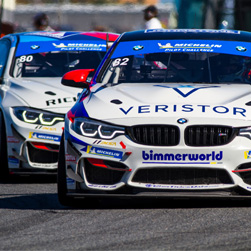 Championship-winning athletes stick to their game plan despite what the competition is doing, think independently when necessary, keep persevering, and pounce when opportunity knocks. BimmerWorld Racing's James Clay and Devin Jones showed all of those attributes in Friday's season opener for the IMSA MICHELIN Pilot Challenge series and came away with a solid fourth in the BMW Endurance Challenge at Daytona International Raceway. The finish was a thriller, as their car advanced three positions in the last three minutes of the four-hour race.
James Clay, of Blacksburg, Va., started ninth. He stayed at the controls of his Dublin, Va.-based team's No. 82 OPTIMA Batteries/Veristor BMW M4 GT4 for the entire first half of the race, despite watching his main rivals peel into the pits during three of the race's nine caution flags in an attempt to gain an advantage with their teams' strategies. He stuck to his guns and didn't let them affect his team's master plan, and he also dealt with an unusual power problem with the No. 82.
Clay made two pit stops under yellow flags on lap 18 and 30, had a tremendous battle with Austin Cindric, stayed out of trouble even when Fred Poordad spun in front of him, and was eighth when he pitted for Jones to take over under the fifth yellow with 2:01.40 remaining.
Devin Jones, of Mooresville, N.C., was unable to get a good rhythm going initially due to more caution flags. He also had to deal with the major disadvantage of no radio contact with the pits and its spotters through his entire stint. But the series' 2018 Street Tuner co-champion responded like the champ he is, setting the car's fastest lap of the race on lap 77 with a time of 1:53.792. Jones led laps 78 and 79 before the team requested a black flag be displayed to signal him to come in for his final pit stop for fuel and a set of fresh Michelin tires on lap 80.
The stop put Jones back in 19th place, and at one point he was a lap down, but once again the team stuck to its plans and kept digging. Jones was 15th with 30 minutes remaining, and he was 12th when the final full-course caution flew with 15:29 left. He had a great car under him, but with three minutes left, Jones was still in seventh place. He wasn't done passing cars, though. In 6th with just 1:19 to go, Jones took advantage of the two cars battling ahead which gave him the massive Daytona two-car draft in the last turn of the last lap before taking the checker about a nose ahead of the other two, nailing 4th-place when the checkered flew on lap 101 for the thrilling finish.
A second BimmerWorld BMW M4 GT4 driven by Kaz Grala of Westborough, Mass. and Aurora Straus of Cold Spring, N.Y. started 16th but cut a tire very early in the race and had to spend a great deal of time in the pits and the garage for repairs. The team worked hard to get the car back into the action, and both drivers got some time behind the wheel. Their car, sponsored by Richard Mille watches and Straus's Girls With Drive program, was credited with a 30th-place finish in the Grand Sport class. Straus set that car's fastest lap of the race with a 1:54.847 on lap 57.
Friday's race will be shown on NBCSN from 1 p.m. to 3 p.m. Eastern on Wednesday, Feb. 6.
This race supported the Rolex 24 at Daytona. The next event will be held March 13-16 at Sebring, Fla., as part of the Mobil 1 Twelve Hours of Sebring weekend.
Post-race quotes follow:
James Clay, Blacksburg, Va., team owner and driver, No. 82 OPTIMA Batteries/Veristor BMW M4 GT4:
"We had a tenth-place qualifying and the car had better in it. But then at the start of the race, there was something wrong with the power. Last year here we had a good car on the straights, and we were pretty much lining up and passing people. There wasn't a single car I could even hold on to in the draft today.
"We reset after the first stint, and we feel like it got better, or we think there was some sort of ECU compensation or something going on. We're going to dig into it. Obviously, towards the tail end of the race, we had the power and could hang with cars on the straight. Devin did an awesome job with that last few laps and last-lap pass. We didn't have a fourth-place car today, but we had a team to pull out a fourth-place finish out of a top-10 car. So this was just a super way to start the season. If you're not going to win it, this is OK too.
"The No. 80 car started off with a flat tire when someone got a nose in and damaged an upright in the same bit of contact, and it was just fighting from there. We replaced some car parts in the garage. It wasn't the race they wanted, but it was great to have BMW with us to run that historic livery, which is one of my favorites. I absolutely love it. It was a real pleasure having Aurora and Kaz with us. They were great to work with and they're great upcoming drivers."
Devin Jones, Mooresville, N.C., driver, No. 82 OPTIMA Batteries/Veristor BMW M4 GT4:
"This was a really wild race! James did a good job managing the car at the beginning and keeping it right where we needed to be. Our pit strategy worked out well, but I had no radio communication the whole time, so I was out there by myself. That made it kind of difficult to judge when I needed to come in.
"I was thinking I needed to come in at the same time they threw the black flag for me because I was watching the gauges. I barely knew it was the white flag [last lap], and I tried to time it right to get around those last two cars at the end and it worked out.
"I have to thank BimmerWorld. They gave me a really awesome car and it handled well. I have to thank OPTIMA Batteries and Veristor, too. I think this is going to be a really good year for us."
Kaz Grala, Westborough, Mass., driver, No. 80 Richard Mille/Girls with Drive BMW M4 GT4:
"It was an eventful race not only for us but for others too. It was too eventful for us, unfortunately. We cut a tire early and spent about an hour in the garage trying to fix the damage and eventually got back out there. We were pretty good and had a good car from there, but we were just so far behind. But Aurora and I had fun. It was a cool event to do. It wasn't the best outcome, but hopefully we can come back again sometime this year or next year and see if we can get some redemption."
Aurora Straus, Cold Spring, N.Y., driver, No. 80 Richard Mille/Girls with Drive BMW M4 GT4:
"This wasn't the outcome that Kaz and BMW and I wanted, but there was a lot of good that came from the day. It was a really crazy race, and you have to count your blessings and be very thankful to come back with a car that's in one piece and has almost no damage. Kaz kept it relatively clean, and despite our bad luck, I got an hour of track time, which was nice. I only had the privilege of doing a couple laps during practice, and despite all the hiccups, I managed to run the fastest lap time for our BMW during the entire race. The fastest time in a BMW at the end of my last stint in the race makes me kind of sad because I wonder what we could have done without the bad luck. But on the other hand, I'm happy and healthy, and my car looks good, so I'm feeling pretty good. Despite a lot of issues, we still managed to pull off a really good time at the end of four hours. So, kudos to the car and the team."
FOLLOW BIMMERWORLD AT: https://www.facebook.com/bimmerworld
STAY UP TO DATE WITH BIMMERWORLD NEWS AT: http://www.bimmerworldracing.com
ABOUT: BimmerWorld is renowned as a leader in BMW aftermarket and tuning expertise. It competes in the IMSA MICHELIN Pilot Challenge series in the Grand Sport (GS) class with a BMW Motorsport M4 GT4, where the Virginia-based outfit has become a winner and championship contender. It was also the Street Tuner champion of that series in 2018.
Tags