BimmerWorld Hoping To Repeat History At Mid-Ohio
June 7th, 2012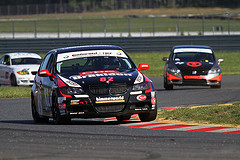 The Virginia-based BMW experts return to the winding road course where it earned its first professional victory with the E90 chassis
Teams inevitably circle a few highly anticipated dates on the racing calendar each year, and with this weekend's GRAND-AM event at the 2.2-mile, 13-turn Mid-Ohio road course serving as one of BimmerWorld's favorites, the Dublin, Virginia-based BMW experts hope to repeat their past successes.
As the first North American team to win a professional road race with the BMW E90 platform at Mid-Ohioback in 2007, the team followed with another win at the track in 2010 with Seth Thomas and Bill Heumann at the helm of one of BimmerWorld's E90s. Now the team is hungry to add a third win this weekend.
Expanded to three Street Tuner-class cars in the Continental Tire Series for 2012, team owner/driver James Clay expects his fleet of constantly evolving E90s to make the most of the technical Mid-Ohio layout once practice gets under way.
"We have put a lot of work in during the winter in the whole E90 platform, and even after five years of running it, we were able to make improvements," he said. "I think we are tapped out on power right now and not the best in the field, and acceleration out of turns is not as good as the lighter models and turbo cars, but hopefully the continuous twisting of the Mid-Ohio layout will allow our cars to shine. I have said all season that we are good on a long run – if we can get that this weekend, I will be happy."
Partnered with John Capestro-Dubets in the No. 80 BimmerWorld entry, Clay and his co-driver have been fast all year, but have yet to bank the finishes they've deserved. A solid run at Mid-Ohio could be just the change of fortune they've been seeking.
"We haven't gotten the results we have wanted so far this year in the No. 80 and luck hasn't been much on our side at several key points," Clay explained. "Certainly we are looking for podiums and wins and we always work as a team effort with our other BimmerWorld cars that have fared better to date than we have. We have a long three-race stretch ahead of us and we are going to put our heads down and do the best we can. The team is very well prepared for the potential brutality of back-to-back weekends, so I feel good about the support behind us all to maximize our results."
Leading the No. 81 BimmerWorld BMW entry, race-winners Gregory Liefooghe and teammate David Levine have high expectations for Mid-Ohio, and for Liefooghe, who serves as a driving instructor during the week, the track is one of the highlights of the year to try and tame.
"Mid-Ohio is definitely one of my favorite tracks to drive and race," he said. "It's technical and has some good passing zones that make for great racing. If the temperatures are mild, Mid-Ohio is typically not too hard on tires, but if it gets hot, the track tends to build up a lot of marbles and becomes a one-line track. Maximizing the pace around there is all about getting in a good rhythm and not overdriving certain of the corners. Our setup and handling work will pay a premium and I expect us to be fighting for the top step at the end of the race."
Dan Rogers, who shares the No. 82 CRC BRAKLEEN® BMW 328i with Seth Thomas, has been flourishing in his first season with BimmerWorld, and expects the upward trend to continue at Mid-Ohio.
"Seth and I have been working a lot away from the track to get me up to speed on the tracks I haven't run yet, as well as bringing my general driving technique up to speed to be able to complete with the front end of the starting drivers in the ST field," he said. "As we go deeper into the season, we are hoping to see the results of this work at every venue we go to.
"The No. 82 CRC BRAKLEEN® car has been good all season. We don't necessarily expect to be the fastest car on the track, but should show the typical well balanced car that will last throughout the stint, and remain strong while the other cars fade."
Follow BimmerWorld's progress as it prepares for Round 5 in Mid-Ohio by visiting www.BimmerWorldRacing.com, and watch the race when it's airs on June 17th at 12 p.m. ET on SPEED.
Tags