BimmerWorld Heads South For Inaugural GRAND-AM Race At Circuit of The Americas
February 26th, 2013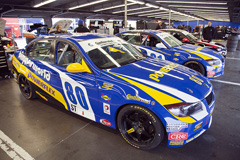 Virginia-based BMW experts looking forward to flowing Texas track that rewards handling and braking
BimmerWorld Racing has had a month to think about this weekend's GRAND-AM Continental Tires Series event at Circuit of The Americas in Austin, TX, and has its sights set on taming the 3.4-mile, 20-turn road course with the impressive handling and braking capabilities of its highly tuned BMWs.
Coming off the season-opening race at Daytona where the team placed two of its three cars inside the top 4, BimmerWorld is looking to carry over that momentum as the Dublin, VA.-based sports car team gets its first look at the Grand Prix facility as a team.
"Having not tested our E90 BMWs at CoTA, we will certainly need to quickly get them dialed in, but our standard setup is very well tested at this point and it shouldn't take much to get the cars where we want them to be," said BimmerWorld owner/driver James Clay.
Years of in-house component development and tailoring of specific aftermarket packages for BimmerWorld's customers will be put to good use at CoTA, as constant turning and hard braking zones will demand the ultimate performance from the team's 328is.
"We continue to work with Performance Friction to make our strong point in braking even stronger and that was a major development item over the winter work – and CoTA will be a brutal testing ground for brakes," Clay continued.  "I think this is huge as I feel braking will be challenging in a 2.5-hour race for everyone in the field."
As one of BimmerWorld's two race engineers and strategists David Wagener explains, most Continental Tire Series teams have not tested at CoTA, forcing BimmerWorld and the majority of the field to use chassis setup elements from other tracks to try out during the first practice session.
"Our base setups for both road course and 'roval' are both very good," he said. "I don't feel we will need more than a few tweaks in order to dial the car in.  I believe this work done in previous seasons will pay off for us at this track in both consistency and performance."
Among the 3-car effort with the Nos. 80, 81 and 82 BimmerWorld BMWs, Gregory Liefooghe not only serves as the lead driver in the No. 81, but as a professional driving coach and also uses his knowledge to prepare his teammates for new tracks like CoTA.
"As I told the guys, I think the track can be divided in two parts," said Liefooghe. "The first complex of corners all the way to Turn 9 is a very technical rhythm section and it will be important to have the car placed at the right spot and compromise the right corners in order to maximize speed throughout the section. I think most of the lap time will be made or lost there. The rest of the track is more standard and we will keep working on the base techniques we started to work on in Daytona."
The No. 82 CRC BRAKLEEN® BMW 328i, shared by co-drivers Seth Thomas and Dan Rogers, scored a historic win when the series made its first visit to the Indianapolis Motor Speedway last year, and as Rogers shares, he and Thomas would like nothing more than to add another 'first time' win on the series' debut at CoTA.
"Seth and I are both excited to take the No. 82 CRC BRAKLEEN® BMW to CoTA, and a follow-on win to Indy would be incredible, but the long term goal here is also to consistently finish well in the points in order to maximize our opportunity for the Championship," he said.  "Our goal in Austin will be to drive a smart, heads up race, and if we do that, we know that the results will come.  If that means a champagne bath on the podium at the end of the weekend, I don't think either one of us will complain a bit!"
A mechanical issue prevented Greg Strelzoff and Connor Bloum from placing the No. 80 BimmerWorld BMW 328i inside the top 5 at Daytona, which has only served to motivate the duo to train harder and strike back at Round 2 in Texas.
"Round 1 definitely had its challenges but it presented great opportunities as well," said Bloum, a Continental Series rookie. "There was so much to be learned from my first GRAND-AM race, and since Round 1, I have stepped up my regular exercise routine and added a couple of surf sessions a week for upper body strength. It's one of the advantages of living in San Diego! Also, I like to spend as much time as I can on iRacing to learn the upcoming tracks. The practice helps get me as familiar with the venues as I can before I get there. We are certain that the No. 80 BimmerWorld BMW will have a great finish at Circuit of the Americas."
Follow the BimmerWorld team at CoTA with regular updates on www.BimmerWorldRacing.com, and be sure to watch the race when it airs on March 9th at 4 p.m. ET on SPEED.
Tags