BimmerWorld Leaves Inaugural GRAND-AM Continental Tire Race at COTA with Two Top-10s
March 6th, 2013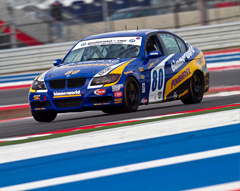 Two of BimmerWorld's three BMW 328is place inside the Top-10 at the Circuit of The Americas event after the No. 80 and No. 82 improve a total of 38 positions in the Street Tuner class
Success is the hallmark that any professional racing team looks to maintain. The BimmerWorld GRAND-AM Continental Tire Series team is no different, which makes falling short of their lofty goals—even by just a little bit—hard to accept.
That, in a nutshell, was the sentiment held by the BMW experts after last weekend's inaugural sports car race at the Circuit of The Americas (COTA) road course in Austin, TX.
Coming off of a pair of top-4 finishes at the season-opening race at Daytona International Speedway, the team was eager to maintain that form around the 3.4-mile, 20-turn track during Round 2. Most of the field in the Street Tuner class would have been ecstatic to place their cars eighth and 10th at the checkered flag, but on a day where the smaller, lighter cars in the class held a distinct advantage, BimmerWorld owner James Clay wasn't feeling quite as satisfied.
"An almost unfortunate result of success is high expectations, and while having two cars in the Top 10 at COTA is a solid result, our whole team wanted more than that," he said. "With a month to go for the next race, certainly this fuels the fire and I think across the board everyone here is determined to achieve more this season and we will turn that determination into results."
The biggest highlight of the race came with the No. 80 BimmerWorld BMW 328i piloted by series newcomers Greg Strelzoff and Connor Bloum. The teammates rebounded from a rough Round 1 to claim eighth after improving 19 spots from their original starting position.
"So often with rookie drivers and a new pairing, getting one under your belt is the most critical first goal," said Clay.  "With some issues at Daytona, I was happy to see the No. 80 finish well at COTA.  As Greg and Connor continue to become more familiar with the series, the team, the equipment, and themselves, I expect their results will also continue to improve."
For Strelzoff, the solid finish at COTA was a nice re-launch to the 2013 championship.
"That's how we'd hoped the first race at Daytona would go, so coming away with an eighth at a tough place like this is something we can build on," he said. "Connor and I are working well together and we get stronger each session, so there's a lot to look forward to at the rest of the races."
Bloum says he'll take the lessons learned in Austin and apply them to the rest of the 11-race ST calendar.
"I enjoyed racing at COTA for the first time; the track is incredible, but we also had to deal with a lot of corners that suited our car and others that made life more difficult," Bloum remarked. "It's hard to expect every corner to feel perfect, so the race was a lot about making time where you could and being patient with the sections where we couldn't."
The No. 80 was chased home by the No. 82 CRC BRAKLEEN® BMW 328i piloted by Seth Thomas and Dan Rogers. Like Strelzoff and Bloum, Thomas and Rogers also improved 19 positions during the race—a total of 38 spots between the sister cars—to claim 10th.
"COTA was a very interesting track to race on; it's very wide with lots of room to stick your nose in for a pass or runoff room if you made a mistake," said Thomas, who's already looking forward to Round 3 at Barber Motorsports Park in Alabama.  "Barber is going to be the total opposite but at both tracks we still have to battle the normal weight of the BMW 328i against the little ST cars over the elevation and turns."
Coupled with a fourth-place finish at Daytona, the No. 82 CRC BRAKLEEN® drivers also head to Barber in a prime championship position.
"Leaving COTA third in points gives us a clear goal for the narrow track at Barber and that is to make sure we finish," continued Thomas. "The BimmerWorld crew will do the rest to make sure we have a solid result up front."
The third BimmerWorld entry, driven by Gregory Liefooghe and Tyler Cooke, was forced to retire from the event. According to Liefooghe, who finished second at Daytona with Cooke, the rapid teammates will put COTA behind them and shift their attention to Round 3.
"That is exactly what we'll do," he said. "We'll learn from it, move on to the next round and focus on bringing another solid result. It is a long season, and the best is yet to come."
Follow the BimmerWorld team as they prepare for Barber at www.BimmerWorldRacing.com, and watch the COTA race when it airs on March 9th at 4 p.m. ET on SPEED.
Tags