BimmerWorld Earns ST Pole at COTA With One Car While Its Second BMW Nearly Finishes in Top 10
September 18th, 2016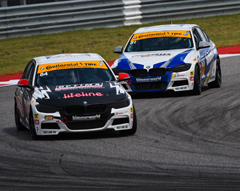 Tyler Cooke of Matthews, N.C. put BimmerWorld Racing's No. 84 OPTIMA Batteries BMW 328i on the pole for Friday's IMSA Continental Tire SportsCar Challenge race at Circuit of The Americas (COTA), but the car developed a misfire as soon as the race started. He only completed a dozen laps in the 2.5-hour race, so Cooke's co-driver, James Clay of Blacksburg, Va., could do nothing but prepare for a meal at his favorite Mexican restaurant in the Austin area prematurely and hope for better luck at the season finale on Sept. 30 at Road Atlanta.
Jerry Kaufman of Mooresville, N.C. and Kyle Tilley of Bath, England started 14th in class and ended up 12th in the No. 81 BimmerWorld BMW 328i, completing 57 laps.
Kaufman was 12th when he pitted on lap 24 for the driver change, but the No. 81 drew a penalty during the pit stop that forced Tilley back to 21st for the beginning of his stint. There was only one full-course caution at the very beginning of the race, but the team persevered through the hot Texas sun and a greasy track to climb back to 12th at the finish. The No. 81 was aided by good race strategy, as Tilley saved fuel and gained three positions at the very end when some of his competitors ran dry.
James Clay, Team owner and driver, No. 84 OPTIMA Batteries BMW 328i (F30 chassis):
"I'm super-disappointed that the No. 84 car qualified on the pole and then immediately had a miss on the out lap; I'm not super happy about that.
Separating the driver from the team-owner portion of it, our forces did well enough on the strategy. A couple guys lost out on the last few laps due to running out of fuel, but we had enough for a good finish in the No. 81 car."
Tyler Cooke, driver, No. 84 OPTIMA Batteries BMW 328i (F30 chassis):
"We had a little bit of a misfire during the pace lap, and it proceeded to get worse and worse. By the time we took the green flag, the misfire got so bad it wouldn't produce power going into Turn 1. That got pretty hectic pretty fast.
I can't thank the guys enough. They busted their butts. Every time we came into the pits we'd change some stuff and go back out, [and then] we'd be fine for a lap and it would start to do it again.
Hats off to the guys, and hats off to Roush; thanks for all their help. We'll get 'em at Road Atlanta."
Kyle Tilley, driver, No. 81 BimmerWorld BMW 328i (F30 chassis):
"It was good. We were unfortunate to get a drive-through penalty. If we hadn't had that, I think we would have had a good result.
[About the penalty] Jerry knocked the car in gear during the driver change, so the wheels spun up on the jacks. That's all right. It's just one of those things that happen. We'll evaluate what we can do differently on our driver changes for the next time out and go from there.
Considering I didn't manage to do any laps in practice, I'm relatively happy with our race. That was about all the car had. The guys did a great job to recover from two pretty bad days of practice to get a car out there for the race. It was good. I'm happy with it and looking forward to Road Atlanta.
It was a fun race. The car was super-loose. The track was very greasy at the end. We were saving fuel and managing to still be one of the fastest ST cars out there, so by no means was it a bad race for us. Things just conspired against us a little bit."
Jerry Kaufman, driver, No. 81 BimmerWorld BMW 328i (F30 chassis):
"This was my first time racing in Texas, and the legendary heat didn't disappoint. It was pretty amazing how the car felt almost exactly like it did at Sebring. It's good that we got to drive there and got to experience that, and we were able to adjust. By the time I figured out what to do, it was a little late.
With all this extra heat, we were losing power with our turbo motor.
I'm happy we were able to finish and do pretty well. I know we'll do better at Atlanta. This is definitely a pretty tough track, especially with these cars."
The Continental Tire SportsCar Challenge race will be broadcast on a tape-delayed basis on FOX Sports 1 on Sunday, Sept. 25 at 5 PM Eastern time.
The season finale will be held on Friday, Sept. 30 at Road Atlanta in Braselton, Ga.
FOLLOW BIMMERWORLD AT: https://www.facebook.com/bimmerworld
STAY UP TO DATE WITH BIMMERWORLD NEWS AT: http://www.bimmerworldracing.com
ABOUT: BimmerWorld is renowned as a leader in BMW aftermarket and tuning expertise, and competes in the Continental Tire Series with a pair of BMW 328is (F30) where the Virginia-based outfit has become a routine winner and Championship contender.
Tags