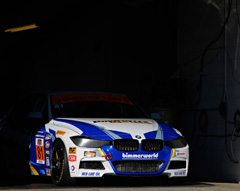 BimmerWorld Racing approaches one of the fastest circuits in North America with confidence, as the Dublin, Va.-based team feels its turbocharged BMW 328i (F30 chassis) race cars are well suited for Saturday's 2.5-hour IMSA Continental Tire SportsCar Challenge (ICTSC) race at Canadian Tire Motorsport Park in Bowmanville, Ontario.
The cars' 2-liter turbo engines are expected to excel on the long straights at the 2.459-mile road course, and the BMWs' Performance Friction brake package should help them handle the circuit's challenging 10 turns efficiently during the series' only event outside of the United States this season.
James Clay and Tyler Cooke will share the team's No. 84 OPTIMA Batteries BMW 328i while its No. 81 BimmerWorld BMW 328i will be driven by Jerry Kaufman and Kyle Tilley.
Saturday's race starts at 12:25 p.m. EDT. Live video streaming is available at imsa.com and imsa.tv.
James Clay, team owner and driver, No. 84 OPTIMA Batteries BMW 328i (F30 chassis):
When Saturday's race concludes, we're at the halfway point of the season. What grade do you give your team for the season so far, and why? What have been your biggest challenges and your biggest accomplishments so far? Are you on track to meet your goals? If not, what do you need to do to achieve them?
"As a team, I think to the midway point of the season we get an A. We have been competitive in the top of the field, scored two poles and a podium, and are a championship contender at this point. We have overcome significant development stumbling blocks of what I feel is the most technically difficult driveline in the series currently. We had one minor stumbling block at Daytona with an issue that forced an early retirement of our car that was fighting for the lead. This BimmerWorld team keeps pushing to move forward, and the second half of the season should see the results of the foundation laid to date."
What do you think is the most challenging portion of the Canadian Tire Motorsport Park circuit, and why? Why do so many drivers have problems with Turn 2?
"To me, Turn 8 is what separates the group at Mosport. I love the track because Turn 4 takes total foot-to-the-floor commitment, and Turn 2 urges you to touch the brakes as lightly as possible before plunging down the hill into the apex. But the braking for Turn 8 is right before a bump and you want to brake deeper, but you have to initiate before the bump, but scrub as little speed as possible and roll through the turn. This is the only turn I can think of that rolls in so many elements and is so difficult to master each stage of the corner."
How suited are your BMWs for this particular circuit?
"Our Performance Friction brake package is incredibly strong and there are a couple of turns at CTMP that put it to the test. Our 2L turbo engine is making good power for the long pull up the back straight, and we make good grip in high-speed turns. This track historically suits us well."
Canadians are known for their passion for motorsports. Have you ever experienced this first hand? If so, in what way?
"I love the Canadian fans! They are some of the most passionate I have ever seen. CTMP, or Mosport for the last decade-plus for me, is the perfect venue. It's an amazing track, and after the race, it is unparalleled as a place to walk around the infield and mingle with the fans."
Tyler Cooke, driver, No. 84 OPTIMA Batteries BMW 328i (F30 chassis):
How did you break your wrist, and how are you driving with a broken wrist? That would seem to be very uncomfortable at the very least. How are you coping?
"While coaching a client at Mid-Ohio, I found out moped driving requires skills that I clearly don't have. I was sitting on top of a hill at Turn 8, watching for my client, as I began to roll downwards. Instead of grabbing the brakes I took a handful of throttle and ended up rolling off and landing on my right wrist. Let's just say that next time, I'll be walking the track.
"Despite what the doctors told me, I was able to test my wrist out while instructing at Monticello. It handled great with minimal pain, which gave me the confidence to race at Watkins Glen this past weekend. After the race on Saturday, my wrist felt tight but not too much to handle. I'm resting it all week in preparation for this upcoming weekend at CTMP."
Your BMW qualified second for this race last year, just 0.179 off the pole and new track record. Were you driving for that run, or was your co-driver? The next-closest BMW was only 0.729 off your car's time but ended up starting 11th. What does this say about the level of competition in the series?
"Last year, my co-driver at the time, Andrie, qualified the car, putting down a great lap! The competition is really intense; that's why the Continental series is one of the greatest out there. I'm looking forward to this race with my new co-driver, James Clay, after a good run at Watkins Glen."
What makes Canadian Tire Motorsport Park great?
"The extremely fast, blinding corners and no place to really slow down make it one of the most unique tracks in the world. It's one of the hardest tracks on our circuit for passing reasons. I love the challenge as a driver, and I am looking forward to pushing for a better result this year with a great car!"
Kyle Tilley, driver, No. 81 BimmerWorld BMW 328i (F30 chassis):
You're coming off your best finish of the year. What did you do differently at Watkins Glen, and how can you continue to improve?
"Watkins Glen still wasn't the result Jerry, our fantastic BimmerWorld team, and I strive for. However, it was a definite step forward and (hopefully!) a stepping stone to another great result this weekend at Mosport."
You mentioned that at The Glen, your car's balance wasn't as good on a full fuel load as it was later in the race. What changes can you make to alleviate that?
"At The Glen I struggled with the car on a full fuel load. Having debriefed with Wayne, our car chief, we have a plan to combat that this weekend. We plan to do a full fuel load simulation in testing, which is something that we haven't done before."
You're British; in what way is Canadian Tire Motorsport Park like tracks in Europe, and in what ways is it different?
"Mosport is actually a lot like the tracks back home! It's fast, flowing, and there isn't a lot of room for error! Again like The Glen, it has a very old-school feel and, like The Glen, is a track I very much enjoy!"
Jerry Kaufman, driver, No. 81 BimmerWorld BMW 328i (F30 chassis):
You're coming off your best finish of the year. What did you do differently at Watkins Glen, and how can you continue to improve?
"We had our best finish at Watkins Glen, but it wasn't an unusual performance. We stayed incident free and turned consistently quick laps. We are certainly looking to do the same at Canadian Tire Motorsport Park. CTMP is the fastest regular road course in North America, so the key will be to carry momentum through the fast corners and get on full power before everyone else. We were pretty good at that at Watkins Glen, so things are looking really good for us."
How do you think the BMWs will fair at this track? Does it suit them, or will other tracks suit them better?
"The BMW has great high-speed stability, and it makes great low-end torque. Turn 5 at Canadian Tire Motorsport Park is a very slow corner that leads onto a very long straightaway.  I think the torque from the turbocharged BMW engine should give us a nice advantage on that critical part of the track."
What will be the keys to doing well in Saturday's race?
"Honestly, I don't think the race strategy on Saturday will be much different than last Saturday.  Keep the car out of trouble, and keep turning fast laps. Having the fastest lap time is not important in a 2.5-hour race, but having a very fast average lap time is critical."
This track has a very active BMW Club. How important has the BMW Club been in your career? In a few sentences, can you tell us the most important ways it helps a young driver starting out?
"I raced at Canadian Tire Motorsport Park for the first time last year and it was with the BMW CCA. The people who race with the club could not be any nicer to be around and helpful to rookies or novice racers. I started my racing career with the BMW CCA, and I honestly can't think of a better way. The club provides more track time for the money than any other organization I've competed with, and they have a no-tolerance policy on contact which keeps costs down and heightens a driver's situational awareness."
FOLLOW BIMMERWORLD AT: https://www.facebook.com/bimmerworld
STAY UP TO DATE WITH BIMMERWORLD NEWS AT: http://www.bimmerworldracing.com
ABOUT: BimmerWorld is renowned as a leader in BMW aftermarket and tuning expertise, and competes in the Continental Tire Series with a pair of BMW 328is (F30) where the Virginia-based outfit has become a routine winner and Championship contender.