BimmerWorld Sees Breakthrough with New Turbocharged BMW F30 Chassis in Canada
July 16th, 2014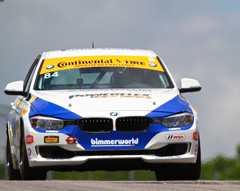 BMW tuning and aftermarket experts score top-5 with new, in-house developed Street Tuner F30
A trip north of the border to the famed Mosport road course resulted in BimmerWorld's brightest day of the season with its brand-new turbocharged BMW 328i built on the F30 chassis platform. Just past the halfway point of the Continental Tire Series season, BimmerWorld team owner/driver James Clay and teammate Jason Briedis came home fifth in the Street Tuner class as the duo used all of the handling, braking and acceleration available to shine in Canada.
"BimmerWorld has delivered a strong F30 racecar to us this year and we have found every bit of bad luck possible it seems," said Clay. "We have known all along that we just needed a solid weekend, and this one was it. I love Mosport and it has always been a good track for both me as a driver and a well-balanced BMW platform. Certainly there is more to come from Jason and I this year, and this was a nice step in the right direction."
BimmerWorld made the bold decision to take on the sizeable F30 development project to build tows the future in the Street Tuner class, and to expand the Virginia-based team's expertise and aftermarket offerings for the German sedan. With one F30 and three BMW E90s competing under the BimmerWorld tent this year, Clay says at its current rate of development, a second F30 is in the pipeline to replace one of the E90s.
"The new F30 is proving to be a very capable racecar, which is exactly what I would expect from the next generation of BMWs," he continued. "We have a second car in the shop that will enter the series soon and I have had a lot of internal interest in getting it on track after the potential we have seen this year. The schedule is quite tight at this point in the season, and we aren't going to put a car on track that isn't ready to win, so I would expect it to debut in the next few races once we are able to fully test it."
The fifth-place result for the No. 84 BimmerWorld F30 also represented the top finish within the team at Mosport, and Clay credits his rookie co-driver, who worked his way up through BimmerWorld's Driver Development program, for a big part of the excellent outcome.
"Jason really clicked with the track this weekend," he explained. "We are both getting really tuned in at this point of the year and I feel like we are melding into a strong pairing in the new equipment. It is always enjoyable to watch drivers develop in the series and progress, and I have been happy with the performances of our new guys this year. But as we continue to dig hard, the best is yet to come."
UP NEXT FOR BIMMERWORLD: Indianapolis Motor Speedway, July 25
FOLLOW: BimmerWorld at www.BimmerWorldRacing.com
MOSPORT RESULTS:
No. 80 BimmerWorld BMW 328i (E90), Corey Fergus & Eric Zimmermann: Qualified P20, Finished P26
Corey Fergus: Mosport was a better track for the BMWs. It was my first time racing there, but I quickly realized how great of a track it was. It's all about momentum and carrying speed without slowing the car down too much. It's a true driver's track. Everything just came together for me and it really clicked. The car felt great and I felt fast; like I was where I needed to be. Unfortunately, I didn't get a chance to show my stuff. That's racing I guess.
No. 81 BimmerWorld BMW 328i (E90), Greg Liefooghe & Tyler Cooke: Qualified P8, finished P10
Tyler Cooke: P10 isn't a bad result at all, but it's also not the best result we wanted. The race was a tough race with a track that is very hard to pass. P10 has still kept us in the points and I think we have a great shot to do well at Indianapolis.
No. 82 BimmerWorld BMW 328i (E90), Seth Thomas & Dan Rogers: Qualified P19, Finished P12
Seth Thomas: Our race was pretty typical of a race at Mosport where it becomes a chess match on how to gain positions. I didn't play chess that well this weekend as I picked some of the wrong moves on the restarts where I would either get pushed off the track or would have to back out of the throttle to avoid a wreck. After that I got stuck behind a car that was really good at accelerating out of the turns but not so great on corner entry. It didn't seem to matter how well I would get the entry right I didn't have the speed coming out to make the move stick going into the next turn. Towards the end my tires were going away so I did what I could to keep my spot. Overall it was a race where I am glad we came home with some points.
No. 84 BimmerWorld BMW 328i (F30), James Clay & Jason Briedis: Qualified P15, Finished P5
Jason Briedis: It was definitely satisfying running closer to the front of the field. It's also nice to be seeing improvement each weekend. We have put the car in a good position during several of the last races so it's nice to get a finish reflective of our capability.
Tags