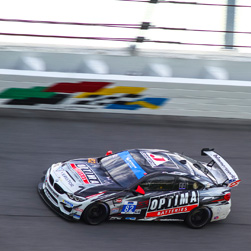 The only constant in life is change, but BimmerWorld Racing hopes to begin the 2019 season like it finished 2018 — on the top step of the podium in the top class in what is now the IMSA MICHELIN Pilot Challenge series with the introduction of the new Michelin tire for 2019. The Dublin, Va.-based team will field two BMWs in the top Grand Sport (GS) class in the 2019 season opener after finishing third in the GS championship last year and winning the Street Tuner (ST) championship.
Team owner James Clay of Blacksburg, Va. will co-drive with one of those ST champions, Devin Jones of Mooresville, Va., in BimmerWorld Racing's No. 82 OPTIMA Batteries/Veristor BMW M4 GT4 this season. With a full year of development work on this car behind it, BimmerWorld has high hopes for a great finish in the season opener, the four-hour BMW Endurance Challenge at Daytona International Speedway this Friday afternoon, Jan. 25. It's a companion event to the 57th annual Rolex 24, which begins the following day. Besides winning the pole and the race in the ST class last year at Daytona, BimmerWorld finished second in GS in the season opener in the GT4's debut a year ago, and it won the season finale in GS at Road Atlanta last October.
A second BMW M4 GT4 in the BimmerWorld garage at Daytona will carry the No. 80 and have the names of two 20-year-olds, Aurora Straus and Kaz Grala, over its doors.
Straus, of Cold Spring, N.Y., finished second in the Pirelli World Challenge's GTS SprintX-Am class last year in another BMW M4 GT4.
Stock car fans will remember Grala won the NASCAR Camping World Truck series race at Daytona in 2017 at the age of 18. Sports car fans may recall that this driver from Westborough, Mass. finished fourth in the GS class in a BMW M3 in the Continental Tire SportsCar Challenge race at Daytona in 2014 shortly after he turned 15. He'll be back at Daytona on Feb. 16 for the NASCAR Xfinity race; he finished fourth in that race last year.
Straus and Grala's BMW will bring sponsors Richard Mille watches and Straus's Girls With Drive program, which encourages girls interested in male-dominated careers. The duo's participation with BimmerWorld was spearheaded by another driver that IMSA fans know well — veteran driver Nick Longhi.
Jones, who is only four years older than the drivers of the No. 80, has fond memories of Daytona's 3.56-mile speedway road course. His victory in this race last year was his first one in this series, and a huge milestone for a kid who first came to the birthplace of stock car racing in 2004 to run a go-kart.
Clay, 45, is the veteran of the group taking his 10th Daytona start this week, and he's already thinking about race strategy.
"Our team finished on the second step of the podium in our first race with the new platform last year, and fielding a strong and capable two-car effort will multiply our chances at this draft-critical track to stand on the top step," he said.
The season opener is one of only two four-hour races on the 10-race schedule, as the typical format is a two-hour event.
Thursday will be busy, as there are practice sessions at 9 a.m., 11:40 a.m., 2:45 p.m., and 5 p.m. before the TCR class qualifies at 5:25 p.m. and the GS class's starting lineup is determined in its qualifying session at 5:45 p.m. There will be a 20-minute warm-up the following day at 9:20 a.m. before the open-grid fan walk begins at 11:15 a.m. The field will warm up its Michelin tires at 12:05 p.m., and the race is scheduled to start at 12:15 p.m.
The event will be streamed live on imsa.tv, and there will be live timing and scoring on imsa.com. The race will be broadcast on NBCSN from 1 p.m. to 3 p.m. on Wednesday, Feb. 6. All times are Eastern.
Pre-race quotes follow.
James Clay, Blacksburg, Va., team owner and driver, No. 82 OPTIMA Batteries/Veristor BMW M4 GT4:
In what key areas have you developed the BMW M4 GT4 last year and in the off-season that should make it even more competitive in 2019?
"I'm supposed to talk about how we worked all winter, explored all these areas, and did a ton of testing, but honestly, that's not what we did this year. We had a very solid 2018 season in the new BMW M4 GT4, and we learned and progressed every weekend at the track, and at some notable points in the shop. I took my first real off-season in five or more years and didn't strap in for two months. To some fair degree, that's how good this BMW is — it doesn't require the level of obsessive engineering work we've done for the last decade-plus on the previous platforms, and maybe it just feels easier because of what has become the standard workload. We ended last year with a list of things we knew we wanted to improve, and our team executes well, and that's what we did. We'll see, but I'm pretty confident that work will put us where we left off last year — at the front of the field."
How big of a deal is the change to Michelin tires?
"There is always a lot of discussion on tires, but in a series where everyone is on the same tire, I really don't feel like it's that big of a deal. There are some nuances in our car's response to the different tire, but everyone has that. Some guys have wider tires this season, and there will be different reactions to the carcass from different platform and suspension types that will both likely skew the performance slightly, but Daytona isn't the track that will pronounce the differences. The reduced tire allocations and reduced stint length due to lower fuel capacity probably have the biggest effects when you have a race-related tire discussion, so that's where our focus will be."
Your team won the ST championship last year, and now it has two cars in the GS class at Daytona. Is running two cars in the same class easier than running two cars in different classes, does it make it harder, or is it just different?
"Two cars in the same class certainly leads to a little more of a cohesive strategy and weekend. There are fewer spares in the trailer and more input to scratch those engineering itches on set-up. And certainly on the track a good, reliable partner goes a long way. It took a while last year for both cars to come up with a qualifying plan without a teammate in the field to produce a result there."
How did the Roar go?
"Our Roar test was great. The team is perennial and it was great to be back at the track working with my friends. Devin and I quickly settled into lock step and progressed the car every session. The team had the needed dry run to shake any cobwebs off. And I stayed on the beach in Florida while it snowed at home, which felt like the first win of the year!"
How optimistic are you going into this race and into this season?
"As optimistic as ever! Of course, I'm pretty optimistic even when history has shown I shouldn't be. But we have a solid, reliable car; fast drivers, and a great team that, with a pinch of luck, seem to be championship ingredients. It's going to be a hard-fought year and the field is big and competitive, so nothing about this season will be easy. But I can't wait to hit the track and get started!"
Devin Jones, Mooresville, N.C., driver, No. 82 OPTIMA Batteries/Veristor BMW M4 GT4:
The BMW M4 GT4 is very different than the BMW you drove last year in ST. What are the biggest things you have to get used to?
"The M4 GT4 is quite different from the 328i but the learning curve was pretty seamless. The M4 is such a solid platform and does everything really well; it's a very confidence-inspiring car. The car is heavier, with more power and downforce compared to the ST car, but at the end of the day, it's still a race car. As a driver, there are some things you change about your style to suit a certain car's needs, and that's a fun challenge for me when I jump into something new. I'm really excited about our chances with this team and car."
How much confidence did winning the ST championship last year give you? In what ways are you a better driver now than you were at this point last year?
"The ST championship was a big deal for me and the whole BimmerWorld team. The car took years to develop and to reward the team with a championship in the class's final season was special. As a driver, I feel more confident than ever before, especially since I'm back with the same guys that made last season so successful. I just want to keep doing my job the absolute best I can because I know the whole team is doing the same."
What do you think is the biggest key to doing well in this race?
"The season opener is slated to be an awesome one, both for the fans and the drivers. Everyone in the GS field seems to have really stepped up their game for 2019, and I feel really fortunate to be part of it. I think the biggest key will be to just focus on what we can control with strategy, set-up, and execution throughout the weekend. If we focus on our race, I think we have a really strong chance."
It's been 14 years since you first came to Daytona to run a go-kart. Knowing what you know now, what would you tell your 10-year-old self?
"A lot has changed since then; it's really been an incredible journey, and I wouldn't trade it for anything. I've had a lot of people who helped me along the way to get to this point. If I had to say something to my younger self, it would be to keep believing in yourself and know that those great moments make all the hard times worth it."
Aurora Straus, Cold Spring, N.Y., driver, No. 80 Richard Mille/Girls with Drive BMW M4 GT4:
You ran a BMW M4 GT4 last year, but in an entirely different series. What will it be like to run it at Daytona?
"While I've had the privilege of racing a BMW M4 GT4 before, this coming weekend will be my first time driving it at Daytona. I can't wait! BMW has done an incredible job with its GT4 platform, and I suspect that it will be just as competitive as it was in my World Challenge season last year. The MICHELIN Pilot Challenge is also an incredibly competitive series, and I look forward to testing some new waters with the M4 and learning everything I can!"
What is the biggest thing you feel you'll need to concentrate on at this event?
"The biggest thing is to block the rest of the world out and focus all of my energy on driving. With the help of Nick Longhi, I run all of my own marketing, sponsorship, team communications, financials, etc., and this coming weekend is huge for me. I'll have a group of Girl Scouts and their chaperones at Daytona on race day, and I'll have two film crews there all weekend. (I can't say much more on that, but there are exciting things in the works!) Especially since Kaz and I didn't test at the Roar, it's going to be crucial for me to forget about everything else I have going on, and drive the M4 like it was meant to be driven."
Are you doing any promotions with the Girl Scouts at Daytona? If so, would you please tell us a little about it?
"I'm elated to be running my Girl Scout program at Daytona. The full-day program is a part of Girls With Drive, a nonprofit I founded to help young girls get engaged in male-dominated fields, including but not limited to the automotive industry. The group at Daytona will be a bit smaller since Friday is a school day, but I'm looking forward to being able to spend more time with each individual girl. The girls will have a half-hour classroom session on the physics of my BMW race car and its Michelin tires. They'll spend some time in the garage, where they'll get to sit in the car, pop the hood, and ask some questions. They'll also get a behind-the-scenes tour of the paddock and pit lane, where they'll get driver autographs."
How excited are you to be doing this race?
"Excited is an understatement! Daytona has a special place in my heart — my first time in a GT4 was at the race weekend last year, where I went out on track with no prior testing and drove the car from outside the top 20 to ninth place. I'm thrilled to be back with my BMW family, and I have no doubt Kaz and I will represent BMW and BimmerWorld the best we possibly can. We also have an exciting livery that we'll be announcing soon — needless to say, the car will be very easy to see, especially at the front of the pack!"
Kaz Grala, Westborough, Mass., driver, No. 80 Richard Mille/Girls with Drive BMW M4 GT4:
This is your first time co-driving with Aurora, but you're long-time friends. In what ways are your driving styles similar, and what do you think will be your main advantages as teammates?
"Though I've never co-driven with Aurora, I've known her for years and think that we'll be a great combo for this weekend's event. We're both very analytical drivers, and I think we'll be able to use the data to our advantage in between sessions. We're also both young, determined drivers with something to prove, so I think that will allow us to get an edge on our competition."
You've been in the Rolex 24 and other sports car races, yet you are concentrating on a stock car career. How will running a sports car at Daytona in January help your stock car effort here in February?
"I wish I could say that racing in IMSA at Daytona translates directly to racing a stock car there, but they are completely different animals. Not only are sports cars and stock cars completely different to drive on any given weekend, the restrictor plate-style racing of Daytona is something completely unique unto itself in NASCAR. If nothing else, I'm looking for this weekend to help me get warmed up and re-acclimated behind the wheel before the NASCAR season starts."
How excited are you to be doing this race?
"I'm thrilled to have the opportunity to get back behind the wheel of a sports car, especially a BMW. It's been a few years since I've raced in IMSA and even more since I've raced in this series. It truly is one of my favorite times of the year to be able to have a change of pace from what a normal NASCAR weekend feels like for me."
You didn't participate at the Roar. Have you tested the car anyplace else, or will Thursday at Daytona be your first time in it?
"This deal came about so recently that we didn't get a chance to shake the car down at the Roar, unfortunately. Thursday at Daytona will actually be my first time ever sitting in the car, as I haven't been able to test it elsewhere beforehand. I'm confident that everyone at BimmerWorld will help me settle in quickly and get up to pace in practice."
FOLLOW BIMMERWORLD AT: https://www.facebook.com/bimmerworld
STAY UP TO DATE WITH BIMMERWORLD NEWS AT: http://www.bimmerworldracing.com
ABOUT: BimmerWorld is renowned as a leader in BMW aftermarket and tuning expertise. It competes in the IMSA MICHELIN Pilot Challenge series in the Grand Sport (GS) class with a BMW Motorsport M4 GT4, where the Virginia-based outfit has become a winner and championship contender. It was also the Street Tuner champion of that series in 2018.