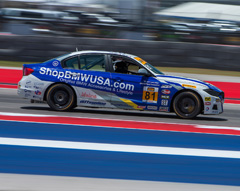 At one point in Friday's IMSA Continental Tire SportsCar Challenge Series race at the Circuit of The Americas (COTA), BimmerWorld Racing's turbocharged BMW 328is (F30 chassis) topped the leader board in the Street Tuner (ST) class. The Dublin, Va.-based team ended up finishing sixth and ninth, but it was a podium contender for most of the race and its pit crew arguably turned in the two best pit stops performed during the two-hour event.
Team owner James Clay of Blacksburg, Va., qualified fifth in the OPTIMA Batteries BMW No. 84 he shares with Tyler Cooke of Matthews, N.C., and he had elevated his position to third place by lap two. He ran in the top five throughout his stint and had a particularly thrilling battle with Jeff Mosing, one of the co-drivers of the eventual winning Porsche Cayman.
On lap 22, just prior to the driver changes, Clay entered the pits n 4th, with Ari Balogh of Menlo Park, Calif. just seconds behind in the team's sister car, the ShopBMWUSA.com BMW No. 81 that he shares with Greg Liefooghe of San Francisco. Balogh also had great battles during his stint, particularly when he and Roy Block exchanged positions numerous times. Block was driving an Audi that eventually finished third.
After all the pits stops for driver changes, the BimmerWorld team's tremendous execution leapfrogged Cooke in the No. 84 to the lead of the pack and picked up four spots for Liefooghe on lap 24 with 57 minutes remaining.
Eric Foss got around Cooke shortly thereafter to push the No. 84 back to second, and Spencer Pumpelly wiggled by on lap 29, but Cooke remained in third place until lap 33. Despite some issues, he stayed in the top five until lap 41, with just 12 minutes remaining in the race.
Balogh and Liefooghe had a different approach. They didn't run with the leaders, but they stayed within striking distance in the top 10. On lap 41, Liefooghe was seventh, right behind Cooke. The two BimmerWorld cars stayed in those positions until the last lap. At that point, Liefooghe advanced one spot to finish sixth, while Cooke dropped back to ninth when his car suffered an engine failure on the last lap of the ever-changing Cinco de Mayo competition.
FOX Sports 1 will showcase the action on Saturday, May 13 from 12:30 p.m. to 2:30 p.m. Eastern time.
The series' next three events are June 29-July 2 at Watkins Glen International in Watkins Glen, N.Y.; July 7-9 at Canadian Tire Motorsports Park in Clarington, Ontario, and July 21-22 at Lime Rock Park in Lakeville, Conn.
James Clay, team owner and driver, No. 84 OPTIMA Batteries BMW 328i (F30 chassis):
"We had a good start and phenomenal pit stop by the guys for both cars. It was awesome to see the team execute at that level. It was hot today, so it was a struggle out there. It wasn't as hot as it's ever been here, but the track gets slick and it's hard to hold on to. Our car seems to fall off a little bit earlier than some of the others. It was just a strategy of hang on to what we have, and we hung on pretty well. At the end of the race, we had an engine failure on the last lap with my car."
Tyler Cooke, driver, No. 84 OPTIMA Batteries BMW 328i (F30 chassis):
"We were running up in first and second; the top six or seven cars were all bumper to bumper. It really seemed like it was going to be a positive start, but then we lost the front end of the car where it just wouldn't turn. Then first and second started to check out, and we thought we'd keep third behind us, but then we really started to lose the rear end of the car and couldn't put the power down. We ended up falling back more and more. We were running a solid sixth, and we were happy with that. We thought leaving here with a sixth would be really positive for the BMW because this isn't a BMW track at all. But on the last lap, the engine had an oil pressure problem, so we ended up settling for 9th. But hats off to the team; they worked really hard and made a great pit stop. We did a burnout leaving the pits and got right in front of the No. 56, getting out of the pits first, which was very positive for the team. Now I'm looking forward to our next race at Watkins Glen."
Greg Liefooghe, driver, No. 81 ShopBMWUSA.com BMW 328i (F30 chassis):
"We just didn't have the right set-up. Basically, all the time we could really see the leaders was on the restarts, and then they were gone. We're not sure what we're missing, but we know we're missing grip. The guys worked hard all weekend, but we just couldn't find the right set-up this week. We'll look for a better result at The Glen next race."
FOLLOW BIMMERWORLD AT: https://www.facebook.com/bimmerworld
STAY UP TO DATE WITH BIMMERWORLD NEWS AT: http://www.bimmerworldracing.com
ABOUT: BimmerWorld is renowned as a leader in BMW aftermarket and tuning expertise and competes in the Continental Tire Series with a pair of BMW 328is (F30) where the Virginia-based outfit has become a routine winner and Championship contender.