Seth Thomas Leads Perfect Day For BimmerWorld/GearWrench With 1-2-3 Finish
September 29th, 2009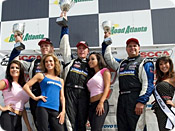 The BimmerWorld/GearWrench team wins in front of family, friends and sponsors as the BMW racers fill the trophy case with every award offered at Road Atlanta.
"I think I'm going to have to go home, go to bed, and wake up to make sure this is real," said BimmerWorld's Seth Thomas after winning his home race at Road Atlanta and leading a BimmerWorld/GearWrench 1-2-3 sweep of the podium.
"This is the one I've wanted more than any other; my teammates, my crew and my family will tell you that. The best part of this is that we did this as a team. Nick, James and I, our sponsors and partners – we all won today, and took every award the series has to offer. That's a testament to how far BimmerWorld has come in 2009."
The Road Atlanta event started off in style for the BimmerWorld/GearWrench team, as owner/driver James Clay – carrying a special GearWrench paint scheme for the event – put his #36 BMW E90 on pole position. Thomas would line up third in the #38 BMW and Nick Esayian's #34 followed right behind in fifth.
"We came close on our first run in qualifying," said Clay, "so we came in, cooled our tires, and went for one final shot at the pole. I'm glad we did, and we all helped to give each other a tow to earn our best qualifying positions as a unit. Qualifying was a total team effort."
Clay's time to celebrate his first Touring Car pole position was short-lived, as World Challenge's ceremonial coin toss didn't fall in James' favor. With the flip of that coin, the top-5 starters were inverted, moving Clay to fifth and teammate Esayian to first.
"It's a good thing we had our bases covered," Clay said with a smile. "A BimmerWorld car still started from pole, and that's all that really mattered. It just meant we'd have to work together even more in the race."
And that's exactly what the BimmerWorld/GearWrench trio did. With Esayian rocketing away to take the lead, the pilot of the #34 Debt Cures BMW found the view from inside his E90 to his liking.
"Man it was great! It was like every other start but it was nice not driving into a 15 car accident which is what you are doing when you start mid pack. The front row is NIIIIIIIIIICCCCE. I've been knocking on the door and the guys have the car just where I want it, so getting a good start and holding onto the lead for more than half the race was awesome."
Behind Esayian, a fast-starting Thomas moved into second and shadowed the #34 car for the first fourteen laps. "Seth and I just drafted and pulled out a gap over Kuno Wittmer in third place," said Esayian. "There's nothing better than having a teammate act as your tail-gunner, and that's exactly what we did."
As Esayian and Thomas controlled things up front, James Clay was reclaiming spots lost in the coin toss, passing Wittmer for third on lap six. With a BimmerWorld/GearWrench 1-2-3 circulating the 2.54-mile, 12-turn track, the only question left to answer was which driver would win.
The answer to that question came on lap 14 as Esayian lost some time in Turn 5. It was all Thomas needed to zip past into the lead. "You certainly can't accuse me of not pushing as hard as possible!" Esayian said. "The car just got out from under me for a split-second, and that's the difference between leading and not leading in this series."
Once in the lead, Thomas would never relinquish the position, holding the point through the 27th and final lap. The BimmerWorld/GearWrench running order would change once more behind Thomas, as Esayian suffered a rear brake lockup that caused a lurid slide, promoting Clay to second.
Thomas, Clay and Esayian settled into a rhythm for the last half of the race, putting on a show for the team's guests from GearWrench. "We had sixty guests from GearWrench here to support us and to see the BimmerWorld/GearWrench team dominate the race," said Clay, "and every one of us is proud to have given them a day to remember."
Clay was also proud to see his friend Thomas finally get the home win he'd been so close to claiming in year's past. "We all know how much Seth wanted this race. It's every racing driver's dream to win in their home state, on their home track, and no one deserves this more than Seth."
Thomas was thankful for the support of Clay and Esayian in the outcome of Saturday's race. Being a part of such a tight unit is something Thomas cherishes.
"Of course each one of us wanted to be the one to win, but I can tell you that there's something different about this team that you might find in others," said Thomas. "Sprint racing is about individual achievement, but we approach it as a team. We want BimmerWorld to win, and that comes first. Which one of us stands in victory circle comes second, and I really do mean that."
Esayian couldn't agree more about the team-first mentality. "I've had the privilege of being on some great teams; Robert Davis Racing, RealTime, etc. The thing I love about our BimmerWorld crew is the guys love being at the track. They really put emotion into what they do and the results mean as much, if not more, to them than any other team in the paddock. These guys could all be doing something else that would require less travel and potentially be more lucrative but they are all there striving for the outcome we had at Road Atlanta."
Esayian's performances inside the BimmerWorld fold have drawn a lot of attention from fans and competitors, and his drive at Road Atlanta was further proof that the
Tags
Tags not found
RELATED ARTICLES
Related article(s) not found