BimmerWorld Headed to Autobahn Focused on Results
July 22nd, 2009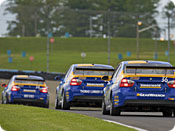 On the heels of a BimmerWorld/GearWrench team win, at Watkins Glen, the BMW team heads to Illinois looking for more hardware.
"2009 has been a year of hard work that has delivered results for our team," said BimmerWorld owner/driver James Clay. "Seth's won two out of five races and Nick had his best finish ever with a fourth at Watkins Glen, but as anyone that follows this series knows, making forward progress is a constant here. We're going to Autobahn with our heads down and focused on the championship."
In the three weeks since Thomas' win for the BimmerWorld/GearWrench team at Watkins Glen, the Dublin, Virginia-based team has used all of the available time to improve their trio of BMW E90 SPEED Touring Car racers.
"Certainly a weekend like we had at Watkins is a motivator, but we have been hard at work to further refine the cars
Tags
Tags not found
RELATED ARTICLES
Related article(s) not found