BimmerWorld's Thomas Earns Pole, Leads Every Lap and Wins at Watkins Glen
July 7th, 2009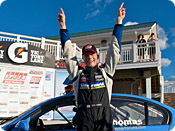 All three BimmerWorld/GearWrench cars in the top-10 as Seth Thomas takes his second win of the year, Nick Esayian gets 4th for his best finish of 2009 and James Clay takes 9th.
After taking his breakthrough series win at Round 1 in Sebring, Florida this year, BimmerWorld/GearWrench driver Seth Thomas proved that win was only the first of many to come.
After a light-to-flag victory at the famed Watkins Glen circuit on the Fourth of July, the Georgian confirmed he's driving better than ever.
"This was just a magical day for all of us. To win a race on Independence Day is incredible, and to do it like we did, with a strong car expertly prepped by the BimmerWorld crew, this is one I'll cherish. I'd also like to thank my wife who's busy taking care of our new daughter Adelyn. This is my first win as a father!"
Thomas made the most of the event, taking pole position and then leading every lap on his path to the win.
"That's about as complete a weekend's work as you can have in this business. I know Nick (Esayian) and James (Clay) weren't far behind, and that's a testament to how hard the BimmerWorld team's worked in the six weeks between races. These guys never stop trying to improve our cars, and the win and all three of us in the top-10 is the result of everybody that works for BimmerWorld."
Thomas crossed the finish line 1.118 seconds ahead of Charles Espenlaub after the Mazda driver spent the entire race following in Thomas' footsteps.
Teammate Nick Esayian in the #34 Debt Cures/SOWF BMW E90 took a close 4th place, just 2.195 seconds behind Thomas at the end of the twenty lap race. Esayian ran as high as 3rd, but settled for 4th after a lively battle with Espenlaub and Andrew Aquilante towards the end of the race.
"After a simply awesome launch and a fast/consistent race I really thought I had a 2nd or 3rd in the bag. I could catch Espenlaub but couldn't pass him. He would get away and pressure Seth and when I would get in his mirrors he would fall back a bit. It was amazing to watch. We were running a qualifying pace for almost 50 minutes. The Subaru ran us down and got by me…it was really surprising. I got along side him a few times on the last lap but without making contact, I couldn't make the pass stick. Overall it was a great race for our hardworking team and my hat's off to Seth for running that pace for the whole race with no mistakes."
Esayian's support of the Special Operations Warrior Foundation also carried added motivation for the World Challenge veteran. "We had two families of injured SF guys that were to attend this weekend that couldn't make the three hour drive. They were with us in spirit and I had a phone conversation with one of the guys after the race. They listened to the live audio streaming and watched the online timing and scoring. Although their injuries precluded them from making the drive I knew they were there in spirit. These guys are tough and never quit so to have them thanking ME for what I was doing was a bit embarrassing but I was proud to give the American flag a tour around the track on their behalf prior to the race."
BimmerWorld team owner/driver James Clay had the most frantic day of the three BMW E90s entered. After a stellar start moved Clay up to 4th, he raced in 5th place for the majority of the race. The Virginian would eventually feel the heat from Acura's lead drivers in the latter stages of the race.
"I had to fight it out a little at the start with Kleinubing and Aquilante and came out in front in 4th place. I was happy to see the two of them scrapping in my mirrors, which afforded me a bit of a gap behind. Unfortunately, the time I spent with them made me lose touch with the top-3 and while I could maintain the front gap, I was using my tires up to do it."
Once Clay's tires had passed their useful stage, fending off the cars chasing his BMW E90 became challenging. "The tires gave up their grip, my times started to slow, and the Subaru blasted past me. Then I saw Cunningham and Kleinubing getting closer and closer in the rearview mirror and working in tandem, so I knew I was never going to be able to make the car wide enough to keep them behind me. This was the toughest World Challenge race I have run and while 9th isn't where I want to be, the depth of the talent in the field here is amazing and I can't be overly upset."
While his own race wasn't as solid as he'd hoped, the combined efforts of the team left Clay feeling incredibly proud.
"I could see Seth and Nick up ahead and knew they had the goods today. The team was keeping me updated on their progress and I don't mind playing the role of tail-gunner if it means our hard work keeps paying off like this. All the credit goes to our crew chief Jason Marks and our BimmerWorld technicians.
"Thanks to Seth, we get to have two Fourth of July celebrations today. This will be one to remember!"
The impressive Watkins Glen results for the BimmerWorld/GearWrench team elevated Thomas to 3rd in the championship points standings, just six markers out of the lead. Nick Esayian holds 8th and James Clay holds 9th.
###
Courtesy: BimmerWorld Media Services
[email protected]
More information about the team, cars, and drivers can be found at www.bimmerworldracing.com
Information on BimmerWorld's Customer Car Services can be found at www.bimmerworld.com
Details on PowerFlex Suspension Bushings can be found at www.powerflexusa.com
Tags
Tags not found
RELATED ARTICLES
Related article(s) not found