BimmerWorld Ready For GRAND-AM Continental Tire Series Debut at Daytona
January 27th, 2010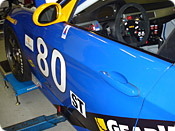 GearWrench returns for third year, signing as primary Continental ST sponsor of 'BimmerWorld/GearWrench Racing' Team to make GRAND-AM debut with BMW E90s after nearly a decade in World Challenge David White and Bill Heumann set to embark on first full season of pro racing, joining veterans James Clay and Seth
After spending most of the last decade as one of the featured teams in World Challenge, Dublin, Virginia's BimmerWorld Racing is just days away from adding a new chapter to their history books.
With an off season move to GRAND-AM's Continental Tire Sports Car Challenge series, the BMW specialists have spent the past few months preparing two new ST-class E90s to race throughout the 10-round championship which kicks off this Friday at Daytona International Raceway in the Fresh From Florida 200.
As team owner and co-driver of the #80 BMW E90, James Clay believes his team is ready for the challenges of competing in a new series and adapting to a new style of racing.
"We are very proud of our success and victories in Touring Car, but we also relish the opportunity to take our team and cars into new arenas. We like to push ourselves; it is the core of our business, and racing in the Continental Tire series will teach us new things about the BMW E90 that we can deliver right back to our customers. The endurance racing format of the series will also test the limits of our E90s and their performance components like never before. It has taken a lot of long days and nights to get here, but everyone is ready to get the season under way."
After a successful outing during the official "Roar Before the 24″ test at Daytona two weeks ago, Clay and his BimmerWorld team have continued to work hard as they prepared for the Fresh From Florida 200.
"For me, the last couple of weeks have been filled with detail work to make sure every aspect of our new program is at 100 percent when we get to Daytona," said Clay. " I was incredibly impressed with our crew and the cars we built at the recent Daytona test and that went a long way toward being able to relax a little. But, one universal truth in racing, is that our work is never done and we can always improve.
Amidst preparations for their first GRAND-AM race, Clay was proud to announce the return of GearWrench as a major partner for 2010, marking their third season of involvement with BimmerWorld. Makers of precision hand tools, the continued relationship between the two companies will see the team once again referred to as 'BimmerWorld/GearWrench.'
"GearWrench makes a full line of innovative hand tools – not just high quality stuff, but tools that have lots of hours and smart guys tweaking the design to make the tools more efficient. This means they not only bring higher productivity in the shop, but on the racetrack in endurance races where it means the most. I consider having a cart full of GearWrench tools a critical factor in our ability to win races and a championship."
As the man tasked with leading the effort to prepare and run both BMW E90s, crew chief Jason Marks knows firsthand how important GearWrench's involvement with the team will be throughout the season.
"GearWrench gets it done. They make the finest quality of all hand tools imaginable. Always having the right tools allows us to arrive ready to go and to resolve issues quickly. After using GearWrench exclusively since 2008, they've become extensions of our hands, and that is just the kind of competitive advantage we want."
With Marks and his BimmerWorld technicians having completed their Daytona race preparations on the #80 and #81 E90s, Clay and co-driver David White joined the crew to practice refining their pit stop procedures.
"Week One back to the shop was focused on tweaking the cars – mostly little changes to aid in the pit stops and driver comfort," said Clay. "Then David and I spent a couple of hours doing pit stop practice with the crew and the guys also did their own practice without us. A lot of time can be made up or lost in the pits and we intend to be prepared in all aspects of the program."
Seth Thomas and Bill Heumann, drivers of the #81 BimmerWorld/GearWrench E90, also took their turn getting in pit stop practice at BimmerWorld's Virginia base.
"It's an intricate dance, but Bill and I continue to improve our steps," said Thomas. "Come race time at Daytona, we'll be more than ready."
As a relative newcomer to pro racing, Heumann added some additional seat time after the 'Roar Before the 24′ to ensure he is ready for Friday's race.
"Seth and I went to Sebring for a little more practice and coaching. I have been reviewing data, watching in-car video from the 'Roar' test and practicing on a simulator of the Daytona track. I have also stepped up my physical conditioning. As the oldest guy on the team, I want to be sure that I am physically up for the job!"
Like Heumann, White has also been studying hard since the 'Roar.'
"I've been preparing for the first race by reviewing data to find areas that I can improve upon, as well as trying to mentally prepare myself for the weekend. There is a lot of excitement within the team and we all want to do our part – in and out of the car – to continue BimmerWorld's record and reputation for delivering success."
With a new challenge ahead of BimmerWorld's four drivers, each one says they have specific goals for their 2010 Continental Tire Series season.
"I raced in the series in 2008 and know how steep the competition is," said Thomas. "No one underestimates how tough it will be, but I also know that BimmerWorld has a winning track record for a reason. I want to win; that's my goal. Everyone here wants to win."
"It's never completely about results but they are important," offered Heumann. "My personal goal is simple: hand over a front running, clean and solid car to Seth. The season will not be won in the first race, and we're keenly aware of that. We do need a good finish to achieve our personal and team goals for this first race, and I hope to keep living up to what we've set out to achieve as a team."
David White's goals mirror those of Bill Heumann. "My personal goals for this weekend and the rest of the year are to hand over the car to James in a good position to contest for a strong finish; to learn as much as I can to continue improving as a driver, and to have a great time. Of course, individual race results are important, but we are focused on winning a championship, so being consistently fast and finishing well in each race is our top priority."
James Clay's influence on his team is obvious, and like the other three drivers, he's looking at 2010 as one long endurance race – a contest that is measured using the sum of all their performances, not just the highlights.
"At the end of raceday at Daytona, I would certainly be happy with a win, podiums, and fast E90 race cars, but we are in this for a championship, not just a few shining moments. Everyone on our team is putting forth a huge amount of effort toward this goal and one thing that can absolutely derail us is to take a 'win at all costs' approach. The first of many steps to earn that championship is Daytona, and we are focused on putting in the work to achieve what we know we are capable of."
Follow BimmerWorld's GRAND-AM Continental Tire Sports Car Challenge series debut this week at www.BimmerworldRacing.com, and follow live timing and scoring from each session at Daytona at www.grand-am.com.
###
Courtesy: BimmerWorld Media Services
[email protected]
More information about the team, cars, and drivers can be found at www.bimmerworldracing.com
Information on BimmerWorld's Customer Car Services can be found at www.bimmerworld.com
Details on PowerFlex Suspension Bushings can be found at www.powerflexusa.com
Tags
Tags not found
RELATED ARTICLES
Related article(s) not found