Practice Makes Perfect as BimmerWorld Takes Second on GRAND-AM CTSCC Debut
February 2nd, 2010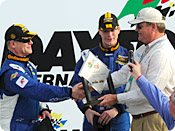 Starting 27th, Seth Thomas and Bill Heumann pilot the #81 BimmerWorld/GearWrench BMW E90 to second place in the team's first professional endurance race Team makes seamless transition to GRAND-AM, executing flawless pit stops and delivering a strong result for their sponsors and partners BimmerWorld-built E90s fast and reliable on the big 3.56-mile Daytona International Speedway road course
For those expecting Dublin, Virginia's BimmerWorld Racing to ease into their GRAND-AM Continental Tire Sports Car Challenge series (CTSCC) debut, the BMW specialists served notice that they're aiming for wins from the outset.
Transitioning from sprint racing to the 2.5-hour endurance racing format used in the CTSCC could have been a major hurdle to overcome, but after years of preparing for professional endurance races by competing in local 12- and 13-hour events, all of that practice paid off when Seth Thomas and Bill Heumann drove their #81 BimmerWorld/GearWrench BMW E90 to second place in the Fresh From Florida 200 on Friday.
While Thomas and the BimmerWorld team are no strangers to finishing on the podium, doing so in their first CTSCC race was especially rewarding.
"This was just a fantastic day," Thomas beamed. "I'm so excited for us to finish second today, and it was also Bill's first professional race, so looking at what we've achieved, this BimmerWorld/GearWrench team is right on pace with where we should be."
Thomas wasn't surprised to see his team and teammate perform so well right out of the gate. "I'll be honest. It usually takes a lot of time to adapt to a new series, but if you have the right people and the right partners, you can succeed from the beginning. That's what we proved today."
For Bill Heumann, it took a little bit of faith to believe in the endurance racing mantra his co-driver had drilled into him.
"Seth kept repeating that if I handed over a car that was in good shape and in a decent position on the track, that we could score a podium in our first race. This is my first professional race, mind you. I wasn't sure if he was just giving me positive encouragement, but he was 100 percent right. The car made it easy for me; I could brake at the last moment with our Performance Friction brakes on every lap, and the handling was dialed in perfectly. I did my part, gave him our car in pristine condition, and then he went and drove the wheels off of it!"
The elated Heumann was also quick top praise his co-driver and team.
"The crew guys executed flawless stops. Our driver change was smooth as silk, and overall, I'm going home even more fired up to do the next race. This is a dream for me, but I guess I've learned my lesson. No matter what Seth tells me from now on, I won't doubt him!"
The #81's charge from 27th to 2nd, an improvement of 25 spots, was the highlight of the day for BimmerWorld. Unfortunately, the sister #80 BimmerWorld/GearWrench BMW E90, driven by team owner James Clay and David White, would have a less deserving result.
Starting an impressive 3rd on the grid, Clay and White were poised to score an impressive finish alongside the #81, but after being hit from behind, resulting in a multi-car accident, Clay's day ended with a broken suspension and an assortment of crumpled body panels.
Clay was pragmatic after the incident, and preferred to recognize the performance of his team.
"I hate what happened to David and I, but what's important is to see all of our hard work pay off. Endurance racing is the ultimate form of team-based racing, and everybody involved in our organization delivered today. Our drivers performed like endurance veterans, our crew looked like they've been racing at Daytona for years, our BMW E90s had the speed all weekend long, and all of our sponsors and partners helped to pull off the GRAND-AM debut we knew we were capable of."
White echoed Clay's comments, and got to see just what the team was made of throughout the weekend.
"What happened to us in the #80 was a fluke, and with such a big hit, I'm really happy with how our car held up. BimmerWorld builds and amazing car, and they also choose the right partners to be involved. The right front took a heavy shot when James was hit, but the RAYS wheel is in perfect shape, and that's a testament to their products."
Having seen what Thomas and Heumann achieved at Daytona, White is eager to join them on the podium at the next race.
"What these guys did in the #81 is exactly what we expect from ourselves. We know we can do this with both cars, and that's comforting. BimmerWorld is all about preparation. They came to the track with every item completed and ready to hit the track, and we saw all of that play out today."
The smooth execution of BimmerWorld's Fresh From Florida 200 race came after a few hectic weeks of preparation and repairs to the #81 BMW E90. A crash in testing found the Jason Marks-led BimmerWorld crew taking the car down to the bare chassis in order to have it straightened before a complete reassembly and rebuild prior to Friday's race. The road to Daytona, as Marks shared, was long, but ultimately rewarding.
"All of my guys put everything they had into getting the #81 ready to go again. We knew what we could do at Daytona, and that provided all the motivation we needed. I think we put every GearWrench tool we had to use on the #81 over the past few weeks! Now that we've gotten a 2nd, we'll be focused on getting our first win in the series. It won't be easy, but that's what makes the challenge so worthwhile."
Team boss Clay agreed with Marks and also reflected on his choice to move his team to GRAND-AM.
"The test crash set us back, but for anybody that knows what we are about, getting the #81 to the race was never in question. The CTSCC series is easily the toughest endurance championship to race in, and coming in, we knew it would be a huge undertaking. That hasn't changed, and we have so many things to work on for the next round, but I think we made a statement about how well we fit in the CTSCC. We moved to the right series at the right time, and today's result just confirmed that."
Follow the BimmerWorld/GearWrench team as they prepare for Round 2 at Homestead-Miami Speedway, March 5-6, by visiting www.BimmerWorldRacing.com.
###
Courtesy: BimmerWorld Media Services
[email protected]
More information about the team, cars, and drivers can be found at www.bimmerworldracing.com
Information on BimmerWorld's Customer Car Services can be found at www.bimmerworld.com
Details on PowerFlex Suspension Bushings can be found at www.powerflexusa.com
Tags
Tags not found
RELATED ARTICLES
Related article(s) not found