IMSA 2020 Announcement
December 3rd, 2019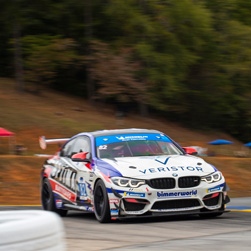 BimmerWorld has confirmed its 2020 plans for the IMSA MICHELIN Pilot Challenge season with a pair of BMW M4 GT4 race cars and fast and familiar faces at the controls. The BMW specialists return for their third season with the F82 M4 platform in GT4 trim and 11th straight IMSA endurance season. The team has committed to the full 10-race MICHELIN Pilot Challenge schedule with the traditional opening round at Daytona taking place January 23-26, 2020.
Behind the controls of the No. 80 Racing to End Alzheimer's BMW M4 GT4 will be Nick Galante and Dillon Machavern. Galante and Machavern are past teammates with strong chemistry. Galante, a two-time Champion in the IMSA Street Tuner class (2016 and 2018), claimed his last title behind the wheel of a BimmerWorld BMW F30 328i. In 2019, he finished in the top ten of the intensely competitive TCR series. Machavern has won races in just about every form of GT motorsport and earned the 2017 IMSA GS Championship and multiple SCCA club championships. He finished the 2019 season with the GTD victory at the Petit LeMans in a BMW M6 GT3 and was runner-up in the TransAm championship.
In a second M4 GT4, team owner James Clay, of Blacksburg, Va. will again pair up with Devin Jones of Mooresville, N.C. in the No. 82 OPTIMA Batteries/Veristor BMW M4 GT4. The pair earned third place in the GS standings in 2019 with three podiums and eight top-ten finishes which also landed the duo top-finishing BMW team honors in the GS class. This will be Clay's 11th straight season of IMSA endurance racing. Jones is the 2018 ST-class driver champion with a BimmerWorld F30 328i. The No. 82 BMW will carry the OPTIMA and Veristor livery.
The No. 80 BMW will carry the livery for Racing to End Alzheimer's with a focus on raising both awareness of the disease and money to fund the cure. Throughout the season, donors will add names to the living livery to honor friends, family, and loved ones affected by this debilitating disease.
The 2020 MICHELIN Pilot Challenge will be a 10-round series at race tracks across the U.S. The season kicks off with the BMW Endurance Challenge 4-hour race at Daytona International Speedway in Florida on January 23-26. Other rounds will take place at Sebring, Mid-Ohio, Watkins Glen, Mosport, Lime Rock, Road America, VIR, Laguna Seca, and Road Atlanta.
Additional 2020 racing plans will be announced in the coming weeks.
The BMW M4 GT4
GT4 is a global racing class for mid-sized sports and GT cars. The unified set of rules allows manufacturers to offer a single racing car for multiple series around the world. BimmerWorld is one of the premier customers for BMW GT4 racing in North America, having competed continuously with the M4 in multiple series since the car was introduced. The race car is based on the F82 M4 street car, using the same S55 twin-turbo inline-6, 7-speed DCT transmission, and suspension layout. Only minor changes are made to make the M4 into a highly competitive race car. The M4 competes with more purpose-built sports cars like the McLaren 570S, Audi R8, and AMG Mercedes GT, along with other GT cars like the Ford Mustang.
BimmerWorld Racing
BimmerWorld is the preeminent BMW racing/performance specialist in North America, racing professionally in the IMSA Michelin Pilot Challenge (BMW M4 GT4), World Challenge GT4 America (BMW M4 GT4), and World Challenge TC America series (BMW M240i Racing). The team will be making its third entry in the Pikes Peak International Hill Climb with a V8-powered BMW E36 M3. BimmerWorld also builds cars and supports racers in various BMW CCA, AER, NASA, and SCCA club series. Off the track, the business is the last, and only, independently-owned major BMW parts specialist in North America. The catalog at www.bimmerworld.com has everything from accessories and OEM replacement parts to highly specialized racing parts with a knowledgeable staff, competitive pricing, and quick service.
Pre-2020 race season quotes follow:
No. 80 Racing to End Alzheimer's BMW M4 GT4
Nick Galante: "A return to team BimmerWorld racing is an amazing opportunity I can't wait to capitalize on. The memories of our 2018 championship season are still vivid. The top-level team that James Clay has built has proven itself over and over. To be paired up with Dillon Machavern this season is as good as it gets. I know we'll be looking ahead and working hard all year. I'm excited with not only the strategic planning, but also the familiar friendship dynamic that's here. Honored to run alongside James Clay, Devin Jones, and Dillon Machavern again. The opportunity couldn't exist without the epic heart of Phil Frengs and his Racing To End Alzheimer's initiative. I know this will be a great platform to make huge strides in the fight against Alzheimer's and the R2EndAlz.org cause."
Dillon Machavern: "I'm excited to return to the MICHELIN Pilot Challenge for a full championship effort in GS. The opportunity to co-drive with my former teammate Nick Galante with a top-level team like BimmerWorld is a recipe for success. I'm also very proud to be part of the Racing To End Alzheimer's initiative, a program I've been following from its inception when I first met Phil Frengs years ago. Nick and I both know what it takes to win a championship and we already have great chemistry which will pay dividends in what's shaping up to be a very competitive GS field. I've had great success with BMW in GTD and I'm looking forward to carrying that momentum into GS with BimmerWorld in the M4 GT4."
Phil Frengs, Founder at Racing to End Alzheimer's: "Racing to End Alzheimer's Foundation goes racing for its fourth season. Our premise of honoring loved ones who are or have been affected by Alzheimer's or any other form of dementia depends on the generosity and participation of our fans, our racing team, and our cosponsors. 100% of all donations go to our beneficiaries along with corporate matching. All costs and expenses are funded by sponsor Legistics.
"By putting the names and hometowns of our loved ones on our race car over the past three seasons, funds raised have exceeded $250,000 and have benefited the work done at the Nantz National Alzheimer's Center at Houston Methodist Hospital, The Alzheimer's Care Program at UCLA, and Baycrest Foundation in Toronto.
"As founder of our foundation and CEO of Legistics, we are delighted to return to the BimmerWorld family for the upcoming season. We have high expectations for competitive success and record fundraising."
No. 82 OPTIMA Batteries/Veristor BMW M4 GT4
James Clay: "I think we have one of the strongest driver line-ups in recent memory. Devin and I will team up again, and he's just a terrific co-driver. We work extremely well together, and we have a proven track record which we aim to improve on those last couple of spots. We welcome Nick back to the team, and not only is he fast, but he's experienced as well. His driving will be complemented by Dillon Machavern who is also super quick and crafty. I expect these guys will be our own best competition, which will be fun. We have a couple of seasons now with the M4 with a tremendous amount of data at our disposal, and I expect us to win."
Devin Jones: "I'm extremely excited to be returning to BimmerWorld Racing for the 2020 IMSA season and co-driving once again with James. It's a great feeling to have continued support from OPTIMA Batteries and Veristor. With their backing, we can't wait to make another run for the championship in our BMW M4 GT4 next year after coming up just a bit short in 2019. James and I had solid chemistry last year and enjoyed some success throughout the year, I'm looking forward to building on that. I can't wait to get down to Daytona and start working towards the goal of a championship in 2020."
FOLLOW BIMMERWORLD AT: https://www.facebook.com/bimmerworld
STAY UP TO DATE WITH BIMMERWORLD NEWS AT: http://www.bimmerworldracing.com
ABOUT: BimmerWorld is renowned as a leader in BMW aftermarket and tuning expertise. It competes in the IMSA MICHELIN Pilot Challenge series in the Grand Sport (GS) class with a pair of BMW Motorsport M4 GT4s, where the Virginia-based outfit has become a winner and championship contender. BimmerWorld Racing also continues to race in the SRO TC America Championship in the Touring Car (TC) class with two BMW Motorsport M240i Racing cars.
Tags