Hometown Team BimmerWorld Racing Leaves VIR with Mixed Feelings
August 21st, 2018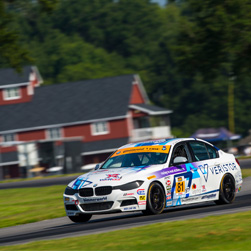 Thanks to a home track advantage, BimmerWorld Racing entered this past weekend's Biscuitville Grand Prix at VIRginia International Raceway with high expectations. Both BimmerWorld BMWs were in the top ten in championship points heading into the weekend's IMSA Continental Tire SportsCar Challenge race.
As usual, racing luck, penalties, cautions, and always-surprising VIR weather played a big part in the strategy and outcome to round eight of the 10-race series. After capturing the pole in qualifying, the leading BMW team in the ICTSC series was proud to put their F30 BMW 328i on the ST class podium for the seventh time in eight races. The race was not as bright for the team's GS class entry with a tough battle to 19th place after an unexpected component failure.
Nick Galante, of Greenfield, Mass. qualified the No. 81 Veristor/Legistics BMW 328i (F30 chassis) on the ST class pole with a time of 2:04.987, procuring the BimmerWorld team's seventh pole in eight races and his fourth.
BimmerWorld Racing team owner/driver James Clay of Blacksburg, Va. qualified the No. 82 OPTIMA Batteries BMW M4 GT4 in sixth place in the GS class with a time of 1:54.528. He had a masterful race start and immediately jumped up to third place on the first lap.
Starting the race under the threat of rain, the skies opened up shortly after the fourth lap of the two-hour, 59-lap race, as rain came down over much of the 17-turn circuit. By the fifth lap, it was raining heavily and many competitors pitted for rain tires; however, a number of drivers elected to stay out a bit longer to see if the rain would subside.
BimmerWorld was one of the teams that elected to leave both BMWs on track and let the drivers manage the slippery track conditions on dry-weather Continental tires. Galante was able to maintain the ST class lead and Clay jockeyed near the front of the field as cars slid off around him. Clay's best lap time came on lap 3 with a time of 1:55.804, the fastest turned in the No. 82 entry.
By lap 11, the sun was peaking back through the dark clouds and Clay was running a commanding third-place in GS while Galante continued the ST class lead.
On lap 21, 45 minutes into the two-hour race, Clay felt a vibration and had problems while braking and pitted with three rolling wheels, with the forth being dragged as a result of sheared wheel studs. Although they knew their chance for victory had eluded them, points towards the championship were still an important factor, so the BimmerWorld crew went to work making the needed repairs to get the BMW M4 GT4 back on track. On lap 39, 18 laps after they pitted, Tyler Cooke, of Ft. Lauderdale, Fla., took the car back on track. Even though they weren't able to run at full race speeds, Cooke nursed the injured car for the balance of the race and eventually crossed the finish line 19th in the GS class.
Meanwhile, Galante stayed on track until lap 30 when he pitted for tires, electing to switch to rains as the skies started to open up again, as well as fuel and a driver change to Devin Jones of Mooresville, N.C. Galante's fastest lap came before the rain, on lap 3, with a time of 2:06.482. Jones started his stint in fourth place, one lap down from the ST class leader.
On lap 38 with over 38 minutes remaining, Jones passed the No. 37 MINI of Derek Jones (no relation) for third place in ST. Then on lap 45, with 25 minutes left, as the track dried, Jones' rain tires started deteriorating and the left front tire eventually went flat and required a pit stop for a tire change under green-flag conditions. Although he lost valuable time with the additional pit stop, being out on fresh tires allowed Jones to click off some good times once back on track. His fastest lap came on lap 52 with a time of 2:05.301.
Jones crossed the finish line in fourth place. However, the first place ST class competitors received a post-race technical infraction, allowing the entire class of ST cars to move up one position. Additionally, the third-place finishers were assessed a drive-time infraction, and so the No. 81 Veristor/Legistics BMW 328i (F30 chassis) of Jones and Galante was then awarded second-place honors and the points to match, keeping them comfortably in first place in the ST point championship with two races remaining.
The penultimate round for the 2018 season will be held at WeatherTech Raceway Laguna Seca on September 8 followed by the finale at Road Atlanta on October 12.
The Biscuitville Grand Prix race will air on FOX Sports 1 on Sunday, August 26 from 12:00 p.m. to 1:00 p.m. Eastern time.
Devin Jones, Mooresville, N.C., driver, No. 81 Veristor/Legistics BMW 328i (F30 chassis):
"When I got in the car, we put on rains [tires], kind of gambling that the rain was going to keep steady. It was working for the first few laps, but then it started to taper off, and the track dried. Then the rain tires started coming apart and started getting really hot, and then one of them went flat. We had a left front flat, so we had to come in and put dries on. We lost a bunch of time there, but we were able to knock off some good laps. We were running everyone down and just kind of ran out of time, honestly. We were probably the fastest time at the end there, but everybody rallied really well. It's just one of these races where it can fall either way. Rain races are tricky, especially when it's off and on like that. I just have to thank Trent, James, and all the guys that worked on the car this weekend. We're kind of disappointed. We thought we had the car to win, but at least we were able to salvage some points and maintain the points lead going into the last two races. With the leader and another car being disqualified, we finished higher than originally scored at the checkered so, overall, we can't complain."
Nick Galante, Greenfield, Mass., driver, No. 81 Veristor/Legistics BMW 328i (F30 chassis):
"We knew the rain was coming and the track was actually wet when we started the race. It was a mayhem of a start with the TCR cars and some of the GS cars dropping back. So, we were actually battling two different classes and a championship at the same time within our own class, which was quite interesting. Jason Rabe drove really well, and we had a great battle back and forth. Collin Mullin had a great start and passed me at the start. We had contact at the exit of turn three, unfortunately. It was unintentional on both sides and it was just good, hard racing. We actually broke our window and had some glass in the car that was affecting our throttle pedal. The car's pretty good on rain tires in the wet, but on slicks it was a handful. Devin did a great job keeping the car on track and closing in the end to keep us on the podium. The bonus of the extra steps up on the podium after the technical inspection rulings post-race helped with the points."
James Clay, Blacksburg, Va., team owner and driver, No. 82 OPTIMA Batteries BMW M4 GT4:
"It was a great start. A great first turn, then the weather started coming and we navigated through that, fell back, and it just got slick as ice out there. Five miles per hour and you were just pirouetting off track. We survived, I'd say there's a good bit of luck in there, but we made it through all that running strong. The track was drying up. Everything was starting to go our way. We played our strategy. We kept the slick Continentals on the car and all of a sudden, I got a little bit of a vibration. Then, braking into turn ten I said, 'Oh man, we've got a real problem. I need to come in' and we sheared some wheel studs so I brought it in on three wheels/tires. That wasn't an easy repair, so we were stuck in the pits a while, watching the cars go by and watching our championship go with it. We got back out, but it cost us dearly. Fingers crossed for a win at Laguna Seca."
Tyler Cooke, Fort Lauderdale, Fla., driver, No. 82 OPTIMA Batteries BMW M4 GT4:
"Unfortunately, James had a good stint going in, but we broke some wheel studs and the wheel just started flopping its way off. The guys worked for thirty-eight minutes on pit row and got it back. It was tough because we had a car that could have run up front. If this was our bad race of the year, we'll take it and salvage something out of it, which we did. We noticed that there was something wrong with the car throughout the race. I ran slow laps and wanted to bring the car home. And at least we got points out of today, and that's the main thing we want to take away. James drove a great stint. I thought we were going to have an amazing race with how he was driving, and it just didn't play into our favor. The BMW was pretty solid throughout the rain. James stayed on dry tires the whole time, and he was probably the second fastest car on track besides the McLaren, but overall his stint was amazing. I can't say much about mine because I was just on cruise control trying to get the car back home, but it should have been a great weekend."
FOLLOW BIMMERWORLD AT: https://www.facebook.com/bimmerworld
STAY UP TO DATE WITH BIMMERWORLD NEWS AT: http://www.bimmerworldracing.com
ABOUT: BimmerWorld is renowned as a leader in BMW aftermarket and tuning expertise. It competes in the IMSA Continental Tire SportsCar Challenge series in both the Grand Sport (GS) class with a brand-new BMW Motorsport M4 GT4 and in the Street Tuner (ST) class with a turbocharged BMW 328i (F30 chassis), where the Virginia-based outfit has become a routine winner and championship contender.
Tags