BimmerWorld Racing Eager to Extend Championship Lead at Home Track of VIR
August 14th, 2018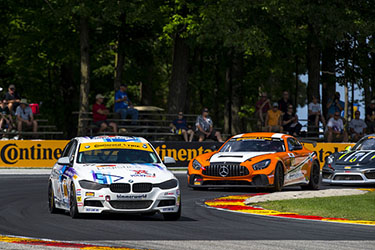 The Dublin, Va.-based BimmerWorld Racing team is ready to return to VIRginia International Raceway, it's home track, for the IMSA Continental Tire SportsCar Challenge series and collect more valuable points in its quest for the series championship.
The Biscuitville Grand Prix, a 2-hour race at the 3.27-mile, 17-turn VIR road course on Saturday, August 18, will be the eighth round of the 10-race Continental Tire series.
BimmerWorld Racing's Nick Galante of Greenfield, Mass. and Devin Jones of Mooresville, N.C., drivers of the No. 81 Veristor/Legistics BMW 328i (F30 chassis), lead the ST class points championship by 11 points heading into the weekend.
BimmerWorld Racing team owner/driver James Clay of Blacksburg, Va. and Tyler Cooke of Fort Lauderdale, Fla. drive the No. 82 OPTIMA Batteries BMW M4 GT4 and are currently in fourth place, just eight points out of the GS class points championship lead, so all eyes are still on the championship.
The BimmerWorld team considers VIR their home track, as their shop is only about 100 miles away. Clay, who founded BimmerWorld in 1997, started coming to the track after Connie Nyholm and Harvey Siegel reopened its gates in 2000 under the "country club" model. Using the multi-faceted road course for testing and racing (as well as down-time recreation at the karting track and various shooting ranges) has become a common activity for his local BimmerWorld team.
VIR is also a circuit where the team performs well. Last year BimmerWorld Racing had one of their best races of the year at VIR when Clay qualified on the pole, and he and Cooke finished second on the podium while the second team entry finished fifth.
Galante and Jones have dominated in the ST class this season with three victories and six podiums in seven races. Meanwhile, in the ultra-competitive GS class, Clay and Cooke have captured three podiums in seven races but are still seeking that elusive victory and are hoping for a home track advantage this weekend.
The team feels getting the car setups sorted out early will be a relatively easy task given their knowledge of the track. Adding another enhancement for them is the fact that many family, friends, and sponsors are expected to come out to the Biscuitville Grand Prix race to cheer on their favorite team. The added boost of team spirit and pride to bring home victories for both BMWs in both classes and write a storybook ending for their home track race weekend are prominent on their minds as they eagerly reach for maximum points towards their championship effort.
Practice begins on Friday, August 17 at 9:40-10:40 a.m. and from 3:20-4:05 p.m., followed by ST qualifying from 7:10-7:25 p.m. and GS qualifying from 7:30-7:45 p.m. Pre-race and Fan Walk activities are from 1:20-2:05 on Saturday with the two-hour Biscuitville Grand Prix race scheduled from 2:15-4:15 p.m.
Live video coverage and live timing and scoring of the race will be offered on imsa.tv and imsa.com. The race will also air on FOX Sports 1 on Sunday, August 26 from 12:00-2:00 p.m. All times are Eastern.
James Clay, Blacksburg, Va., team owner and driver, No. 82 OPTIMA Batteries BMW M4 GT4:

Share some of your thoughts about your home track here at VIR.
"I never get tired of driving, testing, and racing at VIR. It's one of my favorite tracks with an amazing layout to drive. There is simply no piece of pavement in the world as challenging and rewarding as the Uphill Esses, and there are over three miles of sections that are similarly awesome to drive and race. With a variety of scenic vantage points, it's also one of the best tracks in the U.S. for spectators to watch a race.
"On top of that, the staff here is just awesome. Whether it's leading the charge in development and implementation of safety standards for racetracks or serving up the best buttermilk biscuits and country ham short of home, everyone at VIR digs in to make this facility the best in the world. I'm lucky to have it essentially in our backyard!"
As the end of the season is just three races away, share your thoughts on the Continental Tire SportsCar Challenge series this year and what you're focusing on.
"As we're closing in on the end of the season, racing at VIR is an enjoyable homecoming to all of us at BimmerWorld. The Continental Tire Challenge points championship is super important to us, and we've managed to have our foot in the door all year. With just two races to finish the season after we leave here, getting maximum points in both our GS and ST cars is our goal. In order to do that, we really need to win with both cars in both classes, so it's a pretty tall order! While it's not an easy feat, being here at our home track eases the pressure just a little. We always have a lot of family and friends who come out and cheer us on, and that also makes a difference when we're on track and under pressure."
Tyler Cooke, Fort Lauderdale, Fla., driver, No. 82 OPTIMA Batteries BMW M4 GT4:
BimmerWorld usually does some fun stuff at VIR each year for family and friends. What's on the agenda this week?
"I'm going to be celebrating my birthday on Saturday with my family and team. We typically have a cookout with friends and family of the team and drivers. I'm hoping we win the race, as that would be a great birthday present, and the track would be providing the champagne to celebrate!"
VIR is not always a strong BMW track. Do you think you can overcome that by your familiarity with the circuit as your home track and testing facility?
"I think it's still going to be a difficult race for us, but I'm confident we can do well. The track suits our BMW M4 GT4 nicely."
What's your favorite part of the VIR circuit?
"Oak Tree and Hog Pen turns are my favorites. They are two great parts of the circuit to watch."
How have you enjoyed competing in the GS class in the new BMW M4 GT4 this year?
"I've enjoyed it very much. The racing has been close and the competition tough. I'm looking forward to the next three races."
Nick Galante, Greenfield, Mass., driver, No. 81 Veristor/Legistics BMW 328i (F30 chassis):
As the season is drawing to a close how important will these last three races be?

"We're excited to be in the position we are, but we need to stay focused and keep the same amount of pressure on that we have been. These remaining three races are the final step in the championship and are crucial to our goal."
You and Devin have a good lead in ST points. Do you have confidence you can stay on your success path at VIR and through the end of the year for your championship hunt?

"We do have confidence, not only in our driving abilities but even more importantly, the entire BimmerWorld team. They are the solid foundation that got Devin and I here. Without their ability, knowledge, and professionalism, we wouldn't have this opportunity."
Do the VIR fans appreciate that you're a Virginia-based team?
"I think they definitely do. Being based out of Virginia will be a big boost in fan-favorite support this weekend. Not only do I love VIR, it's the fans that make it such a great venue."
How have you enjoyed competing in the ST class in the BMW this year? 

"At the beginning of the season, I wasn't sure if I'd fit well with the car and if my driving style would adapt to the unique demands of the car. I've been more than happy with the car, and it really is a fun ultimate driving machine. The racing this season has been great too. Even though the number of entries in the final season of the ST class has been a bit lower than usual, it's been a really enjoyable season so far."
Devin Jones, Mooresville, N.C., driver, No. 81 Veristor/Legistics BMW 328i (F30 chassis):
We're closing in on the final races of the season now. How important will these last three races be?
"These last three races are going to be extremely important. I feel confident in all three tracks; our BMW should be suited well but we just have to keep our heads down and continue to put our best foot forward."
What do you expect to be the most challenging thing this weekend?
"I enjoy VIR so much, it's one of my favorite tracks on the schedule. However, the weather there is always unpredictable, and as a team, have to be ready for any kind of conditions."
You and Nick have a good lead in ST points. Do you have confidence you can stay on your success path at VIR and through the end of the year for your championship hunt?
"There are still three races left on the schedule and a lot can happen in that amount of time. Everyone is gunning for us, so we just need to take everything session by session and do want we've been doing all year. This whole BimmerWorld team has all my confidence."
What's your favorite part of the VIR circuit?
"VIR is not only one of my home races but it's also BimmerWorld's home race as well, so needless to say, I couldn't be more excited to come here. This track has everything a driver wants: technical corners, high-speed areas, elevation, hard braking zones, and everything in between! The uphill esses are still my favorite part of the track, but I love the flow of the whole circuit!"
How have you enjoyed competing in the ST class this year?
"This year has been an extremely hard-fought battle. The drivers we're competing against are top-notch and so are the teams. I am going to miss competing in ST, and the cars in the class will be missed as well when they go away next year. This class has been a staple of the series for years, and come next year, manual gearboxes will be a thing of the past in IMSA, which is crazy to think about!"
FOLLOW BIMMERWORLD AT: https://www.facebook.com/bimmerworld
STAY UP TO DATE WITH BIMMERWORLD NEWS AT: http://www.bimmerworldracing.com
ABOUT: BimmerWorld is renowned as a leader in BMW aftermarket and tuning expertise. It competes in the IMSA Continental Tire SportsCar Challenge series in both the Grand Sport (GS) class with a brand-new BMW Motorsport M4 GT4 and in the Street Tuner (ST) class with a turbocharged BMW 328i (F30 chassis), where the Virginia-based outfit has become a routine winner and championship contender.
Tags