BimmerWorld Signs Liefooghe and Capestro-Dubets for 2011 Continental ST Season
December 2nd, 2010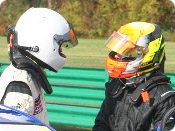 Leading GRAND-AM Street Tuner BMW team announces strong driver pairing for first of two ST entries
BimmerWorld Racing announced the first of its two 2011 GRAND-AM Continental Tire Sports Car Challenge entries today after signing Gregory Liefooghe and John Capestro-Dubets to drive in the 10-race championship.
Liefooghe, 29, joins BimmerWorld after a successful 2010 season in the ST class adjusting to the nuances of production car-based racing after cutting his teeth in the world of open-wheel competition. With support from Exclusive Management Inc., Liefooghe will transition to driving one of BimmerWorld's race-winning BMW E90s. With numerous poles and wins in 2010, BimmerWorld's proven platform of providing its clients with the best machinery and team support is expected to bring Liefooghe closer to his goal of becoming a GRAND-AM champion.
"When looking at BimmerWorld," Liefooghe said, "it's easy to see how much focus and determination they bring to their racing program. You can feel a very strong culture coming from years of experience and commitment. Obviously, all that hard work showed on track where their E90s where always running upfront. When and I talked about my 2011 plans with my manager, Michael Duncalfe, it just seemed like a logical choice to go after a championship with BimmerWorld."
A measured performance throughout the year is what Liefooghe expects to make the difference in the championship standings.
"We will be focusing on consistency because that is what wins championship at the end of the year, and we will be fighting hard for podiums as well. I feel that with BimmerWorld's support, I can develop further as a driver and the motivation will be very high with that many people pushing hard behind you."
The talent and potential shown by Liefooghe in his first season of Street Tuner will be complimented in 2011 with the addition or rising star John Capestro-Dubets as his co-driver.
"I think driving with John will be great," said Liefooghe. "Even though he has limited experience in sports cars, he is already up to speed and he learns very fast. He's coming in with the right attitude and I feel that I have been paired up with a strong driver who will be able to hand me a very solid car in a great position."
While the 21-year-old JCD is still adding to his pro racing resume, the resident of San Diego, CA spent 2010 preparing for his graduation to GRAND-AM by competing in the highly-respected Skip Barber Mazdaspeed MX-5 Challenge series.
The move to BimmerWorld, as JCD shares, was made after careful consideration of what would benefit his burgeoning career the most.
"Because 2010 was my first season in racing and I was so focused on the task at hand, I didn't want to make a hasty decision on which teams to consider in the Street Tuner class. However, with the help and guidance of my manager and coach, Michael Duncalfe of Exclusive Management Inc., we selected BimmerWorld for the 2011 season. The team has an incredible work ethic on and off the track – which was a big draw for us. BimmerWorld's team owner, James Clay, and the rest of the crew made us feel like we were a part of the BimmerWorld family from the moment we walked into their race shop. We tested at VIR a month ago and I knew instantly that we had found the right team for my first year in a professional racing series."
JCD's speed and consistency will translate perfectly to the rigors of the Street Tuner class, and after earning four wins and eight Top 5 finishes in the Skip Barber series, the "California Combo" of he and Liefooghe should make for one of the most exciting duos next season.
Like Liefooghe, Capestro-Dubets is also supported by Exclusive Management Inc., and the existing ties between the two drivers should help to accelerate Capestro-Dubets' career.
"My goals for the 2011 season are to learn from my teammate Greg and the entire BimmerWorld crew," he said, "and also to develop into a front-running driver at every event. Since my season in the Skip Barber series concluded, I have continued to train extensively at the gym and on my driving simulator. I want to be in the best shape possible, mentally and physically for our first race in Daytona in January. Greg and I work really well together, and I expect that we be challenging at the front in Daytona. It won't be easy, but I'd love nothing more than to help deliver a championship to BimmerWorld in 2011."
BimmerWorld team owner/driver James Clay says helping his two new drivers to maximize their potential is just what the BimmerWorld Racing program is designed to do.
"We had a great first year in the Continental Tire Sports Car Challenge series, and for 2011, our goal is to step up even further. Our team delivered poles and wins for our two rookie drivers in 2010, and with the benefit of having two experienced drivers like Greg and John in the car for 2011, everyone at BimmerWorld is really excited to go racing."
Liefooghe and JCD will make their public debut behind the wheel of their BimmerWorld BMW E90 at the "Roar Before the 24″ test in early January. Based on what he saw of Liefooghe's driving last season, and on how JCD has fared in private testing with the team so far, Clay has high expectations once the season gets under way on January 28th at Daytona International Speedway.
"Greg is an extremely solid driver to begin with and will continue to impress people, and although John is at the early stages of his career, he's shown us that he has the right ingredients to succeed in this sport. I am looking forward to the results these two will achieve in their BimmerWorld car."
The rest of BimmerWorld's 2011 driver line-up will be made shortly. Follow all of the latest news and progress at www.BimmerWorldRacing.com.
###
Courtesy: BimmerWorld Media Services
[email protected]
More information about the team, cars, and drivers can be found at www.bimmerworldracing.com
Information on BimmerWorld's Customer Car Services can be found at www.bimmerworld.com
Details on PowerFlex Suspension Bushings can be found at www.powerflexusa.com
Tags
Tags not found
RELATED ARTICLES
Related article(s) not found