BimmerWorld Completes ST Lineup with David White and Bill Heumann
December 9th, 2010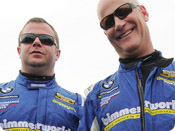 2010 MESCO Rookie of the Year Heumann and two-time ST poll winner White form BimmerWorld's No. 80 BMW E90 driver combo.
Dublin, VA
The final piece of BimmerWorld Racing's 2011 GRAND-AM Continental Tire Sports Car Challenge Street Tuner puzzle fell into place today, as two of the team's stars from the 2010 ST championship have joined forces for the upcoming season.
Bill Heumann, a two-time ST race winner in 2010 and also the MESCO Rookie of the Year, and David White, a two-time poll winner and one of the most impressive rookies in the 2010 field, will partner to drive the No. 80 BimmerWorld BMW E90 in their quest to win the championship.
While Heumann co-drove with Seth Thomas in 2010, and White shared a car with BimmerWorld owner/driver James Clay, the sophomore ST drivers will come together in 2011 to create one of the most formidable entries in the class. Heumann and White will be joined by Greg Liefooghe and John Capestro-Dubets in the sister No. 81 BimmerWorld E90.
As two of his star pupils last season, Clay says Heumann and White are ready to deliver on the talent and promise they regularly showed in their first season of GRAND-AM racing.
"I was very excited to have Bill and David back for 2011. They are solid team members and excellent drivers. Certainly the 2010 season was a learning experience for these two new pro drivers, but their progression through the season was fantastic and I think in year two, they will be a very solid combination. They work incredibly hard to become the best drivers possible, and I expect that kind of dedication to continue to translate into results next year."
Although Heumann and White will serve as teammates for the first time, White says the close-knit structure within BimmerWorld during the 2010 season helped the two to form a strong working relationship.
"I've known Bill for years and while we've never shared a car, our familiarity with each other should help us be competitive right out of the gate in 2011. All of the BimmerWorld drivers spent a tremendous amount of time reviewing each other's data and video last season in an effort to maximize our performance so Bill and I are very familiar with each other's driving styles and habits. This will certainly help minimize any adjustment period of having a new co-driver."
Learning a new series and new racing tracks is a daunting task for any rookie driver, but for Heumann and White, returning for their second season of ST competition and racing on familiar circuits is a proposition they look forward to.
"The only new tracks for me this season will be Laguna Seca and Road America," said Heumann, "and we will make sure I know them by the time qualifying rolls around. Dave showed throughout 2010 that he had the speed and consistency to do what the anchor driver needs to do."
Being able to draw on the setup information from the 2010 season will also help the No. 80 and 81 entries, according to White.
"I think that returning to eight out of the ten tracks we raced at in 2010 will play in to our favor. We now have a wealth of driver and setup data for those tracks that we didn't have last season which will help us get the cars dialed in and provide a baseline for driver performance."
The competitiveness of the BimmerWorld-built BMW E90s last season served notice that the Virginia-based BMW experts would be a force to reckon with throughout the championship. With the benefit of a few months between seasons, the BimmerWorld team has worked non-stop to make their cars even better, which White believes will pay off once the season gets under way.
"The BimmerWorld Racing crew has been extremely busy this off-season tearing down, rebuilding, and improving the two ST cars in addition to building two brand new GS cars. Anyone who knows these guys won't be surprised by what they can and do accomplish in short time frames; their work ethic was the biggest factor in BimmerWorld's success last year. The cars got better each time we drove them last year and I know that they will be better than ever at Daytona in January."
BimmerWorld's team owner confirmed White's assessment, and says that despite the lack of racing, the work has never stopped in their newly-expanded shop.
"The E90 328i cars are currently in the middle of their winter teardown," said Clay, "in which we strip them down to bare shells, inspect every part and replace all of the worn items with fresh units for 2011. We then implement all the items we wanted to but never had time to during the course of the 2010 season. Certainly we are never content to rest on our heels and approach 2011 with the 2010 car, and I expect our package to be strong for the coming season."
The excitement within the BimmerWorld camp was obvious when Heumann and White spoke of their goals for the 2011 season.
"My goal for 2011 is to win the ST driver's and team championship," said White. "Of course that is every other ST driver's goal as well, but I wouldn't mention it as a goal if I didn't believe we or the team couldn't deliver on it."
Heumann's goals are similar to White's.
"I want to do the things I did well in 2010, but do them a little faster! I plan to be up to race speed a little earlier in the weekend, to qualify in the Top 5 and give Dave the car at the front of the field. If I do those things well, we'll be in good shape."
Finalizing BimmerWorld's ST plans for 2011 has Clay feeling positive about their E90 program, but reiterated that the team will be run as a single unit with four cars in two classes, rather than as two separate teams vying for individual ST and GS honors.
"I'm incredibly happy with the strength of our ST lineup, but it's worth repeating that BimmerWorld's focus for 2011 isn't our new GS program, it is winning two championships in two different programs. To do this, we have to have potent driver combinations to match the equipment in every car we are fielding and I think our chosen ST pairings fit the bill perfectly to attack that championship and finish where we left off in 2010."
Follow BimmerWorld Racing's progress throughout the off-season at BimmerWorldRacing.com.
###
Courtesy: BimmerWorld Media Services
[email protected]
More information about the team, cars, and drivers can be found at www.bimmerworldracing.com
Information on BimmerWorld's Customer Car Services can be found at www.bimmerworld.com
Details on PowerFlex Suspension Bushings can be found at www.powerflexusa.com
Tags
Tags not found
RELATED ARTICLES
Related article(s) not found