BimmerWorld's Clay and Thomas Unite to Drive GS-Class BMW M3 V8
December 22nd, 2010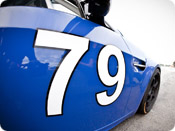 The names James Clay and Seth Thomas have been synonymous with BimmerWorld's multi-car assault in touring car competition and, starting in 2010, the GRAND-AM Continental Tire Sports Car Street Tuner (ST) championship. Despite their long association, the two veterans have never shared a car in a professional racing series.
All of that will change starting next January when Clay and Thomas partner to drive the No. 79 BimmerWorld BMW M3 V8 in the Grand Sport (GS) class as the season kicks off at Daytona International Speedway.
Clay, who owns and runs BimmerWorld's successful BMW performance shop and the four-car BimmerWorld Racing team, says the opportunity to partner with Thomas behind the wheel of their new BMW E92 chassis has come at the perfect time.
"The 'driver/team owner' label that I am often given is actually more 'team owner/driver,' honestly. I have to make decisions based on what is best for the team and unfortunately that usually puts my opinions as a driver at the lowest level of consideration. However, this year everything fell into place perfectly with Bill Heumann and David White returning to impart their experience in the ST program and Gregory Liefooghe and John Capestro-Dubets filling the other car with a competitive driver package. This leaves me with the freedom to put my driving focus toward the GS program where I am most needed. Being able to finally team up with Seth in the new program is awesome – it has been a long time coming."
Thomas says he leapt at the invitation to partner with Clay in 2011.
"Honestly, we have talked about partnering in a car for the last few years, and this year seems to be the perfect year to make this partnership come true with the new E92 M3 effort. When James asked me, I jumped in immediately. BimmerWorld just came off one of its most successful years in racing; having James and I in the same car will give us the strongest chance possible to win the GS championship. Last season–our first in GRAND-AM–gave people a taste of what we could do. 2011 is a year for us to drive home what BimmerWorld is really about."
Both drivers are incredibly fast and share almost 20 years of combined racing experience, yet Clay and Thomas bring different strengths and skills to the No. 79 E92.
"Beyond the team owner duties which go into autopilot on a race weekend, my strongest ability as a driver is setup and chassis development, which will be important in this new program," said Clay. "I have an engineering background and I have built cars from the ground up, so I have a strong grasp of how everything works mechanically. Wayne Yawn, our engineer for the last four years, and I work together like a well-oiled machine which will be very important in getting us up to speed immediately."
After five years of driving the BMW E90 platform, Thomas expects to carry all of the knowledge he's gained to compliment his share of the E92's driving duties.
"Driving the E92 is going to be a lot different than what I am used to from the E90. The car is heavier, has two more cylinders, more power, wider tires, and bigger brakes. But, it is still has that classic BMW feel in the way it drives and performs. The races are going to be about keeping the car under me for the duration of my stint, which I feel is one of my strong points. Driving with James will help me to develop this style further along with pushing the limits of the car better to be a faster all around driver. I can't think of a better balanced team than James and I."
With the driver lineup of BimmerWorld's first GS entry in place, Clay says he would rather let their performances do the talking next year, rather than make bold predictions for what he and Thomas can accomplish.
"Certainly we will have our work cut out for us in the GS program, but we don't enter a series if we don't think we will be competitive. The new cars are awesome and we have already learned a lot about the chassis in World Challenge and the tweaks required for Continental Series cars in our ST program and so far everything seems to be translating to the GS program."
Thomas expects the GS class–one filled with big, V8-powered cars from Detroit–to be just as tough as the ST class proved to be in 2010.
"I think the competition with the E92 will be tough just like last year with the E90s, but our strengths compared to what our competitors have to offer is still very similar. One of our strong points last year was the Performance Friction brakes; they never faded or changed throughout a race. With PFC brakes returning on our E92 M3s, we know what kind of punishment they can take, and best of all, that they will be there for us when other cars are struggling."
Clay partnered with David White in 2010, while Thomas shared driving duties with Bill Heumann, which helped White and Heumann to establish themselves as top pilots in the Street Tuner class. White earned two pole positions during his rookie season of GRAND-AM racing, while Heumann scored two wins, the MESCO Rookie of the Year award and finished second in the ST championship. Based on their standout performances, White and Heumann have teamed to drive the No. 80 BimmerWorld BMW E90 next season.
Although Clay and Thomas will no longer be sharing the cockpit with rookies, they will still provide the same level of coaching and support to all of the drivers under BimmerWorld's tent in 2011.
"Seth and I won't have rookie drivers with us, but that won't change how we work as a team, how we debrief as a group, or how we coach and analyze data after each session. With Greg and John in the No. 81, David and Bill in the No. 80, and our teammates in the pending sister GS BimmerWorld entry, all of our resources and experience will go into the team. All the tools for winning have been put in place."
Follow BimmerWorld's progress as they prepare for the 2011 season by visiting www.BimmerWorldRacing.com.
Tags