BimmerWorld On Pace for 2011 GS Debut
November 24th, 2010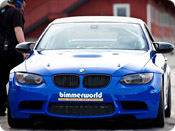 Leading rookie GRAND-AM Continental Tire Sports Car Challenge Street Tuner team is poised for a major expansion into GS for 2011 with two new V8-powered BMW M3s.
Hot on the heels of one of the strongest Continental Tire Sports Car Challenge debuts in recent history, Dublin, Va.-based BimmerWorld Racing has been working non-stop towards their goal of adding two brand-new Grand Sport class BMW M3s to their GRAND-AM program for 2011.
Growing from two cars to four for 2011 has been a part of BimmerWorld's plans since it entered the series, and special attention has been paid to expanding the team's personnel and infrastructure to make BWR's addition of a GS program as smooth and seamless as possible.
"We are always working on our future plans well ahead of schedule," said BimmerWorld team owner/driver James Clay, "and the addition of GS M3s has been kept quiet while the work has gone on behind the scenes. For us, this has always been about expanding to four cars, and less about 'moving up' to GS. Both classes of racing are equally important to us, and both programs receive identical levels of commitment and expertise from my team."
The team's two-car Street Tuner effort in 2010 netted BWR pole positions, wins and almost resulted in the ST championship in their first attempt. While an updated and improved pair of BMW 328s will return to fight for the ST championship next season, they will be joined by two V8-powered M3s that have been engineered and built by BWR's respected team of fabricators and technicians.
With more than a decade of experience in building top caliber BMW racing cars, Clay says their new GS M3s represent the finest cars to come out of their expansive shop.
"10 years later, our same adage still holds true – every car we build is better than the last. Our E90 Touring cars were built with engineering features I had never seen in practice and turned out to be an incredibly solid and durable platform through their four years of life and beyond. A change of series and rules dictated a different approach to our GRAND-AM ST car builds but the craftsmanship and quality continued to progress. Never relying on BMW Motorsport as a chassis supplier, we have years of chassis fabrication and design knowledge and the E92 M3 GS design is the next evolution of what I feel is industry-leading work."
BimmerWorld recently tested the GS M3 for the first time at Virginia International Raceway, and Clay says the shakedown run went according to plan.
"I had the honor of driving the first laps in the new GS M3, and under the watchful eyes of our team of craftsmen, I gingerly left the pits watched the gauges, and radioed in my reports of systems checks, followed by saying 'man, this chassis is amazing!' There is no doubt the new car is full race-bred now and even while we wait on some of the bits we will run in race trim, the underlying platform is just fantastic. I can't wait to test the car in anger shortly!"
As BimmerWorld continues to refine their new-for-2011 GS cars, Clay explained how the technical partnerships that make their ST 328s so successful have been carried over to the GS M3s.
"In addition to our chassis work, we have strong ties with our technical partners from years of professional racing. In the new GS program, where racing brake calipers are allowed, Performance Friction will be involved in a bigger way. We have partnered with AST, the new suspension damper supplier who I feel will provide us with a superior product and we are in the process of becoming intimately familiar with their parts. Rays is making us a special BimmerWorld Edition race wheel and just as the TE-37 was in 2010, I expect it to be both very light and amazingly durable. We have a host of other industry friends at work as well and I think the culmination of our creation will be impressive. This is by no means a run-of-the-mill GS M3."
The BimmerWorld M3's will see their race debut at Daytona on January 28th, and according to Clay, and intensive testing program will take place leading up to the event. After finishing on the ST podium in their series debut last January, repeating that feat in GS is clearly motivating the team.
"We will have a rigorous testing schedule to ensure that we are ready to cross the starting line at full speed when we race at Daytona in January. Results are hard to guarantee in a series as competitive as this one, but the one thing we can guarantee is that everyone is working as hard as humanly possible to deliver top finishes for our drivers and sponsors. Our driver slate is not full on the GS side, so we will be working with interested drivers through this period as well to find the correct fit for the season."
The depth of talent within the ranks of BimmerWorld Racing — from crew chief Jason Marks to engineer/race strategist Wayne Yawn to everyone else that touches the cars — has been the team's secret to success. For what is arguably the most driven team in the paddock, an insatiable hunger for winning is what continues to fuel BWR's fire.
If losing the 2010 ST championship on a statistical tie wasn't enough to push the team harder for 2011, Clays says everyone within his camp has a point to prove once the new season arrives.
"I will say that we left 2010 feeling deprived of our championship season. The ST cars will be back in full force and with a seasoned team and well-sorted cars, I have high expectations. We never stop working or developing, and the ST program is sure to benefit from a little off-season love. After a season spent at the front of the field, I'd say we learned an amazing amount about the series, the rules, the strategy and how to field the best cars possible. I look forward to showing what we can do with all of that experience on our side."
Follow BimmerWorld Racing's progress at www.BimmerWorldRacing.com.
###
Courtesy: BimmerWorld Media Services
[email protected]
More information about the team, cars, and drivers can be found at www.bimmerworldracing.com
Information on BimmerWorld's Customer Car Services can be found at www.bimmerworld.com
Details on PowerFlex Suspension Bushings can be found at www.powerflexusa.com
Tags
Tags not found
RELATED ARTICLES
Related article(s) not found