BimmerWorld Ready for Street Tuner Showdown at Season Finale
September 7th, 2010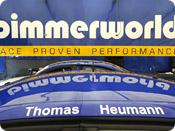 After thousands of miles of racing over nine months of competition, the BimmerWorld/GearWrench team is ready to earn their first GRAND-AM championship.
Dublin, VA
The GRAND-AM Continental Tire Sports Car Challenge finale this weekend is loaded with 'make or break' opportunities for Dublin, Virginia-based BimmerWorld Racing, and it's just the kind of pressure the BMW experts have prepared for.
After a year's worth of hard work, building two brand-new racecars, and moving the team to a new series with a different style of racing, everything comes down to the race this Saturday at Miller Motorsports Park in Tooele, Utah. And if everything goes according to plan, the BimmerWorld/GearWrench team could earn a lot of new hardware to add to their trophy case.
Sitting atop the Street Tuner class with a slim 19-point lead in the Drivers' and Teams' championships, the two-car BimmerWorld team can clinch the driving title for Seth Thomas and Bill Heumann and the team title for the No. 81 BimmerWorld/GearWrench entry provided their recent run of strong results continues.
Heumann is also leading the MESCO Rookie of the Year standings, giving BimmerWorld a shot at collecting three major titles in their first season of GRAND-AM competition.
With a finish of 14th or better, Thomas, Heumann and BimmerWorld/GearWrench will be champions, and after focusing on achieving this result non-stop since the season opener in January, team owner James Clay says he can't wait for the action to get under way.
"We are all very excited to get to Miller and get this season wrapped up. I don't think we are living on pins and needles, but I wouldn't say anyone here is terribly relaxed these days. Luckily, we have plenty to fill our plates to keep us occupied with the new shop and new GS cars for the 2011 season coming together."
Earning two wins from nine races would be enough to satisfy most teams that are new to a series, but as Clay explains, the growth of his team has been the most impressive part of the 2010 season.
"This year has been not only a great year for us with race results, but it has been a phenomenal year behind the scenes. Our partners and sponsors have been great to work with and very supportive of our new program. Team members, including management, mechanics, drivers, and even our photographer have gelled perfectly. I think our results are a testament to the team we have assembled, and they are the reason for what we have been able to achieve."
Preparation has been one of the hallmarks for the BimmerWorld team, with a particular emphasis being placed on getting Heumann and David White, rookie driver of the No. 80 BMW, seat time at the majority of the circuits they've never driven on. For Seth Thomas, coaching his co-driver at a track like Miller Motorsports Park ahead of the grand finale is the best way to improve their chances of succeeding this weekend.
"With one race left in the season and the No. 81 BimmerWorld/GearWrench car leading the points, I can't wait to get back to Utah and get the job done. Bill and I have worked hard all season long to perform at our best, and that includes leaving no stone unturned. We want every advantage we can find, and getting Bill and David ready for each new track ahead of time is part of our game plan. My old high school basketball coach used to tell us 'there's no 'I' in team,' and that's a perfect description of how we've approached this championship. We are 100 percent prepared for Utah, and in our No. 81 car, Bill has been working his tail off to get ready for the race and our team has put in countless hours to give us a car that will run up front. We're ready."
In the world of professional racing, it's rare to find a rookie on the cusp of winning a championship, but thanks to steely nerves and a rock steady approach to his craft, Heumann says his nerves are anything but frayed as the finish to an amazing season approaches.
"I feel really good about the upcoming race. We have worked hard all season and I am well rested for this one. I don't really feel any more pressure for this race than any of the others, and actually quite a bit less than most. The track is big and open and our BMW E90s should do very well with the multiple transitions and big brake zones. This should be a lot of fun."
The sister No. 80 BMW E90 of Clay and White are out of the running for a championship, but that doesn't mean they've set their sights any lower for Miller Motorsports Park. Sitting 5th in drivers' points, the two have come tantalizingly close to winning this year, and with one chance left to make that happen, Clay says they will give it everything they have, but won't go over the top.
"Looking back, we have had a lot of challenges, but I am sure Bill and Seth appreciate having a bad luck magnet on the team. As we go into Miller, David and I are still looking for that first series win, but going for broke to force it to happen is rarely a smart move. I am going to put my head down, work hard, and take what comes our way."
David White echoed Clay's comments, and would clearly like to end his first season of ST competition on a high.
"I'd love to capture that elusive first win at Miller to close out the season and I plan on working just as hard as I have all year to make that possible. The outer course at Miller should suit the BimmerWorld/GearWrench BMWs well and their proven consistency throughout the race will be the key to a strong finish. This is a highly polished team, but we're also fighters. If we have a clean shot at victory, it will be hard to pry it away from us."
The 2.5-hour Salt Lake City 200 GRAND-AM Continental Tire Sports Car Challenge race on the 3.048-mile Miller Motorsports Park circuit starts this Saturday at 4:45 p.m. MT. Follow BimmerWorld's progress at www.BimmerWorldRacing.com.
###
Courtesy: BimmerWorld Media Services
[email protected]
More information about the team, cars, and drivers can be found at www.bimmerworldracing.com
Information on BimmerWorld's Customer Car Services can be found at www.bimmerworld.com
Details on PowerFlex Suspension Bushings can be found at www.powerflexusa.com
Tags
Tags not found
RELATED ARTICLES
Related article(s) not found