BimmerWorld Expanding to Grand Sport Class for 2011
August 24th, 2010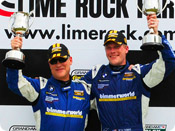 Current GRAND-AM Street Tuner championship leaders will add GS-class BMW M3s for 2011
After a debut season in the Continental Tire Sports Car Challenge series that has gone just as team owner/driver James Clay envisioned, the Dublin, VA-based BMW experts are proud to officially announce their expansion into the Grand Sport (GS) class for 2011 with brand-new BMW E92 M3 chassis cars.
Leading the Street Tuner (ST) driver and team championships with one race to go, the GearWrench-sponsored outfit is perfectly positioned to add the GS program to their stables after gaining invaluable experience during their first season of GRAND-AM competition.
As Clay shares, the endurance racing format that GRAND-AM offers is a perfect match for his company and his clients, making BimmerWorld's growth possible.
"I am very happy with our entry into GRAND-AM racing in 2010 with the ST program. This was our year to learn the series and develop our procedures and behind-the-scenes structure, as well as to make sure we were choosing a good home for our racing efforts. I couldn't be any happier with GRAND-AM and the Continental Tire Sports Car Challenge series – they are a truly professional and forward-thinking organization and this is where we want to be. Now that we have settled in and have our team framework in place, we are ready to grow into our next planned step – our GS program."
One point Clay stressed was that while GRAND-AM offers a clear ladder for teams to climb, the addition of a GS program is by no means an indication of their desire to move away from the Street tuner class.
"For the BimmerWorld team, the GS program is not our new focus or our 'step up' into a faster class. The level of competition in the GS class is certainly top-notch, but we have found the same to be true this season in the ST class. I feel our GS cars will allow us to diversify and expand, and both the ST and GS programs will have the same requirement of us as a team – our absolute best effort, every weekend."
A major part of BimmerWorld's success in 2010 can be attributed to the team that Clay has spent nearly a decade crafting into one of the most respected operations in North America. With veteran crew chief Jason Marks overseeing the build of the GS cars – just as he did for both of the ST BMWs – and Wayne Yawn looking after the engineering and race strategy in 2011, an amazing amount of talent will carry BimmerWorld into the new season.
"This season has involved an appreciable learning curve for us all year," said Yawn. "Everyone at BimmerWorld has taken that in stride. We are looking forward to taking everything we have learned this year in ST, and applying it to both our ST and GS programs next year."
To make the running of the GS car a seamless transition, Marks says that every aspect of the BimmerWorld team is being amplified.
"We move into our GS program with great enthusiasm, and are in the midst of expanding our facility in Virginia to house our ever-growing operations. We tackled our ST program with a dedicated, professional approach and it leaves us chomping at the bit to add a GS program to the team. We are all looking forward to expanding and we will be taking everything we learned about the series, the cars, and endurance racing with our ST cars and bring it all back next year with the addition of a large caliber GS program. Everything is more fun with more firepower!"
The final component to completing BimmerWorld's GS plans involves the signing of the right drivers to pilot the fearsome BMW E92 M3. A great source of pride for Clay has been the success BimmerWorld's two rookies have achieved so far in 2010.
Clay's co-driver in the No. 80 BimmerWorld/GearWrench BMW, David White, has claimed two pole positions, with a best finish of second at New Jersey Motorsports Park. White is currently sixth in drivers' points.
Bill Heumann, who shared the No. 81 BimmerWorld/GearWrench BMW with veteran driver Seth Thomas, has earned two wins so far, and leads the Drivers' Championship and the MESCO Rookie of the Year standings. As a team, BimmerWorld also leads the championship for ST entrants, offering what Clay believes to be one of the strongest packages for a rookie or an experienced driver to take advantage of in GS next season.
"We haven't solidified the final decisions on drivers for the 2011 season at this point, but I have spoken with both existing GRAND-AM drivers and drivers from other series, and of course, I welcome additional inquiries. It is important to me to both develop new talent like we've done with David and Bill, and to do so while building a winning program, and we will be choosing likeminded drivers that give us the most competitive package. I hope to solidify our line-up shortly so we can focus on our main goal – building and developing fast, winning cars."
###
Courtesy: BimmerWorld Media Services
[email protected]
More information about the team, cars, and drivers can be found at www.bimmerworldracing.com
Information on BimmerWorld's Customer Car Services can be found at www.bimmerworld.com
Details on PowerFlex Suspension Bushings can be found at www.powerflexusa.com
Tags
Tags not found
RELATED ARTICLES
Related article(s) not found