BimmerWorld Suffers Heartbreak at 2010 Street Tuner Finale
September 14th, 2010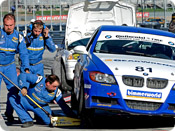 With the championship lead in hand, a freak problem gives the 2010 ST title away on a statistical tie
The hardest defeats to suffer are often the ones where no errors were made and no fault can be found.
After following a perfectly crafted game plan from the first race of the season in January to the final race last weekend in Salt Lake City, Utah, BimmerWorld's dreams of earning a championship were dashed by a freak drivetrain problem with the No. 81 BMW of Seth Thomas and Bill Heumann.
Leading the Street Tuner division of the Continental Tire Sports Car Championship for the last three races, Thomas and Heumann came into Miller Motorsports Park with 19 points in hand and feeling confident about their chances to take the ST championship home.
For Thomas, a veteran BMW road racer, and Heumann, a rookie to the pro racing ranks, 2010 had been a magical season highlighted by two wins and a fast, steady approach that kept the No. 81 BimmerWorld/GearWrench BMW in contention at the first nine of 10 events.
But as so often happens, and despite all of the amazing accomplishments by the first-year Street Tuner team, when bad luck strikes, there's nothing one can do but try to persevere and overcome, as team owner/driver James Clay shares.
"Miller was a terrible race result from us, but I am proud to be surrounded by the guys we have on the team. Even knowing the harsh consequences, they handled the adversity in stride and did a fantastic job getting the No. 81 car back out on the track. I never thought the championship was locked up – I have been in racing long enough to know better. But at the end of the day, I know we did an awesome job, we got tangled up in bad luck at the absolute worst possible time, and that is just how racing can be."
Leading up to Round 10, as the team says, was no different than any other race. The Jason Marks-led crew worked just as hard to deliver two perfectly prepared BMW E90s, and the team's sponsors and vendors gave their all to ensure the BimmerWorld/GearWrench cars had every ounce of speed and reliability they needed to clinch the title.
Yet a broken differential early in the race forced Heumann to pit for immediate repairs where Marks and his technicians leapt into action. Replacing a searing hot differential is normally an hour's work, but the BimmerWorld team, equipped with an arsenal of highly-efficient GearWrench tools, had the car back on track in just over 30 minutes. With an impossible gap to overcome, Thomas took the controls of the No. 81 and put in the drive of the year, climbing from dead last to 20th place by the time the checkered flag fell on the 2010 season.
The heroic efforts by the team, Thomas, and Heumann meant the No. 81 car ended the season tied for the points lead at 274, tied for wins and also second-place finishes with the No. 74 car. Deciding the 2010 ST championship came down to which car had the most third-place finishes, and with the Utah third-place finish, the no. 74 car was awarded the title.
For Thomas, the having the championship decided on third-place finishes is still hard to fathom.
"Honestly I am still at a loss of words after the MMP race. The BimmerWorld crew performed as they have all year, above and beyond what every team in the paddock is capable of. They were incredible. Changing the complete diff in 30 minutes under a hot racecar to keep us in the fight for a championship is nothing short of amazing. I hate that we couldn't bring home the big trophy after their hard work but the results from this season are because of each one of them.
"Losing the championship due to a tie in the points is tough. I wanted this more than anything I have ever wanted in racing and to lose it after our only tough weekend all year is hard. January can't get here soon enough as I feel BimmerWorld and I have some unfinished business left in ST."
Thomas' teammate was thankful for the job the BimmerWorld crew performed, and says he looks back on the 2010 season with great fondness.
"It was incredible that our crew was able to not only get No. 81 back on track but in a short enough time that we were still in contention for the championship," said Heumann. "The opportunity to be part of this team and to do as well as we did this season are clearly accomplishments that I am very proud of. Simply to be counted as BWR team driver with Seth, James and Dave is an awesome ego stroke!
"I joined the BWR team to insure that I continued to grow and develop as a driver and person. I knew the learning curve was going to be very steep in the driving department but I wanted the challenge. With the help of the team, and particularly Seth's coaching, I met my goals. But I had no idea that what I would learn in life lessons would be even more significant. After all, I have had a few more years of experience in this department than most of the guys. Without adversity and challenge, there aren't any real lessons to learn so I don't have any regrets at all."
Heumann's incredible performances throughout the year also netted him the MESCO Rookie of the Year award.
The race for the No. 80 BimmerWorld/GearWrench car of Clay and David White was short-lived in Utah, with White retiring just 16 laps into the race.
"The Miller race was certainly disappointing for us and leaves me wanting to get back behind the wheel more than ever," said White. "This season was a huge learning experience for me and I look forward to using that knowledge to capture some race wins and a championship in 2011."
Clay echoed White's sentiments.
"As a driver I am certainly left unsatisfied after this season, but when I look back in retrospect to learn what I can about it, there isn't a lot I would change other than our luck. Certainly I will regroup and enter next season even more focused, and with some experience in the series under my belt. And while luck is random at times, I do realize you make your own luck as well and with the BimmerWorld team behind us, I feel good about that part of the equation."
With the 2011 season just four months away, Clay believes the BimmerWorld/GearWrench team is poised to make an even stronger run at the 2011 ST championship.
"We came in to 2010 prepared with all the book knowledge we could glean about how the series runs and what we needed to do to win. Unfortunately at a few key places along the route, we had to learn a few lessons that had to do with the 'way things run' in GRAND-AM and didn't fall as we would have expected. I have said through the season that what made our team so strong in our first year is that we were always actively learning and fine-tuning our procedures and as we prepare for 2011, we have the street knowledge to back up our formal education and our team doesn't repeat mistakes."
After an amazing debut season in GRAND-AM, Clay says a difficult loss to end the season will only serve to inspire BimmerWorld in the off season.
"All of our partners and sponsors are committed to earning the championship next season. GearWrench allowed us to make a differential change in record time, for example. Performance Friction gave us a braking advantage at every track on every lap. Red Line Oil kept our BMWs cool when a lot of our competitors began to fade in the heat of summer. And RAYS delivered wheels that withstood a lot of bumps and bruises throughout the year. Everybody contributed. We have a new Grand Sport BMW in the works for 2011, and all of our partners are working incredibly hard so that our second season of GRAND-AM will be even stronger."
Tune in to watch the 2010 ST finale on SPEED this Saturday, September 18th at 9 p.m. ET.
Follow BimmerWorld Racing throughout the winter at www.BimmerworldRacing.com as they prepare for the 2011 Street Tuner championship, and as they prepare their new BMW E92 Grand Sport car for the 2011 championship.
###
Courtesy: BimmerWorld Media Services
[email protected]
More information about the team, cars, and drivers can be found at www.bimmerworldracing.com
Information on BimmerWorld's Customer Car Services can be found at www.bimmerworld.com
Details on PowerFlex Suspension Bushings can be found at www.powerflexusa.com
Tags
Tags not found
RELATED ARTICLES
Related article(s) not found