BimmerWorld Ready for GRAND-AM GS Debut at Daytona
January 26th, 2011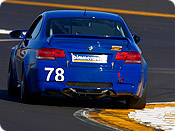 Armed with two new BimmerWorld-built BMW M3 V8 race cars, the Virginia-based team is prepared for the 2011 season which opens this Friday at Daytona International Speedway.
After an intense off-season dominated by building two new cars for the Continental Tire Sports Car Challenge Grand Sport (GS) category, the BimmerWorld Racing team is ready to unload their BMW M3 V8s at Daytona International Speedway to go racing this week at the season opener.
Drawing from a year of success in the Street Tuner (ST) division, BimmerWorld made the bold move to expand their Dublin, Va.-based GRAND-AM operation from two cars to four in 2011 with the addition of the No. 78 and 79 GS entries.
Built on the heavily refined E92 chassis platform, the BMW experts at BimmerWorld have crafted their finest racing cars yet after drawing from more than a decade of knowledge gained from racing the German cars.
Team owner/driver James Clay, who will pilot the No. 79 BimmerWorld BMW E92 M3 with Seth Thomas, says fans can expect one thing from BimmerWorld's new GS cars and drivers: "Excellence! We entered GRAND-AM in 2010 with the ST cars with a winning effort and nearly won the championship. The GS cars certainly put us in a field of stiff competition, but just like 2010, we are doing everything at 110 percent and I expect some great results from our team."
To compliment BimmerWorld's growth into the GS class, 2009 GS champion Ken Wilden and 2010 GS race winner Bob Michaelian have signed to drive the No. 78 BimmerWorld BMW E92 M3. The formidable pairing in the No. 78 further adds to Clay's confidence in their GS program.
"I am thrilled to have teammates of Ken and Bob's caliber. Having two contributing cars to work with speeds up the learning curve on any given weekend and from our Daytona test a few weeks ago, I feel like we will all work together well and will be able to bring different perspectives to the table."
With a recent GS championship to his credit, Wilden says an aggressive but controlled approach to the Daytona race–the first of nine rounds this year–is the right frame of mind to help earn another GS title.
"The goal is to get points," he said. "Fireworks are good at the right time if they are needed, but you have to know the right time to push and when to bide your time. Everyone will be going all out in the last part of the race and I expect to be in the battle and competing for a podium."
It can take quite some time for a driver to settle into a new team, but Michaelian says the environment and resources offered by BimmerWorld have allowed he and Wilden to get down to business immediately.
"Kenny and I have been super impressed with the BimmerWorld team," he said. "They have a successful track record of winning in every form of motorsports they have competed in. They've built very competitive GS cars for us this year, but have also coupled that with a very professional operation. We definitely learned a ton by gong to the test in early January, and the BimmerWorld BWM E92 is an awesome car to drive. We are certainly looking forward to building on those lessons to ensure a successful GS campaign in 2011."
While Wilden and Michaelian have raced together in GRAND-AM, Clay and Thomas will are embarking on their first season as co-drivers in the No. 79 BMW E92 M3. Just as the drivers in the No. 78 BMW E92 M3 used the early January test at Daytona to familiarize themselves with the team, Clay and Thomas used the test to refine their working process as teammates piloting the same car.
"The test days were just that for us," said Thomas. "They were days for us to work together, to get the kinks out of our system and get the cars up to speed. When the cars unload at Daytona and we set foot on the track, it is time to attack. The pre-season is over, and now it's time to get in that championship mindset. We are going to be giving it everything we have to put our BimmerWorld BMWs on the top step of the podium and start this season where we left of last season."
With the Jason Marks-led BimmerWorld crew is ready to race and the four BimmerWorld GS drivers are eagerly anticipating the start of practice, the technical partners and sponsors supporting the new BimmerWorld BMW E92 M3s are also ready to get the season under way. As a leader in the BMW aftermarket business, BimmerWorld relies on their racing activities to improve their line of parts and services, and with their new GS cars, the R&D process will continue.
"With the higher level of tune of the GS cars, we are fortunate to have Performance Friction involved with a full brake caliper brake kit," said Clay. "With the GS cars tipping the scales at a hefty 3300 pounds dry, having Performance Friction in our corner will be a huge asset. We have also partnered with AST both on the race and sales side. With all the technology we pour into our race team, it is always good to have a brand like AST involved who offers a wide range of product so that we can apply our hard-earned knowledge for the benefit of our performance tuning and race customers. Rogue Engineering has supplied a couple of technical parts for the new cars and Rays Engineering has sent us some custom TE37 wheels what will take the beating that typically bends other wheels."
Care and feeding of the BimmerWorld BMW's powerful V8 engine has also been addressed.
"With the higher power output of the GS cars, driveline stress and heat will be more of a factor for us," Clay continued. "Red Line Oils is back with us for full engine/driveline lubrication and cooling which gives me confidence when we are pounding away for a few hours straight in 100-degree heat. And C&R Racing Radiators provided radiators and oil coolers for the new cars as well which will undoubtedly provide the same flawless performance their other products have throughout our years together. A lot of knowledge went into our E92s, and I expect that to show throughout the upcoming season."
Opening practice for Round 1 of the 2011 Continental Tire Sports Car Challenge championship starts on Thursday, January 27th, with the 2.5-hour GRAND-AM 200 race beginning at 1:30 p.m. ET on Friday the 28th. Tune into SPEED on February 5th at 3 p.m. ET to watch the race broadcast, and follow BimmerWorld's progress at Daytona by visiting www.BimmerWorldRacing.com.
###
Courtesy: BimmerWorld Media Services
[email protected]
More information about the team, cars, and drivers can be found at www.bimmerworldracing.com
Information on BimmerWorld's Customer Car Services can be found at www.bimmerworld.com
Details on PowerFlex Suspension Bushings can be found at www.powerflexusa.com
Tags
Tags not found
RELATED ARTICLES
Related article(s) not found