BimmerWorld Prepared for Second Season of GRAND-AM ST Competition
January 26th, 2011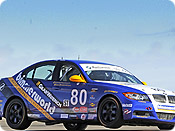 After coming tantalizingly close to winning the GRAND-AM ST title last year, BimmerWorld returns with two fast BMW E90s and four rapid drivers.
For some teams, finishing second in a major auto racing championship would be received in a positive light–as an indicator of how much progress had been made. For BimmerWorld Racing, the 2010 GRAND-AM Continental Tire Sports Car Challenge Street Tuner (ST) class runner-up, finishing second has only served to fuel a relentless off-season of work to make sure it doesn't happen again.
Speed, reliability and consistency were hallmarks during BimmerWorld's 2010 ST campaign, but despite the team's collection of wins, pole positions and fastest laps, improvements in every area of BimmerWorld's program were targeted for 2011.
Led by long-time crew chief Jason Marks, the Dublin, VA-based BMW experts tore through their two BMW E90 chassis to freshen and improve each component and system in preparation for the season opening race this Friday at Daytona International Speedway.
While the technicians at BimmerWorld have paid special attention to improving their cars, the same focus has been placed on the drivers who will pilot the No. 80 and 81 BimmerWorld BMW E90s. The progress shown on and off the track by everyone involved with the ST cars has given BimmerWorld team owner James Clay a lot of confidence about their chances.
"BimmerWorld had an outstanding debut in the ST class in 2010, but a mechanical issue in the last race left us short on the Championship we all but had locked down. The BimmerWorld ST teams for 2011 were chosen to jump right in to where 2010 left off. With a well-developed car and top-shelf drivers, I am certainly expecting a lot of great racing with all the teams, but I feel good about our championship potential as well."
Returning to the cockpit is Bill Heumann, a two-time race winner and the MESCO Rookie of the Year in 2010 with BimmerWorld, and David White, his 'new' teammate in the No. 80 BimmerWorld BMW E90.
White spent the 2010 season partnered with Clay, earning two poles as a rookie, but for 2011, and with Clay and BimmerWorld driver Seth Thomas joining forces to drive one of the team's new BMW M3 V8s in the Grand Sport class, Heumann and White have come together to form an incredibly strong combination in the No. 80.
Although they drove in different cars last season, Heumann says that the rapport and feedback he and White built in 2010 will allow the duo to hit the ground running at Daytona.
"David and I were teammates last year and friends for years prior so the change to being co-drivers is a very small adjustment for us," he said. "I think we communicate well and will have no problems in this regard. David has proven to be a good coach and has already given me some tools that have helped make me faster. We have the right chemistry and the right team supporting us."
White says that he and Heumann have a common goal for the new season, and starting it off with a fast and clean race at Daytona will be critical.
"The 2011 ST field is shaping up to be very competitive with plenty of fast cars and top notch drivers," he said. "A podium finish at Daytona would be awesome but more importantly we need good, consistent finishes all year to have a shot at the ST team and drivers' championships. My focus at Daytona will be to start the season off with a finish that will put us on the right path to winning those championships."
Heumann and White will have new teammates this year, as GRAND-AM standout Gregory Liefooghe and series rookie John Capestro-Du Bets, affectionately known as 'JCD' within the team, will drive the No. 81 BimmerWorld BMW E90. Liefooghe, who has quickly adapted to the rear-wheel drive E90, and JCD, who trained in smaller, lighter touring cars, impressed everyone with the pace they showed at the final pre-season test at Daytona earlier this month.
"The test went very well," said Liefooghe. "After finding our marks, we were able to work on the setup and ended up with a car that was very competitive and consistent. We left Daytona very optimistic for the upcoming race."
Being surrounded by three experienced ST drivers will help JCD to learn the ropes in GRAND-AM, and with a veteran team and proven car beneath him, the 21-year-old says he's looking forward to what his first ST campaign will offer.
"Since day one–when I first tested with BimmerWorld at VIR–they have made me feel like family," he said. "The team is extremely efficient and very motivated. The E90 is amazing! Being an avid BMW fan, I can't say enough good things about the chassis. The car is great to work with. It's very responsive to the setup changes we made throughout the test days at Daytona. I feel that competing with BimmerWorld in my rookie season will enable me to demonstrate my talent behind the wheel and desire to continue competing in the GRAND-AM series."
Like Heumann and White, JCD says he and Liefooghe are heading into Friday's race seeking the same outcome.
"The goals for Greg and me at the Daytona 200 are to keep the No. 81 BimmerWorld BMW in the top-10 while running consistent lap times. I want to hand off a near-perfect car to Gregory so he'll have the opportunity for a strong finish for our team, and to our championship run. As this is my rookie season in the GRAND-AM, I know I have many things to learn, however, I am confident that with the support of my team, Gregory and Exclusive Management Inc., I will adapt quickly."
Opening practice for Round 1 of the 2011 Continental Tire Sports Car Challenge championship starts on Thursday, January 27th, with the 2.5-hour GRAND-AM 200 race beginning at 1:30 p.m. ET on Friday the 28th. Tune into SPEED on February 5th at 3 p.m. ET to watch the race broadcast, and follow BimmerWorld's progress at Daytona by visiting www.BimmerWorldRacing.com.
###
Courtesy: BimmerWorld Media Services
[email protected]
More information about the team, cars, and drivers can be found at www.bimmerworldracing.com
Information on BimmerWorld's Customer Car Services can be found at www.bimmerworld.com
Details on PowerFlex Suspension Bushings can be found at www.powerflexusa.com
Tags
Tags not found
RELATED ARTICLES
Related article(s) not found