BimmerWorld Racing Captures Third Victory of 2018 in Their Street Tuner Class BMW 328i
August 6th, 2018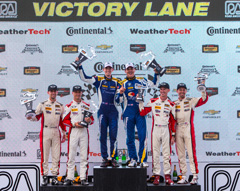 The only goal on the minds of BimmerWorld Racing drivers Devin Jones and Nick Galante was to add a third victory to their 2018 IMSA Continental Tire SportsCar Challenge season total during the action-filled Road America 120 last Saturday at Road America. Not only did they win, but their victory allowed them to extend their points lead in the Street Tuner (ST) class championship with just three races remaining in the 10-race season.
BimmerWorld Racing also competes in the Grand Sport (GS) class, where team owner/driver James Clay of Blacksburg, Va. qualified the No. 82 OPTIMA Batteries BMW M4 GT4 in sixth place with a time of 2:30.311 and an average speed of 103.860 miles per hour. His longtime teammate, Tyler Cooke of Fort Lauderdale, Fla., drove the second half of the race and took the checkered flag in ninth place in the GS class on lap 44 in the two-hour race in what ended up being a wild game of fuel conservation and pit strategy.
Galante won the pole in the ST class with the No. 81 Veristor/Legistics BMW 328i (F30 chassis) with a qualifying time of 2:31.968 at an average 95.393 mph, and he was the starting driver of that car. His co-driver, Devin Jones of Mooresville, N.C., took the BMW to the finish and victory circle. Together they dominated the class, leading 47 laps to their closest rival's 11.
There were two full-course yellows during the race, including one on lap 15 when a GS-class car went off track, flipped, and caught fire. The lengthy caution period enticed many cars to the pits and a number of different strategies developed regarding fuel mileage. Exactly when each car pitted for fuel, tires, and its driver change during the nearly 30-minute caution precipitated who would need to pit for fuel before race end.
Galante, in the No. 81 BMW 328i, had a good early battle but maintained the lead before pitting during the caution, and bounced down to fifth in the ST class after the pit stop and driver change to Jones. He was quickly back to second after some very competitive racing with the three MINIs. He finally passed the leading No. 73 MINI of Mat Pombo with just over 30 minutes remaining in the race. Jones took it to the checkered flag and won over Pombo by 6.724 seconds.
As cars pitted and shuffled the order, the No. 82 BMW M4 of Clay pitted immediately during the caution and was able to move up as high as second place but pitted once more to top off with fuel and change drivers, putting them in 18th place in class for the restart before Cooke started moving up the leaderboard. A number of the leaders had to pit for a splash of fuel or had unexpected off-track excursions, which played to BimmerWorld's strategy with the late-caution stop and moved the No. 82 up as high as 6th. But even without the heavy fuel conservation pace and the extra fuel from the late stop, the top GS car ran all the way to the finish without fuel issues, leaving Cooke and Clay with a top-10 finish.
Jones and Galante extended their lead in the ST class championship. They now lead by 11 points with 225 to their nearest rivals' 214. Clay and Cooke are fourth in the GS point standings, just eight points out of the lead, with 183 points to the leaders' 191.
The Road America 120 race will air on FOX Sports 1 from 9:30 a.m. to 11:30 p.m. Eastern time on Sunday, August 12.
The next race for BimmerWorld Racing is the Biscuitville Grand Prix for the IMSA Continental SportsCar Challenge, a two-hour race, scheduled for August 18 at VIRginia International Raceway in Alton, Va. The BimmerWorld Racing team is eager to get to its home track and try to double up on the race victories.
Devin Jones, Mooresville, N.C., driver, No. 81 Veristor/Legistics BMW 328i (F30 chassis):
"It's great to win here at Road America. It's my first win here ever. Nick did an excellent job in the beginning of the opening stint, holding off the Cayman, so that was awesome to see. Then, we had that long caution and we were able to come out second and stayed right there with the MINI. I knew as the run went on his tires would fade a little bit, so I just kept the pressure on him. He was stronger in some areas of the track but I was stronger in other places, so I was able to set him up and finally made it stick after a couple of times trying. From there, I played the traffic a little better with the GS cars and we got a little bit more of a gap. But then we knew we were going to be close on fuel. Even from the beginning of the stint, I really had to save a lot, so I couldn't enjoy those last few laps. I had to really baby it around to save on fuel. I really want to thank Trent, Nick, and everyone who helps this program, and hopefully we finish this year the way we've been doing leading up to it because it's been fun."
Nick Galante, Greenfield, Mass., driver, No. 81 Veristor/Legistics BMW 328i (F30 chassis):
"I think this was definitely a pivotal point in the season; extending that lead just a little more like we needed to. The Pombo brothers have been really tough, and they've been really great. They're making this season truly fun because they're making us work really hard for it. It's not just Devin and I working hard, it's Trent Brown on the engineering side of it, and James Clay and the whole BimmerWorld team doing a phenomenal job. It's nice to be out there contending for championships and winning races, but while we're doing that, we're doing it for a good cause. Raising awareness and collecting names for our 'Racing to End Alzheimer's' charity, which you can Google and find out more about, but it's nice to be out there and what a great team in BimmerWorld."
James Clay, Blacksburg, Va., team owner and driver, No. 82 OPTIMA Batteries BMW M4 GT4:
"It was a good race for us. We made a change after qualifying. We had this 'a-ha moment,' and I think we had our car back. We've been struggling the last couple of rounds, so it was a really great car today. It turned into a fuel race. Once we started catching the yellows, we made strategy calls that I'm comfortable with. We got fuel early. We were the latest out of the pit lane, and we ran out of fuel on the cool-down lap. I say we did pretty well, but we really had to back off the pace to stay out that long and some of the other cars didn't. It's frustrating because it all comes back to the BoP [Balance of Performance], and it's a really frustrating way to race and, of course, it's when you play a fuel game and you don't win the fuel game. At least we finished the race [in the] top 10, and that's good for points. I think we had a great car and a great race; the strategy was there. It was all good except for the finish."
Tyler Cooke, Fort Lauderdale, Fla., driver, No. 82 OPTIMA Batteries BMW M4 GT4:
"I can't complain. We really thought we had a shot to win this one. Wayne [the race engineer] made the perfect call, except the leader crossed the start/finish line five seconds before and we had to do one more lap than expected. For the last 20 minutes, I was in big-time fuel-saving mode, but I had some good battles there at the beginning. We were struggling a little bit, so it made me make some hairy passes to make the most out of it that I could. I think it was a good points day for us. I think the No. 46 took the points lead now though, so that's a bummer. Going into VIR, I feel pretty good about it. I really want to get on the podium's top step soon. I think the BMW deserves it. I'm looking forward to VIR."
FOLLOW BIMMERWORLD AT: https://www.facebook.com/bimmerworld
STAY UP TO DATE WITH BIMMERWORLD NEWS AT: http://www.bimmerworldracing.com
ABOUT: BimmerWorld is renowned as a leader in BMW aftermarket and tuning expertise. It competes in the IMSA Continental Tire SportsCar Challenge series in both the Grand Sport (GS) class with a brand-new BMW Motorsport M4 GT4 and in the Street Tuner (ST) class with a turbocharged BMW 328i (F30 chassis), where the Virginia-based outfit has become a routine winner and championship contender.
Tags