BimmerWorld Racing Team Excited to Take on Road America
July 31st, 2018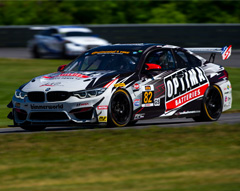 The BimmerWorld Racing team is ecstatic to get back on track at their collective favorite circuit as the IMSA Continental Tire SportsCar Challenge series advances to the beautiful Road America circuit this weekend for the Road America 120, round seven of 10 in the 2018 season.
Nick Galante of Greenfield, Mass. and Devin Jones of Mooresville, N.C., drivers of the No. 81 Veristor/Legistics BMW 328i (F30 chassis), lead the ST class points championship with four races remaining as they enter the race weekend.
The Grand Sport (GS) co-drivers of team owner/driver James Clay of Blacksburg, Va. and Tyler Cooke of Fort Lauderdale, Fla., in the No. 82 OPTIMA Batteries BMW M4 GT4, are currently tied for second place and four points out of the GS class lead.
Clay qualified on pole in ST here last year; he and Cooke finished sixth. In an odd turn of events, the race was halted with 47:37 remaining due to lightning in the area. While weather can always be a factor in the Wisconsin farmland, rain does not bother this quad of drivers.
Road America, a 4.048 mile, 14-turn road course that runs clockwise, has three straights on which drivers are going over 150 mph. With approximately five critical hard-braking zones and four or five where brake release is critical to corner speed, the BimmerWorld Racing team has called out the strength of their Performance Friction brake package as a critical factor to the race. With a track where slowing the car and transitioning into fast mid-corner speeds is so critical, these packages designed for the ST machine and more recently applied to the GT4 by the long-time technical partners at PFC are in the spotlight.
Although winning is always a goal, staying atop the point charts at this crucial point in the season will be on their minds this week.
A promoter's test day will be held on Thursday, and the BimmerWorld team plans to use that opportunity to make sure the setup of the cars are ready for Friday's official practice sessions.
Practice begins on Friday, August 12 at 9:55 for one hour, and again from 3:05-3:55 p.m. Saturday features Practice 3 from 10:15-10:30 a.m., followed by ST qualifying from 10:40-10:55 a.m. and GS qualifying from 11:00-11:15 a.m. The race is Saturday afternoon from 4:05-6:05 p.m.
Live video coverage and live timing and scoring of the race will be offered on imsa.tv and imsa.com. The race will also air on FOX Sports 1 on Sunday, August 12 from 9:30-11:30 a.m. All times are Eastern.
James Clay, Blacksburg, Va., team owner and driver, No. 82 OPTIMA Batteries BMW M4 GT4:

You have said Road America is one of your favorite tracks. What are the elements of the track you like so much and why? Do you think competing here already once this year will help you?
"I love how fast this track is, and with massive braking zones. The Kink is maybe the best example we see in a season of a turn that is high-consequence and on the edge of flat on the throttle, which makes it super challenging to hit the limit. I ran here in the GT4 earlier in the year, but the spec was both heavier and higher, which provided less aero, so I am excited to get in our IMSA car and go fast!"
Weather can be unpredictable at Road America like last year when the race was ended with 47 minutes to go due to lightning in the area. How do you prepare for difficult racing weather as both a team owner and as a driver?
"Fingers crossed that we won't have any monkey wrenches like last year. That was a freak stroke of luck that we just couldn't plan on and took our winning car in the middle of a dominant performance to the tail of the top 10 to finish in a pit-lane adjustment. I think as a team we are ready for anything, but I prefer this year to win with strategy, not a crapshoot."
The long lap times at Road America mean you have fewer laps to get your set-up right in the practice sessions. Do you come to the track with your best-known set-up and just tweak from there with regard to weather and other conditions?
"Luckily, we have a test day before the race weekend, but in recent years those have been rained out as much as they've gone smoothly. We've unloaded strong almost all season, and I think we have a strong handle on our car, and I also think our race at Road America earlier in the year gave us a good picture of how to approach this track."
You had the pole last year. Do you think you can repeat that this year? If so, what will it take?
"We haven't been strong qualifiers in GS all season, which has been a little frustrating. We always race well, but we've had a couple of red flags and just a couple sessions where we were around the wrong cars. We're only running one car per class, so we won't have a drafting partner in our team, which is a critical factor to this track—hopefully we can figure that part out."
You and Tyler seem to really have gotten into a groove as co-drivers. What makes a good co-driver/teammate in your eyes?
"We discuss this occasionally and I agree that, as a duo, we're really even better than the sum of the parts. I think the critical factor is trust. I trust Tyler's input on the car and decisions in the car and his ability to create and capitalize on opportunities, and that allows us to constantly build on the work of each other both through a weekend and through the season."
Tyler Cooke, Fort Lauderdale, Fla., driver, No. 82 OPTIMA Batteries BMW M4 GT4:

James had the pole here last year and you were second on the grid the year before. What does it take for fast lap times at the Road America circuit?
"Having the confidence to go through the fast corners and know the car is going to stick and having patience in the slow corners. Having the car setup to work with both types of corners helps as well."
You and James finished sixth last year with the abbreviated race. What's been your best result at Road America during your career and share your thoughts about the circuit.
"In 2013 I was able to win with Greg Liefooghe there and that was an amazing result for not only us but the team as well. I love the circuit. It takes a lot of courage to run a quick lap here and be able to make passes. It's definitely a good race to watch."
You and James are tied for second in the championship points. Do you ever get think about the points standing during a race weekend and do calculations? Does it ever get in your head?
"You're always thinking about the points, but there's always one goal in mind and that's to win. Yes, at times, knowing that one more position with the person you're battling within the points will give you that advantage helps, but you always have the goal to win."
You and James have been able to manage really clean racing this year without really any on-track incidents. How do you manage that in the heat of some of these intense battles?
"James and I know rubbing is going to happen, and to win this championship some hitting will be involved but all in respective boundaries. We know it's part of racing, but both of us race clean if possible, and I think the lack of damage and resulting finishes to date reflect that."
Nick Galante, Greenfield, Mass., driver, No. 81 Veristor/Legistics BMW 328i (F30 chassis):
You and Devin are continuing to lead the ST points standing with four races remaining. Tell us about your strategy for the final four races to remain on top.
"We got to this point by having a solid, all-around package. The entire team has been rock solid. We are going to continue the same plan that got us here while continuing to hone every detail so we can seal this final year of ST racing up with a championship."
What was your best result at Road America, and in what series and car. Share your story. 

"In 2016, we were able to pull off a win here along with Spencer Pumpelly and team RS1. I learned some stuff from that win and am looking to repeat that again this year. Last year, every team had a tough race—the thunder, lightning, and rain brought out a red flag, and they had to stop the race a little early. I'm looking forward to giving these awesome Wisconsin fans a good race they missed out on last year."
You and Devin are new co-drivers this year but seem to make a compatible pair. How's it going? 

"It's a great pairing. We run almost exactly identical lap times so we have the luxury of not necessarily needing to change drivers due to lap times, we can change according to fuel and ideal race strategy. It's nice. The interesting part is how we create those identical lap times. We do it in very different ways. I don't want the competition to know how we do it though."
How do you like the IMSA pre-race Fan Walk and the opportunity to interact with great fans like here at Road America?
"I love these Wisconsin fans! They're proud of this track and rightfully so. I feel they have a true passion for motorsports. I love it here. The Fan Walk is a great way to get to know the fans and connect in a real visceral way."
Devin Jones, Mooresville, N.C., driver, No. 81 Veristor/Legistics BMW 328i (F30 chassis):
How do you like Road America and what's been your best race result there?
"Road America is a great facility and definitely an iconic track. Success there has seemed to elude me in past seasons. I've had some decent results there in the past in different series, but hopefully this weekend we have some luck and are able to bring home a result worth mentioning!"
Last year weather was a factor when the race time was cut short. How do you like racing in the rain, especially a track like Road America?
"I enjoy racing in the rain and being able to search around the track for grip. At a track like Road America, you really have to watch the braking zones and rimshot a number of corners. Avoiding the normal racing line is critical because it's slick from the rubber and oil that gets laid down."
With the combination of long straights and 14-turns, what's the trick for a best lap around Road America?
"Road America is full of hard braking zones. It's important to have a car that is stable under braking and able to rotate to the center of the corner. Keeping your minimum speed up is also important. It's a track that's very enjoyable to race on because of the high number of passing zones."
The fans at Road America are known to be knowledgeable and true road racing fans. Who is a race driver you are a fan of (past or present)?
"Road America is always packed with fans and that's one of the reasons why I enjoy going to that facility so much. As a kid, I always looked up to Jeff Gordon. His racing style and the way he treated fans is something I always tried to model myself after."
FOLLOW BIMMERWORLD AT: https://www.facebook.com/bimmerworld
STAY UP TO DATE WITH BIMMERWORLD NEWS AT: http://www.bimmerworldracing.com
ABOUT: BimmerWorld is renowned as a leader in BMW aftermarket and tuning expertise. It competes in the IMSA Continental Tire SportsCar Challenge series in both the Grand Sport (GS) class with a brand-new BMW Motorsport M4 GT4 and in the Street Tuner (ST) class with a turbocharged BMW 328i (F30 chassis), where the Virginia-based outfit has become a routine winner and championship contender.
Tags