BimmerWorld Racing: 2021 SRO GT4 America Season Announcement
February 24th, 2021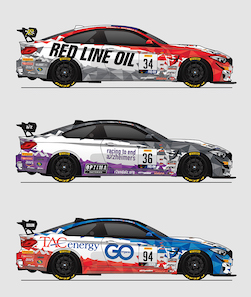 BimmerWorld is proud to announce its return to the SRO Motorsport America series, bringing three BMW M4 GT4s to compete in GT4 America Sprint X for the 2021 season.
Despite the challenges endured by competitors throughout the 2020 season, team principal James Clay captured the drivers' championship in TC America, Chandler Hull finished fourth overall in TC, and the duo of Bill Auberlen and James Walker, Jr. finished third in the overall season championship in Sprint X Pro-Am. BimmerWorld topped off the SRO season with Clay, Auberlen, and Hull taking home the win in the inaugural SRO Intercontinental GT Challenge Indianapolis 8-Hour Endurance Race. Building from the success in 2020, BimmerWorld returns with three cars and six drivers for the 2021 season.
Bill Auberlen and James Walker, Jr. return for their second season together behind the wheel of the Red Line Oil BMW M4 GT4 now wearing No. 34. Throughout their first season together, the duo managed to net three wins, two podiums, and several top-10 finishes placing them third overall in both team and driver standings. Auberlen and Walker were quick to show they could not only work well together and win races but also make their BMW blazingly fast. At the end of the year, Auberlen captured the most CrowdStrike Fastest Lap Awards for the 2020 season.
James Clay and Nick Galante will be driving the No. 36 OPTIMA Batteries / Racing To End Alzheimer's BMW M4 GT4. Galante previously won the 2018 IMSA ST championship in a BimmerWorld F30 328i and drove the team's M4 GT4 in the 2020 IMSA season, but this will be his first year in SRO, and 2021 will also be the first year the duo have shared a car as teammates. In addition to OPTIMA Batteries, a core BimmerWorld partner, Racing to End Alzheimer's will continue their partnership with BimmerWorld Racing which started in 2018. Racing to End Alzheimer's is focused on raising awareness of the disease and funding the cure. For the 2021 season, names of friends, family, and loved ones affected by this debilitating disease will be featured on the car based on donations to the cause.
Chandler Hull returns to SRO racing action for 2021 and, like Clay, is making the jump from his TC M240iR to a full-time M4 GT4 Sprint X Silver class entry along with Jon Miller, who is a new addition to the BimmerWorld driver line up. Hull and Miller will be piloting the TAC Energy No. 94 M4 GT4 and, like the rest of the 2021 team, brings both talent and BMW racing experience. Hull had an exceptional 2020 season that netted him several podiums, 4th-place overall in the drivers' championship for TC America, and a win in the Indy 8-Hour as part of the three-driver BimmerWorld team. He also captured several podiums and a win in another M4 GT4 Silver entry. Jon Miller has his own list of accomplishments over the past few years; last year he claimed second place in the drivers' championship in the GT4 America Silver class division along with six podiums throughout the year and finished second in the Indy 8-Hour in a competing BMW car.
The BimmerWorld Racing team heads to Sonoma Raceway on March 5-7 for the first two races of the season.
The BimmerWorld Racing team is supported by the following sponsors:
No. 34: Red Line Synthetic Oil Corporation – Manufacturers of more than 100 high-end lubricants that have the reputation of performing better than any other product on the market, regardless of price. Using cutting-edge technology, Red Line responds to the technical challenges of today's performance industry, utilizing knowledge gained from racing to create high-performance products for track cars and street vehicles alike.
No. 36: OPTIMA Batteries – The Ultimate Power Source. Unbeatable starting power, light weight, superior cycling capability, and extreme resistance to the most common causes of battery failure make OPTIMA Battery our choice for our own BMWs. OPTIMA also delivers the innovative OPTIMA Digital 400 and 1200 Battery Chargers for all automotive and marine batteries.
No. 36: Racing To End Alzheimer's – Honoring loved ones who are or have been affected by Alzheimer's or other forms of dementia depends on the generosity and participation of our fans, our racing team, and our corporate sponsors. 100% of all donations go to our beneficiaries with additional corporate-matching funds. All costs and expenses are funded by sponsor Legistics.
No. 94: TAC Energy – One of the largest independent wholesale fuel distributors of refined petroleum products in the United States. With an extensive supply network across the U.S., as well as regional sales offices across the country, TAC can service almost any customer's fuel needs.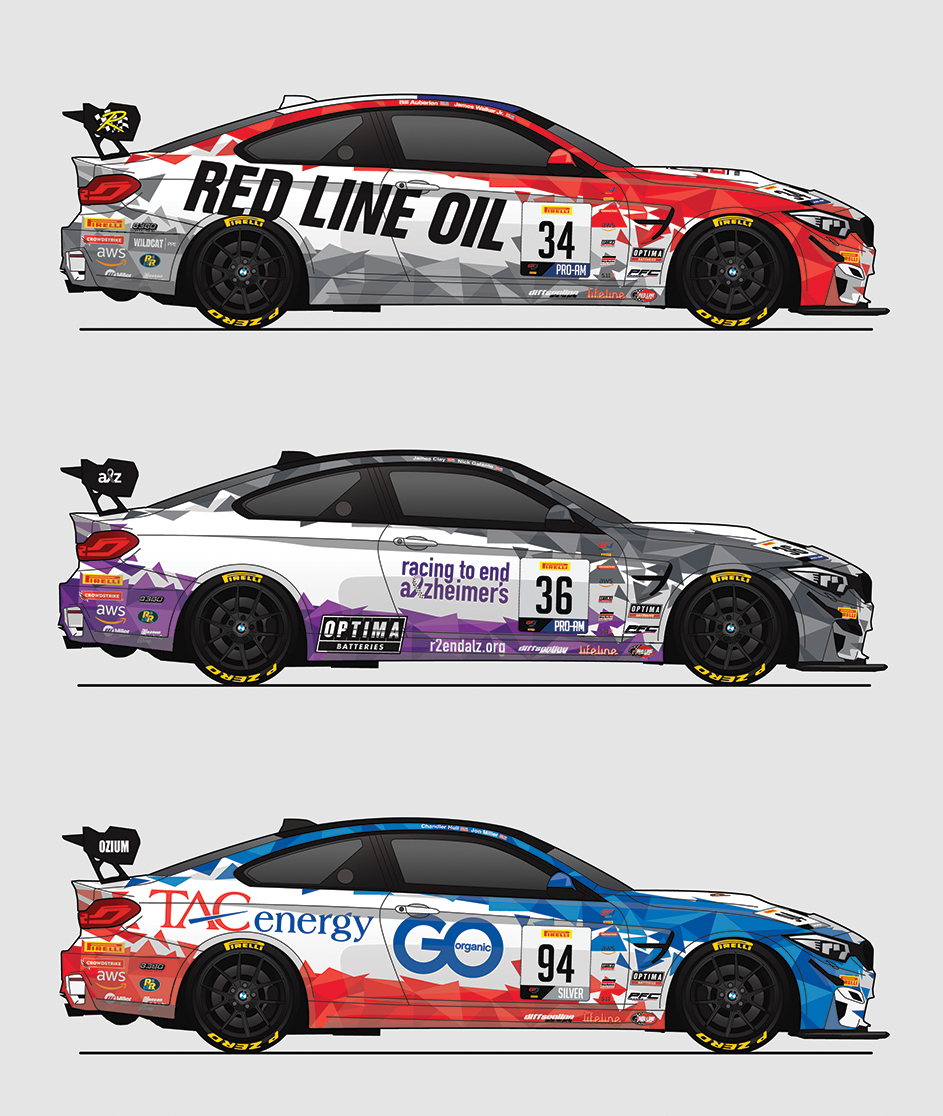 Core BimmerWorld technical partners include:
PFC Brakes – Leading brake friction and component manufacturer.
Lifeline Fire & Safety System – Leading manufacturer of fire safety equipment and fire safety systems to the motorsport industry.
Diffsonline – Provider of differentials to meet the demanding needs of customers, from street machines to professional race teams.
Johnstone Supply – The top cooperative wholesale distributor in the country and a recognized national leader in the HVACR industry.
Additional team sponsors include:
Go Organic – Leader in organic gummy vitamins and lozenges.
OZIUM – Clinically proven air sanitizers that eliminate, not mask, odors.
Pretzilla – The pioneer in fresh, soft pretzel bread.
2021 GT4 Sprint X schedule consists of 14 races at seven tracks:
March 5-7: Sonoma Raceway – Sonoma, CA
April 30-May 2: Circuit of the Americas – Austin, TX
May 21-23: Canadian Tire Motorsports Park – Ontario, Canada
June 11-13: Virginia International Raceway – Alton, VA
August 27-29: Road America – Elkhart Lake, WI
Sept 17-19: Watkins Glen International – Watkins Glen, NY
October 15-17: Indianapolis Motor Speedway – Indianapolis, IN
FOLLOW BIMMERWORLD AT: https://www.facebook.com/bimmerworld
STAY UP TO DATE WITH BIMMERWORLD NEWS AT: http://www.bimmerworldracing.com
ABOUT: BimmerWorld is renowned as a leader in BMW aftermarket and tuning expertise, with operations spanning from stock, aftermarket, performance, and racing parts sales and development through racing from club to professional levels. BimmerWorld Racing competes primarily with the BMW Motorsport M4 GT4 in North America in both SRO and IMSA Championships, where the Virginia-based outfit has become a frequent winner and championship contender.
Tags