BimmerWorld Moves on From Penultimate Round with Season Finale Ahead
September 25th, 2014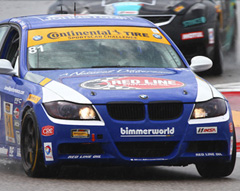 Potential was high for BimmerWorld at Circuit of The Americas, yet the results were less than anyone expected, and with very little time until the season finale gets under way, the Virginia-based BMW experts are now focused on maximizing their results next week at Road Atlanta.
The 2.5-hour race at COTA saw four fast BimmerWorld BMWs, including three 328is built on the E90 platform and one turbocharged 328i F30, marching forward in dry conditions, but once the rain began to fall, any hopes of holding onto strong finishing positions were surrendered to the gripless racing surface.
"It doesn't matter how the team does: When the checker falls, we have a very short period to bask in a win, discuss in-race errors and issues, or wallow in a poor result," said team owner/driver James Clay. "By the time we left the track we were focused on improvements to the cars for this track condition that caught us off guard. We have one more opportunity this year to knock it out of the park, and all eyes are on that goal."
With few positives to herald after COTA, the standout performance from Continental Tire Series rookie Eric Zimmermann showed the BimmerWorld Driver Development product is growing at an in impressive rate.
"COTA is such a great, world-class track, and all the data and feedback from our drivers was very helpful," said Zimmermann, who shares the No. 80 E90 with young veteran Tyler Cooke. "I feel like everything is coming together for a great finish. I am now comfortable in the car and Road Atlanta is my home track. It has been a bit of a fantasy to race professionally at the Petit Le Mans. It's hard to believe this is a reality, I can't wait, and I'm expecting a great outcome. I wouldn't be at all surprised if I open well and Tyler puts us on the podium."
For Cooke, who was recently promoted to the role of the closing driver in the No. 80 while continuing to open in the No. 81 he shares with Greg Liefooghe, the ongoing education has helped one of the Continental Series stars to add to his proverbial toolbox.
"I've been able to progress myself as an opener and a closer driver by learning how to better myself in both roles and learning the differences," said Cooke who races for the full 2.5-hour race compared to most drivers who spend half that time in a car. "Being the opener in the No. 81 this year has further grown my knowledge by picking up different details from Greg.
"Getting the chance to close the No. 80 with Eric has let me grow more as a driver by setting up the car and doing my best to bring the car to the front. Both roles have really helped me accelerate my learning curve going into next year."
UP NEXT FOR BIMMERWORLD: Petit Le Mans at Road Atlanta, October 3
FOLLOW: BimmerWorld at www.BimmerWorldRacing.com
COTA RESULTS:
No. 80 BimmerWorld BMW 328i (E90), Qualified P23, Finished P25
No. 81 BimmerWorld BMW 328i (E90), Qualified P14, finished P14
No. 82 BimmerWorld BMW 328i (E90), Qualified P26, Finished P20
No. 84 BimmerWorld BMW 328i (F30), Qualified P12, Finished P19
Tags