BimmerWorld Names Strong Driver Lineup for 2020 SRO Racing Season; Team Will Represent BMW in Two Classes
February 17th, 2020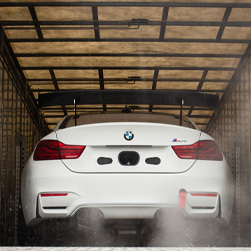 BimmerWorld has announced its return to the 2020 SRO America season in both GT4 America and TC America. The team will include some of the top sports car drivers in an assault to claim two class championships for BMW.
The 2020 four-person driving squad consists of Bill Auberlen, James Clay, Chandler Hull, and James Walker, Jr., all from the United States. Auberlen and Walker will share the No. 82 BMW M4 in the GT4 series, while Clay (No. 36) and Hull (No. 94) will compete in the TC America series in a pair of BMW M240i Racing cars.
Auberlen comes to the BimmerWorld team with a long history with the BMW brand. He has driven BMW cars in more races than any other driver in the world to become the all-time winningest American driver in a leading series. Having claimed six professional championships (four with BMW power) and competed in over 500 professional races to date, Auberlen is the most decorated and prolific BMW driver in the world. His results include over 90 race victories, 190 podium finishes, 55 pole positions, 80 fastest race laps, and 110 lap records.
Clay returns full-time to the TC America series for the first time since 2009. In 2019, he competed in GT4 America as well as the TC America weekend at Road America, taking home a victory and podium. In 2019 alone, he competed in over 20 races on American soil with three wins, 10 podium finishes, one pole position, and three fastest race laps, all in BMWs. He also races in Germany at the ADAC 6-hour and 24-hour Nürburgring races and competes at the Pikes Peak International Hill Climb.
Hull, in his inaugural professional season, surprised the touring car class by finishing third in the driver's championship and was named Rookie of the Year for his season's success. His rookie season in TC captured four podiums, seven top-5 finishes, and one pole position. In 2020, he will also be teaming up with Tyler Cooke in the SRO GT4 European series and with Cameron Evans in the VLN series at the Nürburgring in Germany, as well as running the ADAC 6-hour and 24-hour Nürburgring races.
Walker ran the TCR series in TC America in 2019, finishing with three podiums and two fastest laps. Over the past three years, he has entered 32 professional races, finishing with three victories, thirteen podiums, two pole positions, and ten fastest race laps. His day-job expertise in vehicle dynamics will bring further expertise to the veteran team.
Clay, President of BimmerWorld and team manager commented, "We're very excited about this season of racing! We have a mix of very seasoned and accomplished drivers partnered with the most up-and-coming drivers in North America. Our stable of BMW racing machines will be a perfect complement for the aggregated driving talent."
TC Team Owner, Jeff Hull, added, "With driver talent like this backed by BMW power, along with our outstanding line-up of sponsors, we expect great results in 2020."
The BimmerWorld Racing team is supported by the following sponsors:
No. 82 primary sponsor – Red Line Synthetic Oil Corporation manufacturers more than 100 high-end lubricants that have the reputation of performing better than any other product on the market, regardless of price. Using cutting edge technology, Red Line responds to the technical challenges of today's performance industry, utilizing knowledge from racing to create high-performance products for track cars and street vehicles.
No. 36 primary sponsor – PöRQ Snacks is a new line of artisanal pork rind snacks by Benestar Brands, the world's largest pork rind manufacturer. These snacks are made with the highest quality ingredients and come in Herb & Vinaigrette, Black Pepper & Sea Salt, and BBQ & Chipotle flavors.
No. 94 primary sponsor – TAC Energy is one of the largest independent wholesale fuel distributors of refined petroleum products in the United States. With an extensive supply network across the U.S. as well as regional sales offices across the country, TAC can service almost any customer's fuel needs.
Other team sponsors include:
Kernel Seasons – America's #1 Popcorn Seasoning.
Go Organic – Leader in organic hard candy and soft chews.
Ozium Air Sanitizers – Clinically proven to eliminate, not mask, odors.
Core BimmerWorld technical partners include:
OPTIMA Batteries – Delivering long-lasting, unsurpassed performance.
PFC Brakes – Leading brake friction and component manufacturer.
Lifeline Fire & Safety System – Leading manufacturer of fire safety equipment and fire safety systems to the motorsport industry.
FOLLOW BIMMERWORLD AT: https://www.facebook.com/bimmerworld
STAY UP TO DATE WITH BIMMERWORLD NEWS AT: http://www.bimmerworldracing.com
ABOUT: BimmerWorld is renowned as a leader in BMW aftermarket and tuning expertise. It competes in the IMSA MICHELIN Pilot Challenge series in the Grand Sport (GS) class with a pair of BMW Motorsport M4 GT4s, where the Virginia-based outfit has become a winner and championship contender. BimmerWorld Racing also continues to race in the SRO TC America Championship in the Touring Car (TC) class with two BMW Motorsport M240i Racing cars, as well as competing in the GT4 series in a BMW Motorsport M4 GT4.
Tags