BimmerWorld Leaves Sebring With Another Top-10 Performance
March 25th, 2015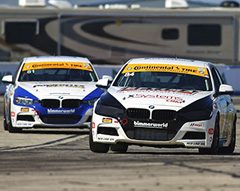 BMW aftermarket and tuning specialists BimmerWorld experienced two distinct outcomes during their visit to the legendary Sebring circuit in Central Florida for Round 2 of IMSA's Continental Tire Series.
Fast in the relatively short qualifying session, the high ambient temperature was less kind when it came time to go racing with the team's turbocharged BMW 328i platform built on F30 architecture. Team owner/driver James Clay and Jason Briedis placed the No. 84 OPTIMA Batteries-sponsored F30 seventh on the grid, and despite running as high as third, sweltering conditions meant the tandem had to settle for ninth at the checkered flag.
The No. 81 BimmerWorld F30 driven by team veteran Tyler Cooke and newcomer Andrie Hartanto lined up 13th and was running strong until being spun by a rival. With time lost as Hartanto sat stationary, the duo was left with an unrepresentative finish of 20th.
"Sebring was a tough race for our turbo cars," said Clay. "We have been battling high inlet temps since last season, which resulted in some engine failures last year. Looking at the weather forecast going into this race, we knew we were going to have issues if we pushed the power, so we played it safe. It is a real testament to the strength of our BimmerWorld team to take a car that was mid-pack at best over the course of the 2.5-hour race and finish inside the top-10. It was a challenging weekend, but I am proud of the result."
With BimmerWorld's on-track efforts paying back to its clients in the form of improved BMW performance parts and services, Clay says even a tough and hot weekend like Sebring will help the company optimize its offerings for F30 owners.
"Turbo cars are tough and very temperature dependent," he explained. "Both cars executed well in qualifying and gave us our best time of the weekend in the couple of laps we could run before heat soak took over. We are going to take a big swing at cooling these F30 cars off before the next round – that is the solution, and then we can race with pace, consistency, and durability."
QUOTEBOARD: Sebring Race
No. 81 BMW 328i: Tyler Cooke and Andrie Hartanto
Cooke: The race didn't go how we wanted it to; Andrie did a great job running in the top-10 until getting taken out and we learned a lot during the race to help us in the races to come.
Hartanto: It was an uphill battle for me, but I've learned that we have an amazing team. In spite of the intense heat which forced us to sacrifice power in order to go the distance, the BimmerWorld crew still delivered a car capable of a top-10 finish. I also discovered that the night before my first CTSC race is not the ideal time to showcase my marginal basketball skills; especially not with a group of highly competitive drivers and definitely not when you end up with a bruised bum, a torn-up elbow and a trip to the ER for some stitches! I realized that our race pace is very strong as we made up a lot of ground after starting from 13th on the grid. I also experienced how quickly those places can be lost when you get hit and spun around. Tyler did a great job closing out the race and ensuring that we obtained some valuable data. It was a great first race and I'm really looking forward to my home race at Monterey!
No. 84 OPTIMA BMW 328i: James Clay and Jason Briedis
Briedis: Considering we were 22nd and 23rd in average fast lap analysis during the race, gutting out a ninth-place finish shows the determination and depth of our team. The heat didn't help our cause, but we learned a lot and hope to remedy some things before our next race in Monterey.
Clay: Jason did an awesome job with qualifying and in his opening laps before heat soak set in. I was proud of my drive even though we didn't have the power or pace to do much. Wayne's pit call was perfect and team execution was spot on. I am super excited to take this strength of team into a weekend with more normal temperatures where we can produce the deserved result!
FOLLOW BIMMERWORLD AT: https://www.facebook.com/bimmerworld
STAY UP TO DATE WITH BIMMERWORLD NEWS AT: http://www.bimmerworldracing.com
ABOUT: BimmerWorld is renowned as a leader in BMW aftermarket and tuning expertise, and competes in the Continental Tire Series with a pair of BMW 328is (F30) where the Virginia-based outfit has become a routine winner and Championship contender.
Tags