BimmerWorld Focused On Championship Pursuit In New Jersey
May 9th, 2012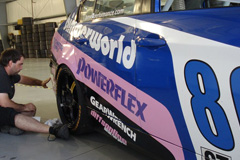 Virginia-based BMW experts prepared to maximize their results this weekend at cooler NJMP facility
With the GRAND-AM Continental Tire Series Championship gaining momentum,Dublin,Virginia's BimmerWorld Racing is ready to hit the track atNew JerseyMotorsportsParkjust two weeks after the most recent round in Homestead-Miami.
The three-car BMW 328i team had a remarkable weekend at Homestead-Miami, placing two cars inside the top 10 in qualifying, but a number of freak occurrences led to the team retiring from the race early in the event.
Utilizing the team's depth of knowledge with the BMW E90 platform, BimmerWorld owner/driver James Clay is confident his staff of BMW technicians has resolved the issues leading into the race at NJMP.
"Homesteadwas turning out to be a great weekend right up until the race," he said.  "We had some rare mechanical issues and certainly we don't intend to repeat.  Luckily, we have a lot of years with these E90 cars and many more working and developing cars on a pro level, so even in a tight turnaround, our standard plan of attack can be applied swiftly and produce results and solutions.  We do have answers and a multi-pronged approach to the issues from last race and we are now fully focused on getting back in front on the championship hunt."
Known for its sweltering heat when it was held mid-summer, the NJMP round has been moved up to avoid the stifling temperatures and humidity that made life miserable for everyone and everything.
"With very high temperatures in the last few years, New Jersey has been brutal on cars, tires, crew and drivers," said BimmerWorld's Gregory Liefooghe, winner of Round 2 at Barber Motorsports Park with co-driver David Levine in the No. 81 BimmerWorld entry.
"This year, since the race will be taking place in May instead of July, the weather is expected to be mild, and we'll see how it affects the track and handling.New Jerseyhas tight hairpins, which don't suit our car since we are lacking torque compared to the turbo cars, and no hard braking zones where our cars usually shine. But it also has high-speed corners where we'll be making up time.  It will most likely be an 'accordion race' once again, and being upfront from the start will pay a premium."
John Capestro-Dubets, who shares the No. 80 BimmerWorld BMW with James Clay, believes the team's fleet of 328is could hold an advantage when it comes to consistency.
"The BimmerWorld BMWs tend to be very stable and predictable cars throughout the race," he said. "TheNew Jerseytrack might not be tailor-made for our cars, but we don't tend to go through the peaks and valleys some of our competitors do, so over the course of a 2.5-hour race, I think our average speed could be a benefit."
On Mother's Day weekend to honor survivor Paula Capestro, JCD's mom, the No. 80 will also carry a unique change to its livery at NJMP, with BimmerWorld's traditional yellow stripes replaced with pink as part of an effort to raise awareness about breast cancer and the benefits of early detection.
After recording one of the most impressive performances during his stint at Homestead-Miami, Dan Rogers, who shares the No. 82 CRC BRAKLEEN® BMW 328i with Seth Thomas, is poised to pick up where he left off. But just don't tell him he did a good job last time out…
"I still wasn't satisfied with my performance," Rogers said with a smile, "but I'm not sure we ever are!"
Rogers' ascension in the Continental Tire Series has been a point of pride for everyone in the team, and with a number of veteran drivers to rely upon, his forward progress is expected to continue at NJMP.
"What improvements I am seeing is largely due to the time and effort Seth and the team is putting into coaching and mentoring me in my driving. They have been a great resource to help me improve my driving in general, and to work on specific aspects of tracks that I haven't raced on before, like both Miami and NJMP. This week should be another test of coming up to speed quickly on a new track for me, but I think we've done the preparation. Now it's time to execute!"
Follow BimmerWorld's progress at Round 4 at New JerseyMotorsportsParkthis weekend at www.BimmerWorldRacing.com, and be sure to watch the race when it's broadcast on 5/26 at 2 p.m. ET on SPEED.
Tags