BimmerWorld Scores Second-Place GRAND-AM ST Finish At New Jersey Motorsports Park
May 16th, 2012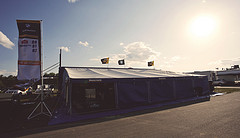 Starting 24th, two-time GRAND-AM winner Seth Thomas and co-driver Dan Rogers improve 22 positions in the No. 82 CRC BRAKLEEN® BMW 328i to score an impressive second-place result
It's a familiar theme that never gets easier to deal with. Take away the contact at least one of BimmerWorld's three GRAND-AM Continental Tire Series Street Tuner entries received, and the full team could have filled the top 10.
Fortunately, the Dublin, Virginia-based BMW experts had the No. 82 CRC BRAKLEEN® BMW 328i driven by Seth Thomas and Dan Rogers made it through the New Jersey Motorsports Park round unscathed, netting a season-best second-place result for the duo.
The No. 80 BimmerWorld BMW 328i driven by team owner James Clay and co-driver John Capestro-Dubets wasn't quite as fortunate, and the sister No. 81 of Gregory Liefooghe and David Levine was also forced into the pits for cooling system repairs.
"I was pretty upset about the contact with my car two turns into the race that killed our chances for the strong result I feel we were headed towards this weekend," said Clay as he gave an account of his team's day.
"And even more disappointed when I saw the No. 81 in for repairs while we were trying to get the No. 80 back out.  At that point, the hope for the team rested on the No. 82 and I am very happy that they were able to produce a good result this weekend."
After receiving a contentious stop-and-go penalty after stepping out of line on a restart to avoid a number of stalled competitors, Rogers marched forward in the field, picking up more than a dozen positions from the No. 82's 24th-place qualifying position before handing over to Thomas.
"I don't like to make mistakes on-track, and that made getting the penalty tough," said Rogers. "On the restart, there were a number of cars off track on the left side of the front straight, so I went right to avoid the pending mess, with the throttle pinned to get out of the impact areas. Fortunately, as Seth later pointed out, the stop and go penalty didn't impact our strategy or results."
Once the No. 80 was repaired by BimmerWorld's ace team of technicians, Rogers worked with Clay acting as a tail-gunner and used the BMW's handling prowess and its class-leading Performance Friction brakes to reach the top 10.
"When I was in the car, the race was a lot of fun," Rogers continued. "I didn't qualify well, but my race pace was faster than a number of cars in front of me, so I was able to produce results. When James came back on track, he ended up behind me, and it was comforting having a team car in my mirrors. I was able to move right outside the top 10 when I turned the car over. The crew gave us the same great car they always do, and we got the podium finish that Seth and I have been planning on all year–it was a blast!"
Along with Clay and Liefooghe, as one of BimmerWorld's veteran, race-winning pros, Thomas has worked diligently with Rogers to share his knowledge and expertise to help him extract the most from the No. 82 CRC BRAKLEEN® BMW 328i, and the results are clearly paying off.
"Dan is an easy person to be a teammate with as he fights to be the best opening driver in the CTSCC paddock," he said. "Every time I talk to him between races it seems he is at a racetrack somewhere driving some form of BMW race car or at a function for one of his kids. This is an accomplishment since there aren't any racetracks near his home in Alaska! Every weekend Dan gets faster and more comfortable racing the E90 chassis, which makes my job on track easy. He's the type of teammate we all hope to have."
Looking at where the team stands after four rounds of the 10 Round championship, Clay is feeling confident about his team, cars and drivers as the pace of the championship is about to increase.
"After our first weekend on a real road course, I am happy with the cars and the efforts of our winter work are showing," he said. "While I feel some teams put effort into what they should be gifted to make their cars fast, we put our heads down, do work, and this winter we came up with the speed we needed on our own.  I still don't think our cars are the fastest in the field by any stretch, but our team is strong and we are consistent, and if we can run some green flag races, I think we usually have a chance for a good finish."
As one of BimmerWorld's most tenured drivers, Thomas also offered his appraisal of where the team's three-car 2012 program ranks among a decade of professional teams fielded by the team.
"The team James has assembled this year is very similar to the team we had in our championship fight in 2010, but stronger," he explained. "I can see the crew guys are gelling together well. They work hard every weekend to give us a great car to race. The engineers are constantly doing what they can to make our cars easier drive for a long fast stint. All the drivers get along great together and work to help improve each other throughout the weekend. Our sponsors are some of our biggest supporters helping to give us the tools and components to put our cars up front every weekend.
"Overall, this team is the best BimmerWorld team I have raced with. We are a championship team helping to put BMW at the top of the points every weekend, have scored the most points for BMW so far in ST this season, and our drivers are always in the hunt to win and lead the championship. There's still a lot of racing to do this year, but we're seeing the benefits of what James and all of our mechanics and engineers have put together within this program."
Follow BimmerWorld's progress at www.BimmerWorldRacing.com, and be sure to watch the New Jersey Motorsports Park race on 5/26 at 2 p.m. ET on SPEED.
Tags