BimmerWorld Fights Through Adversity For Two Top-10s at Watkins Glen
June 8th, 2010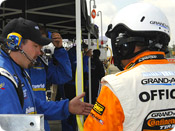 Rookies continue to shine as David White qualifies 2nd and Bill Heumann takes 5th in qualifying BimmerWorld/GearWrench BMW team falls victim to loss of track position during yellow flag confusion Thomas salvages a 6th and Clay a 9th as BimmerWorld race engineer/strategist Wayne Yawn crafts a perfect comeback plan
As most racers will attest, some events are worth remembering and some can't be forgotten quickly enough. For the BimmerWorld/GearWrench BMW GRAND-AM Continental Tire Sports Car challenge team, last weekend's race at Watkins Glen isn't one they care to see repeated.
Coming off their first win in the Street Tuner class at the previous round held at Lime Rock Park, expectations were high for the veteran BMW specialists. Rookie drivers David White and Bill Heumann continued their impressive form by placing both GearWrench-sponsored E90s in the top-5.
With one pole position to his credit, White's lap time, good enough for second, had the No. 80 car poised for a strong finish. Heumann, in the No. 81, took fifth. The art of setting fast qualifying laps is something that takes most rookies a few years to master, but as White shares, performances like what he delivered at Watkins Glen is a result of many factors.
"Qualifying is all about preparation and mental focus. Having fast teammates and a crew that I can count on to give me the best possible car have played a major role in our qualifying success so far this year. We are constantly reviewing data during a race weekend to see where we can find more speed and qualifying is the chance to put all that together for a perfect lap. The BWR team does all the hard work by always giving me a car to drive that I know has the capability to run up front. My job as a driver is the easy part!"
Starting their respective cars, White and Heumann delivered their customary stellar performances, with White handing off the No. 80 to co-driver James Clay, and Heumann turning over a spotless No. 81 to Seth Thomas.
As a team, BimmerWorld is known for its honesty, which makes the universal praise Heumann received for his opening stint at Watkins Glen that much more meaningful. In his typical humble tone, Heumann credited his team for his rapid growth in professional racing.
"With the amount of seat time I am getting coupled with help from James, Dave and Wayne and a lot of concentrated one on one coaching from Seth, I am learning how to focus and drive my own race while all the chaos is happening around me. I still haven't mastered it by any means, but with experience, it is getting better each race. David is a great teammate to share the track with. When we are close we work well together. Even when we aren't, he is frequently on the radio giving me information about debris or incidents around where he is. It's a total team effort and it shows in our results."
For all of the positives that came out of the first half of the race, the second half tested the resolve of Clay, Thomas, engineer/strategist Wayne Yawn, and the entire crew. Capitalizing on the work done by White and Heumann, Clay and Thomas were on pace to what looked like a pair of podium finishes, but a mix-up during a caution period left the BimmerWorld/GearWrench drivers pleading their case to be moved to their correct positions in the ST class.
With a somewhat complex procedure employed to separate and sort the GS and ST class cars during a yellow flag period, both BimmerWorld/GearWrench cars weren't properly accounted for. Rather than resuming the race towards the front of the ST field, Clay and Thomas were sent one lap down. Then in a partial correction in the next double-yellow, the duo regained their lap but were positioned at the back of the 37-car ST grid. Facing an almighty comeback with just over 30 minutes left in the race, team owner/driver Clay says emotions ran high before the action got back under way.
"I have to admit, anyone tuned in to our radios would have gotten an earful during the caution period when the issue was developing. However, I stand by Wayne's call to follow the officials' instructions even if we disagreed, and that makes the situation easier. I have an engineer and strategist I put full faith in and as a driver my focus is on providing the best result given the situation we face. Wayne made a tough call this weekend and I support his decision – there was a failure in the system and that does not indicate an error on the part of our team. At the end of the day, maybe I wish we could blame someone I have control over as a team owner; instead this feels like a pretty helpless situation."
As temperatures continued to rise inside the cockpit, Yawn did a masterful job of taking control of the situation, re-focusing his drivers, and unleashing them on the scenic Upstate New York road course.
"James and Seth are as professional as they come, but they are also human. Anyone would be angry after losing all of the hard work the team had put in, but that's where I have to work with the series to see what kind of resolution we can come up with. When it turned out we were stuck with having to come from behind, the only thing I could do was help them to get back in the 'zone' and chase down the leaders. They locked in right away, and did an amazing job to finish in the top-10."
Coming off of the highs at Lime Rock, Clay was understandably disappointed for the loss of what was another impressive performance by his team.
"I feel like the results last weekend are not at all representative of our strategy and in a championship race, this is a tragedy. I discussed at length with GRAND-AM officials and they feel the same as I do, but I am not sure that helps matters. This isn't a backyard game – you can't have a re-do. Certainly we have discussed internally as a team how to prevent this in the future, but I am hoping that GRAND-AM will come up with a better solution. They have a lot of good and smart people in their organization and I have faith that they will get this resolved."
From Seth Thomas' perspective, the one positive to come out of the race was BimmerWorld's ability to recover from adversity in such an impressive manner. Rather than wilt under the size of the task ahead of them, everyone rose to the challenge.
"Mentally this was a very challenging race for me and the team. We were put into a situation that nobody was happy about, but that is all a part of racing which is similar to playing poker. You are dealt your hand and you have to make the most out it. The object is to do your best no matter how well you like the cards you are dealt. So our genius of a strategist, Wayne Yawn, tells James and me over the radio to settle down and just do what you came here to do. That's the approach everyone has in the team. We accepted it, dealt with it, and went after reclaiming what we lost. That's what a championship caliber team does."
Watch BimmerWorld's recovery at Watkins Glen on SPEED, Jun 13th at 1:00 p.m. ET, and follow the team all year long at www.BimmerworldRacing.com.
###
Courtesy: BimmerWorld Media Services
[email protected]
More information about the team, cars, and drivers can be found at www.bimmerworldracing.com
Information on BimmerWorld's Customer Car Services can be found at www.bimmerworld.com
Details on PowerFlex Suspension Bushings can be found at www.powerflexusa.com
Tags
Tags not found
RELATED ARTICLES
Related article(s) not found