BimmerWorld Scores an Unforgettable First GRAND-AM Win at Lime Rock
June 1st, 2010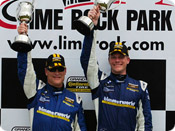 It takes the BimmerWorld Racing BMW team just five events to win their first ST class victory as Seth Thomas and Bill Heumann lead the Street Tuner class home at Lime Rock. Now the team heads to Watkins Glen to go for two-in-a-row.
120 days. That's how long it took the BimmerWorld/GearWrench racing team to win its first GRAND-AM Continental Tire Sports Car Challenge series race. In a thrilling pass made by Seth Thomas to take the lead with just moments left in the race, the BimmerWorld/GearWrench team finally made it to the top step of the podium after coming close on two previous occasions in 2010.
After an off-season switch from sprint racing to the tougher, more challenging endurance racing format offered by GRAND-AM for production-based vehicles, Dublin, Virginia's BimmerWorld Racing needed just five rounds of competition to find Victory Circle.
Starting off their GRAND-AM campaign with a second by Seth Thomas and Bill Heumann, drivers of the No. 81 BimmerWorld/GearWrench BMW E90, at Daytona International Speedway, Thomas and Heumann would follow that up with finishes of fourth, sixth, another second, and at Lime Rock Park last weekend, the pair finally broke through for their first win.
The win at Lime rock boosted BimmerWorld's place in every aspects of the various championships the team is vying for.
If three visits to the podium in five races wasn't enough, the win also moved Thomas and Heumann to within four points of taking the lead in the drivers' championship, and Heumann further stretched his lead in the Rookie of the Year competition. BimmerWorld Racing is also just four points out of leading the teams' championship, and thanks to the strong efforts of the No. 81 and the No. 80 of James Clay and David White, BimmerWorld has BMW only 12 points out of taking the manufacturers' championship lead.
As Heumann shares, the ability to compete for two hours and thirty minutes plays right into the hands of the BimmerWorld team, and after coming close to a win twice before, everything went their way this time.
"Not to sound too simplistic, but the real difference between this and our two other podiums earlier in the season was that we had enough time to race without drama. We were able to show all of our strengths without interruption. Today, and with the help of my partner Seth driving the #81 BimmerWorld/GearWrench E90, we were consistently faster than the other front runners at the end of the race. Our car performed flawlessly and our pit stops were fast thanks to great preparation and effort from our crew. I did my job and we got some luck with the timing of the last full course yellow. It all added up for us at Lime Rock!"
For team owner/driver James Clay, seeing all of the hard work put in by his drivers, his crew, and his sponsors made the Lime Rock result a memorable one. BimmerWorld prides itself in building the best cars in the series, but Clay credits the men and women who produce those cars and execute the pit stops for the success they've achieved.
"Several people this weekend asked me how amazed I was that we could win in our first season. Honestly, we came to this series expecting to win. Certainly the other teams we are competing against are top-shelf and I didn't expect it to be an easy task, and it hasn't been. We know this E90 platform extremely well through four years of development at a fairly high technical level. But the most satisfying thing for me is to see how the crew has transformed and taken on their new roles for an endurance format. It helps us to have most of our guys working in-house full time, so this isn't a weekend-only gig for them and they are able to come up to speed faster. Still, watching them succeed through some pretty demanding circumstances gives me a big sense of pride."
With Seth Thomas engaged in a fierce battle for the lead in the dying moments of the race, the touring car ace made a daring pass to take the Street Tuner class lead, and never looked back. Fans of production-based road racing are accustomed to seeing Thomas standing in Victory Circle with a BimmerWorld BMW E90, but the Georgia native says their first GRAND-AM win has a special meaning to him.
"Winning at Lime Rock is just so important to us. It confirms what we've known all along, and it's that we have the best crew in the business. What they have done to get us here is nothing short of amazing. I want to thank our crew chief, Jason Marks, our engineer, Wayne Yawn, and everyone who has made our move to GRAND-AM such a success. Lime Rock is also the home track to BMW, so to show the strengths of the BMW E90 chassis in front of the loyal BMW fans makes this win even more rewarding. It wasn't easy and it took a total team effort, and let me tell you, I used every inch of advantage our Performance Friction brakes offered to take the lead into Turn 1. This win belongs to every person and every technical partner involved with our team."
Thomas also singled out his teammate for playing such a vital role in their win.
"Bill did a masterful job of qualifying and starting the race. He had never been to Lime Rock before but he still went out and set his fastest lap in qualifying, placing him 10th on the grid. Then to start the race with a wet track and come out of his driving stint in without a scratch on the car and in the top-10 proves he did his part for the team. Driving with Bill is just a joy for me – he's fast and he takes care of the car. There are a lot of young drivers who could learn from him."
With Heumann embarking on his professional racing debut later in life, he the rewards he's gained as a driver and as an individual has benefitted his personal and professional life.
"First, without the support of my wife Lynn, pursuing this kind of lifestyle would be impossible. She is fully behind me because I am getting so much pleasure and education out of it. While the time and energy commitment to race at this level is huge, the benefits in my life have been huge also. The number one benefit of this season is that is simply a blast. The racing is super competitive but very rewarding when you succeed. Being part of this team is real honor. I am having so much fun that I kind feel like I am going to get arrested!
"The second benefit is how much I am learning. This applies not only to on the track race skills, but about myself. Racing at this level has a big psychological component. Learning how to manage your emotions so that you can be your best when it counts is a great life skill that applies outside of racing. It is vital for me to be engaged in activities where I am continuing to grow. The pace of learning for me has been fantastic. Seth has been pouring knowledge into me and the bottleneck is really how fast I can practice it and integrate it. James and Dave have been great influences also. Everyone on the team has taught me at least one thing this season, and it goes to show you what kind of success and experiences a team like BimmerWorld can deliver."
The No. 81 BimmerWorld/GearWrench BMW E90 was almost joined by its sister car on the podium, but after contact late in the race with James Clay behind the wheel, Clay and co-driver David White were forced to settle for 16th in class. But their result at Lime Rock didn't reflect the effort it took to run up front.
After an amazing month of reconstructing their heavily damaged car – one that was forced into the barriers at VIR – the BimmerWorld crew loaded the No. 80 onto the transporter for Lime Rock with no time to spare. Clay and White turned their first laps in the car during practice, and later, White continued his impressive form by qualifying fifth. Odd sounds coming from the transmission in the pre-race warm-up forced the team to change transmissions, which they completed in an unrivaled 30 minutes – just in time for White to take the start. Altogether, the effort by everyone on the No. 80 was a reminder of how a well honed team can overcome almost any hurdle put in front of them.
"The herculean effort to get the our BimmerWorld/GearWrench car back together for the Lime Rock race was nothing short of amazing," said White. "Similarly, the BimmerWorld crew had to thrash to get the car ready to race after a mechanical issue was discovered late in the game at Lime Rock. I'm continuously amazed by the work ethic of the BWR crew and hope to reward their hard work with some race wins in the No. 80 in the second half of the season."
James Clay was proud of not only his team's efforts to get their car onto the grid, but also at how well White drove in the first half of the race.
"David did a great job showing up ready to race and putting down good lap times. He put in a solid qualifying effort which I have become accustomed to. Unfortunately we ran into an issue before the race that the crew did an amazing job of resolving in time for the No. 80 car to take the green flag. David drove a great race and my race was a little less spectacular this weekend, but there is a lot to be happy about still. Our team won, and that's what matters most."
Clay and White are now 10th in the drivers' standings.
With Round Six, held at Watkins Glen International in New York just days after Lime Rock Park, the BimmerWorld/GearWrench team has very little time to prepare for the next event, but White says he's confident the team will carry its momentum into the storied Upstate track.
"The hard work of our crew and the continued development of our cars are really showing. The cars were fast right out of the box at Lime Rock and they have gotten better each race. I'm hoping a combination of hard work, strong cars, solid strategy, and a little bit of good luck will propel both of the BimmerWorld/GearWrench cars to the front of the pack at Watkins Glen."
A winner at Watkins Glen in 2009, Seth Thomas expects to get down to business quickly on the rolling 3.4-mile, 11-turn road course.
"LRP is known to be a track that suits the BimmerWorld BMW E90 very well, and the same can be said about Watkins Glen. Both are tracks where having a well balanced car that needs to be fast both entering a turn and exiting the turns. The BMW E90 did this all very well all race long at Lime Rock, and I think you are going to see a similar trend at the Watkins Glen. The E90 has a great engine that helps to pull the car up the long hills, and the chassis is balanced enough that we can be fast all around the track and without wearing out our tires. I like to think that Watkins Glen and Lime Rock are two tracks that are completely different but tracks that favor the BMW. We will find out this weekend!"
The Continental Tire 150 from Watkins Glen starts this Saturday, June 5th, at 10:15 a.m. ET.
Follow the BimmerWorld/GearWrench team's progress at www.BimmerWorldRacing.com.
###
Courtesy: BimmerWorld Media Services
[email protected]
More information about the team, cars, and drivers can be found at www.bimmerworldracing.com
Information on BimmerWorld's Customer Car Services can be found at www.bimmerworld.com
Details on PowerFlex Suspension Bushings can be found at www.powerflexusa.com
Tags
Tags not found
RELATED ARTICLES
Related article(s) not found