BimmerWorld Ready for More Highs at Mid-Ohio
June 16th, 2010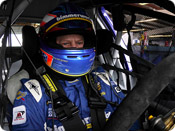 BimmerWorld/GearWrench Racing, the leading BMW team in the Continental Tire Sports Car Challenge Street Tuner class, is hoping to pull a repeat performance from its past at Mid-Ohio, the site of their first professional win in 2007, at this Saturday's EMCO Gears Classic, held at the historic track in Lexington, Ohio.
With six rounds down and four left to go in the 2010 championship, BimmerWorld is in the thick of a Street Tuner title hunt, and based on their recent form, winning a championship in their maiden year of GRAND-AM competition isn't out of the question.
Their first series win, at Round Five in Lime Rock, proved how far the Dublin, Va.-based team had come in just a half-season of racing, but as so often happens in racing, the next round, held at Watkins Glen just two weeks ago, put a temporary halt in their progress.
Poised for another podium finish, the team fell victim to an officiating error that moved the Nos. 80 and 81 BimmerWorld/GearWrench BMW E90s to the back of the pack. James Clay in the No. 80 and Seth Thomas piloting the No. 81 charged to inside the top-10 by the end of the race, but valuable points were lost in the mix-up.
With BimmerWorld's proven success at Mid-Ohio, the twisting 2.2-mile circuit is just the place to gather more points as the team hunts down its first professional championship.
"We took a bit of a hit at Watkins Glen in the championship points due to the error in the waive-by," said owner/driver Clay, "but we are eager to regain the lost ground and Mid Ohio is our first chance. There are a lot of transitions and tighter turns on this track so it will certainly be a test for our relatively heavy BMW 328i cars. We are hoping to have a lot of green flag racing which seems to be where our cars shine; our whole package is solid and durable, but the Performance Friction brakes are the standout as the competition has to manage their brake pad use or fade in the braking zones."
Seth Thomas, a winner of three Touring Car races for BimmerWorld in 2009, expects their BMWs to be fast and competitive when practice gets under way.
"Our advantage this weekend will be the overall balance of our car and our team. It seems that no matter what track we go to the BimmerWorld BMW E90 is always fast and is right there at the end to fight for a top finish. Most of this starts in the shop where the guys prepare the car to roll off the trailer as one of the fastest cars on the track and once it's there, they keep it fast. The car, thanks to our sponsors and parts suppliers, has all the perfect 'go fast goodies' that allow us to hunt down our competitors throughout the race. And our race strategy is always designed to keep us running up front, even if it means stretching our fuel to the very last drop. Everything is coming together for us right now."
BimmerWorld/GearWrench has seen stellar drives from its two veteran drivers, Clay and Thomas, but it has been the performances of their rookie drivers – the teammates to Clay and Thomas – who have made quite an impression so far in 2010.
For Thomas, having Bill Heumann as his wing man has proven to be the perfect ingredient to grab second-place in the driver's championship, and then to hold it throughout the season to date.
"Bill has the focus of winning a championship and that is what is making him the best teammate in the paddock. He has been working hard to improve himself both physically and mentally in the car ever since the first test weekend at Daytona. He has been doing everything he can to gain the knowledge it takes to drive in a pro series at a competitive level. We have spent time at almost every track we will race at this year to get him familiarized. And his hard work is paying off too. Every race weekend he gets consistently faster, qualifying the 81 car higher and higher. His drive to win this championship is the helping to push this team right and it is showing."
David White, partnered with James Clay in the No. 80 BimmerWorld/GearWrench entry, has also distinguished himself in his first season of pro racing. With one pole position to his credit already, White is earning a reputation of being one of the fastest drivers in the Street Tuner class. With his knack for mastering a track in short order, White shared his insights on what it takes to set a flying lat at Mid-Ohio.
"Running fast laps around Mid-Ohio can be very tricky as it's a very technical track with several brief elevation changes and blind crests. The important corners include the Keyhole leading on to the back straight, the Carousel leading on to the front straight, and Turn 1 which also leads on to a straightaway. The Keyhole and Carousel are both late apex corners that reward patience getting the car to rotate so you can get on the gas as early as possible. Turn 1 is a high speed left hander between two straights that requires a quick brush of the brakes before you turn in and focus on getting back on the gas as soon as possible. Having a well balanced car and nailing the setup is critical at Mid-Ohio and I'm confident that the BimmerWorld team will give us cars that are capable of running at the front."
Thomas and Heumann head to Mid-Ohio second in driver's championship, just 14 points out of the lead (190 to 177), and BimmerWorld/GearWrench also ranks second in the team's championship by the same margin. Clay and White are currently ranked 11th, 75 points out of the lead.
Saturday's EMCO Gears Classic starts at 1:15 PM ET.
Follow the BimmerWorld/GearWrench team this weekend at www.BimmerworldRacing.com.
###
Courtesy: BimmerWorld Media Services
[email protected]
More information about the team, cars, and drivers can be found at www.bimmerworldracing.com
Information on BimmerWorld's Customer Car Services can be found at www.bimmerworld.com
Details on PowerFlex Suspension Bushings can be found at www.powerflexusa.com
Tags
Tags not found
RELATED ARTICLES
Related article(s) not found