BimmerWorld Expands to Three GRAND-AM Continental Tire Street Tuner Entries for 2012
December 6th, 2011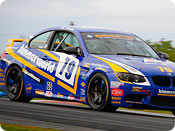 Race-winning BMW team grows its 328i-based ST ranks while embarking on exciting new development plans with the E92 M3 V8 platform
With its third full season of GRAND-AM Continental Tire Sports Car Challenge racing just around the corner, BimmerWorld has finalized plans to increase its presence in the Street Tuner class while undertaking a major new program to expand its line of BMW M3 V8 performance products.
After entering GRAND-AM in 2010 with two ST 328is, scoring two wins, two poles, finishing second in the championship and delivering Rookie of the Year honors for driver Bill Heumann, BimmerWorld continued with its 328is in 2011 and added a pair of Grand Sport-class BMW M3 V8s to the stable.
For 2012, and with customer demand at an all-time high, the Dublin, Va.-based BMW experts will return with a third 328i ST car, forming what should be the team's most effective program to date.
"The move to three ST cars accomplishes a few things for our race team," said BimmerWorld owner/driver James Clay. "As we continue to develop cars in a tightly competitive race field, we will be able to increase the development pace and attention that this BMW model receives. Additionally, with our years of success in several sedan racing formats, we have a demand for these cars from our drivers – no one in North America has more time with the E90 chassis platform than we do."
With calls for an increased presence in the ST class, Clay says BimmerWorld will also meet the greater aftermarket needs of its M3 V8 customers through a number of new R&D initiatives. After turning its mostly stock GS-spec M3 V8s into top five contenders last season, BimmerWorld will commence a more unlimited program with the cars that will take place outside the GS category.
"As 2011 progressed, our GS cars came nicely up to pace with the field even though we spent a lot of time catching up on development. We went into the off-season highly motivated to be ahead of the curve in 2012 and have been hard at work on the V8 cars since the last checkered flag of 2011. I've been extremely impressed with the progress of our work so far. So much so, it's opened our eyes and motivated us to pursue a more aggressive V8 program beyond GS."
Lessons learned in GS competition have allowed modest additions to BimmerWorld's line of performance upgrades for the M3 V8, but owners of BMW's thundering E92 platform demanded more spirited street and race components. Clay says he jumped at the opportunity to bring new products and services to market.
"I think the new direction we're taking gives us an opportunity to produce a more highly-developed car, while using more of our preferred technical partners and brands that we sell to our customers which don't always fit in the GS rules. I feel the V8 cars will be much more interesting as they evolve, and the race program surrounding this new, unlimited effort will be more exciting for BimmerWorld and its fans as it moves forward."
With the seal of approval from BimmerWorld's sponsors and technical partners, Clay acted swiftly to set a consolidated three-car ST plan in motion.
"We have the full support of our sponsors and GRAND-AM partners for the 2012 plan," he said. "After our 2010 championship points tie, we wanted to seal the deal in 2011. With a season of mixed results instead, I want there to be no doubt about our razor-sharp focus for the 2012 season. Our sponsors want to share in our success and I think we all recognize that this approach will give us a formidable team with the best chance to reach that goal."
BimmerWorld's renowned group of technicians and engineers will remain unchanged in 2012, giving Clay every reason to feel confident about the team's pursuit of the ST championship.
"We will have both our 2010 ST engineer Wayne Yawn and our 2011 ST engineer David Wagener leading the charge," he said. "They have very complimentary capabilities and the extra car will give us more opportunity to develop and blend ideas to produce a frontrunner. Additionally, our driver lineup is one that I am very proud of, with three cars that truly have the capability to win the championship. Race results definitely have a luck factor and having another ticket in the lottery is a good thing."
With the start of the season still two months away, BimmerWorld already has its driver lineups in place and will soon reveal its sponsors.
"We are still finalizing some of our sponsorship details for the coming season and our driver lineup is complete," said Clay. "We will announce our program once a few more items are pinned down, but to have almost everything solidified this early in the off-season is a benefit. Now we focus on the rest of the work that will help us achieve our goals."
Visit www.BimmerWorldRacing.com to follow the team's progress as it tests for the January 26-29 season opener at Daytona International Speedway.
###
Courtesy: BimmerWorld Media Services
[email protected]
More information about the team, cars, and drivers can be found at www.bimmerworldracing.com
Information on BimmerWorld's Customer Car Services can be found at www.bimmerworld.com
Details on PowerFlex Suspension Bushings can be found at www.powerflexusa.com
Tags