BimmerWorld Expands Relationship with CRC Industries for 3-Car GRAND-AM Campaign
December 28th, 2011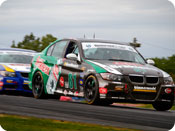 CRC Industries builds upon its sponsorship of BimmerWorld's racing and aftermarket endeavors to promote its leading CRC Brakleen®; Brake Parts Cleaner brand.
The BimmerWorld GRAND-AM Continental Tire Sports Car Challenge series team is busy preparing for a new season of racing with its three-car BMW 328i Street Tuner program, and as confirmed on Friday, it will continue with full support from CRC Industries.
As Julie Williams, CRC Industries' Marketing Manager says, BimmerWorld is a perfect partner to help promote CRC Brakleen® Brake Parts Cleaner through the rigors of production-based endurance racing.
"There are many reasons CRC Industries has been partnering with BimmerWorld for years," she said. "What stands out the most is the approachable-nature of the entire BimmerWorld team; they interact with fans and customers with the same passion and enthusiasm with which they race. Fan-interaction is important for maximizing our CRC and Brakleen® brand exposure. Additionally, BimmerWorld mirrors the values, principles and integrity of CRC Industries and we consider them a valuable extension of our company. We are certainly pleased to announce an expanded partnership in 2012."
Williams also says that BimmerWorld's participation in the highly respected and hotly contested GRAND-AM Continental Tire Series has helped to drive awareness towards CRC Industries' high-performance products.
"A sponsorship like what we have with BimmerWorld allows our CRC brand and quality message to come to life in the real world; something consumers can see, touch and get excited about brings a dimensionality to our brand that doesn't otherwise exist," she said. "Having CRC visibly involved in a sport where our products are so relevant reiterates the credibility of our brand, too. Motorsports sponsorship is also a vehicle for CRC to support the automotive industry and that's important to us and our customers."
BimmerWorld owner/driver James Clay was not only pleased to announce the news of his continued relationship with CRC Industries, but echoed many of the same sentiments that were shared by Williams.
"We have been working with CRC since early in our pro racing days," he said. "It is important to our team to have sponsors like CRC that believe in what we are doing and support us for a Championship effort. And it is important to me to have top-tier sponsors with us that I really believe in and whose products we use on a regular basis. CRC Brakleen® is the industry leader as a brake parts cleaner and I think it is a natural fit for our fans and customers who are accustomed to expecting the best."
Following an announcement in early December where Clay revealed his team of BMW experts would field three of the 328i models in the ST category, Williams says one car in particular will stand out to the legions of Brakleen® users.
"CRC is excited to announce the unveiling of the No. 82 CRC BRAKLEEN® car during the 50th Anniversary weekend of the Rolex 24 At Daytona," she explained. "BimmerWorld's No. 82 entry will have a full CRC Brakleen® wrap for the entire 2012 season. We tested a few different wrap liveries last season with undeniable benefits so we are enthusiastic about promoting CRC Brakleen®, the No. 1-selling brake parts cleaner, on a car that fans can follow all season. It will surely be an exciting year!"
As a manufacturer of premium automotive products, Williams says CRC Industries will also supply BimmerWorld with its full range of chemicals to keep its fleet of BMWs headed towards victory lane.
"CRC Brakleen® is the brake parts cleaner of choice for technicians and DIY'ers, and it's no accident that we are BimmerWorld's preferred line of specialty maintenance chemicals," she said. "CRC products are quality-driven and for more than 50 years have been manufactured to maximize customer satisfaction. Our customers depend on us to never sacrifice quality for price," Williams said. CRC is a global company and leader in production of cleaners, degreasers, lubricants, leak-solutions, greases and gear-oils for the automotive, heavy duty, marine, industrial, electrical and aviation markets. CRC trademarked brands include: CRC®, K&W®, Sta-Lube®, and Marykate®. "We offer a vast range of products to meet every chemical-maintenance need; and if we don't have it, we'll make it!"
With just over a month to go until the opening of the 2012 racing season, Clay says his technicians have been putting CRC's products to use on a daily basis and in a variety of applications.
"We use CRC products extensively on the race team," he said. "We go through cases of Brakleen® as it is critical to us to keep all the parts on the cars clean so we can easily inspect for and see potential damage and problems. But the CRC lineup of car and equipment care chemicals is incredibly deep and we also use a massive list of other items from them for needs we sometimes don't even know we have – we just serviced the liftgate on the transporter with CRC Inner Slide Lube. They really do seem to have a product for every need we come up with."
Drivers for the No. 82 CRC BRAKLEEN® entry will be announced shortly, along with the rest of the BimmerWorld Racing lineup, and be sure to follow the team throughout the year at www.BimmerWorldRacing.com.
Visit www.facebook.com/crcauto and "Like" CRC Industries to access updates and special offers.
###
Courtesy: BimmerWorld Media Services
[email protected]
More information about the team, cars, and drivers can be found at www.bimmerworldracing.com
Information on BimmerWorld's Customer Car Services can be found at www.bimmerworld.com
Details on PowerFlex Suspension Bushings can be found at www.powerflexusa.com
Tags