BimmerWorld Unveils 3-Car GRAND-AM Street Tuner Lineup
January 10th, 2012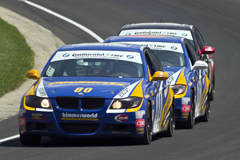 Virginia-based BMW experts head into new season with proven winners, rising stars and talented newcomers
Dublin, VA
After recently announcing its expansion to a three-car GRAND-AM Continental Tire Sports Car Challenge Street Tuner program for 2012, Dublin, VA-based BimmerWorld has finalized the three pairs of drivers who will pilot the team's trio of BMW 328is.
Stability, continuity, and growth have been hallmarks of BimmerWorld's professional racing endeavors for more than a decade, and the trend continues this season as four of the team's drivers from 2011 have returned, along with two promising talents that have recently joined the team.
Employing the proven strategy of partnering winning veterans with up-and-coming drivers, team owner/driver James Clay will pilot the No. 80 BimmerWorld BMW 328i with John Capestro-Dubets, the breakout young star of the 2011 ST championship, as his co-driver.
The No. 81 BimmerWorld BMW 328i will again be piloted by drivers provided by Exclusive Management, Inc. This year, the car lineup will feature sports car expert Gregory Liefooghe, who will mentor ST rookie David A. Levine.
Seth Thomas, BimmerWorld's most tenured driver, will spearhead the CRC BRAKLEEN®-sponsored No. 82 328i with Dan Rogers as his teammate.
After reaching a statistical points tie and nearly winning the ST championship on the team's GRAND-AM debut in 2010, Clay says BimmerWorld structured its driving combinations with the specific goal of earning the ST title this year.
"I am very happy with this season's driver pairings," he said. "As always, it is important to me and us as a team for every car to be a championship contender. And this year more than ever before, we are purely focused on capturing the championship that got away from us in 2010, and I feel our driver lineup strongly supports this goal."
Tasked with scoring points, earning victories and teaching their new co-drivers, Thomas and Liefooghe have similar goals during the 10-race Continental Tire Series championship.
"My focus for 2012 is to bring the driver and team championships to BimmerWorld, and to win a manufacturer's title for BMW," said Thomas. "With Dan having raced at only a handful of the tracks we'll visit this season, I hope my knowledge of these tracks helps him get the most out of our car every weekend."
Beyond sharing driving and chassis setup tips, Liefooghe looks forward to helping Levine adapt to the rigors of endurance racing.
"For my part, I will work hard with David as he transitions to a new style of racing," he said. "David comes to BimmerWorld with great talent, but most of his experience is in shorter sprint races. My job as a teammate will be to teach him all the facets of endurance racing."
For Levine and Rogers, the decision to join BimmerWorld was made with the specific goals of learning from the best, joining one of the most respected teams in the paddock, and spending a lot of time in Victory Lane.
"I chose BimmerWorld because of the team's professionalism and its commitment to winning the championship, the quality of the car and knowledge of the mechanics and pit crew, and the opportunity to race with and learn from Greg," said Levine. "Everyone on the team is friendly, which also made selecting BimmerWorld an easy choice."
"When the opportunity came up to drive with BimmerWorld in GRAND-AM, I jumped at it," said Rogers. "With the complete package they have to offer, I believe we have a great shot at winning the title."
Capestro-Dubets took the first steps towards becoming a professional racing driver last year with BimmerWorld in the ST class, earning kudos throughout the season as a driver with the potential to make it to the top. With his services in high demand, the young hot shoe chose to stay with BimmerWorld for his sophomore season and continue his education in GRAND-AM.
"My rookie year was all a learning experience and it was a very productive year," he said. "In 2011, I learned the fundamentals needed to succeed in GRAND-AM, and now it's time to show what I've learned. I feel I've become a very strong and consistent driver. My next goal is to bring home a championship for the BimmerWorld team, my sponsors and myself."
In addition to their line up of stellar drivers, BimmerWorld will rely upon thousands of hours that have been invested over the past few months by the men behind the scenes to make sure the team's fleet of 328is are faster than ever.
With the first race of the season just weeks away, Clay is confident his team has all of the ingredients necessary to achieve their goals.
"BimmerWorld's technicians and engineers never stop thinking, working, and tuning on the cars," he said. "This offseason has been purely focused on the 2012 ST package and the focus has yielded what I hope and think will be a formidable result. Racing is like any job – filled with a lot of work. We have had long work lists and the guys have executed well on them. We are entering this season ready to go."
Follow BimmerWorld at www.BimmerWorldRacing.com as the team prepares for the season-opening race on Jan. 27th at Daytona International Raceway.
###
Courtesy: BimmerWorld Media Services
[email protected]
More information about the team, cars, and drivers can be found at www.bimmerworldracing.com
Information on BimmerWorld's Customer Car Services can be found at www.bimmerworld.com
Details on PowerFlex Suspension Bushings can be found at www.powerflexusa.com
Tags