BimmerWorld Drivers Share Common Goal for Road America But Disagree on What's Best on a Bratwurst
August 2nd, 2016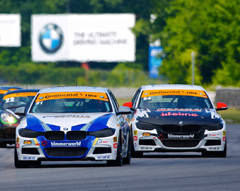 BimmerWorld Racing's drivers love Road America and the Elkhart Lake, Wis. area in general, so they've been looking forward to Saturday's 2.5-hour IMSA Continental Tire SportsCar Challenge (ICTSC) race there all year.
James Clay and Tyler Cooke will share the team's No. 84 OPTIMA Batteries BMW 328i while its No. 81 BimmerWorld BMW 328i will be driven by Jerry Kaufman and Kyle Tilley. Both cars utilize the new F30 chassis and 2-liter, N20 turbocharged engines.
After winning here in the Street Tuner (ST) class in 2013, BimmerWorld Racing finished fourth at Road America in both 2014 and 2015. A podium finish is definitely the goal in Saturday's race, which starts at 11:35 a.m. Central time (12:35 PM Eastern), and can be viewed live on imsa.com and imsa.tv.
The 4.048-mile road course is a high-momentum track, and the team will work hard during practice to develop a setup that allows the drivers to push hard on the long straightaways while still having sufficient rolling speed approaching the braking zones in the circuit's 14 turns.
Although that's a common goal, the team's drivers definitely have different requests when it comes to what they'd like on their bratwurst, which is a local specialty. Their thoughts on these and other topics follow.
James Clay, team owner and driver, No. 84 OPTIMA Batteries BMW 328i (F30 chassis):
Tell us about your history at Road America and what's your favorite part of the track.
"I love Road America – it is so fast and sweeping, and you have to roll speed through the fast and sometimes questionable corners and keep your foot in it. This track tops the list of my favorites in America – every turn or sequence is demanding, and the entire lap is fun and exciting to drive."
How do you think the BimmerWorld F30s will stack up against the competition at the longest racetrack on the schedule?
"We are really starting to wrap our heads around this N20 turbo engine and see some solid reliability from it, which will be the key to a good finish. I have flipped a couple of times at Road America in previous races, and I had my first pro win there back in 2009 in an E90 Touring Car. I am predicting this weekend will go more like the latter."
The race at Lime Rock went nonstop with no cautions. Last year at Road America there were only two full-course cautions, and the year before there were four. There were six overall lead changes in 2015 and 16 overall lead changes in 2014. Can you make any predictions on how the pace of the race will be this year? How does this figure into your race strategies?
"I have no idea how this race will play out. We have been having way fewer cautions recently in our races, but there are a few key passing areas that have really deep gravel in the runoff, and the 'Kink' always adds excitement. I would be shocked if it was another full green race, but I think we are ready either way."
Do you have any favorite places to visit in the area? (Restaurants, the lake, Siebkens, golfing, etc.)
"I love the Road America area and friends we have here who have shown us some of the great places to eat. Mint ice cream, RGP potatoes and double-brats at the track (alongside the Polish favorites our track chef has dug up to serve), Schwartz's for a big steak, and Siebkens if we stay to celebrate."
What do you like on your bratwurst?
"I'm a double-brat with kraut, jalapeños, and mustard!"
Tyler Cooke, driver, No. 84 OPTIMA Batteries BMW 328i (F30 chassis):
What has your racing history been like at Road America?
"My first time at Road America was in 2011 racing in the June Sprints in a Spec Miata and Mx5 cup car. In 2013, Road America was the site of my first win in the Continental Series with Greg Liefooghe in the No. 81 BimmerWorld BMW, so I have good memories."
Where does Road America stack up for you personally on your list of tracks? What do you like about it? What is most challenging?
"Road America has always been number one on my list. The challenge I find is in the alternating fast and slow corners, making every lap better than the last. Road America is a good old-fashioned track, allowing for the smallest mistakes to end with big consequences. I love the consistency of the racing at Road America. It makes for an exciting, on-edge time for each of us! I remember the first time I drove through the 'Kink' into 'Canada Corner.' It was breathtaking. My Dad would always walk down the bleachers in 'Canada Corner' and would tell me how amazing the sound was, hearing the echoes of the race cars bounce off the trees from the 'Kink' down to that corner.
If you were making a suggestion for where someone should watch the race from, which turn or other place would you suggest? 
"I would suggest watching the race from Turn 5. It gives you a view of the front straight and the brake zones for both Turn 5 and Turn 6."
How important is momentum at Road America?
"Road America is a high momentum track. Saying that, finding the right balance between pushing to the maximum in the straightaways while having the perfect rolling speed to set up for passing into the braking zone is what you need to be successful in this race."
Will you be participating in the Tour de Road America bike race on Friday?"
"Unfortunately, I will not. I want to get all the rest I can that night for the race."
What do you like on your bratwurst? 
"Onions, ketchup, and mustard in a bun and you will have my heart."
Kyle Tilley, driver, No. 81 BimmerWorld BMW 328i (F30 chassis):
Share your history at Road America and your thoughts on the track?
"Road America is one of my favorite tracks here in the U.S. I love it! It has a mix of everything from long straights to tight corners. I have only driven it in vintage cars, so I am excited to get behind the wheel of our No. 81 Bimmerworld BMW and see what it can do!"
After the recent caution-free Lime Rock race and Road America history what are your predictions on this year's race?
"The last 45 minutes at Lime Rock we were hoping and praying for a yellow, but it never came. Hopefully we won't be in a situation where we need a yellow at Road America. I think it will be a fast-paced race with the draft being critical, especially if it stays green. Should we have a green race, I think we will see a lot of cars running out of gas."
Since there are so many different turns at Road America, what will you concentrate on when developing your setup? Where do you want to be at your very best?
"I think we need to be at our best through the Turns 3 and 14 as they both lead on to the longest straights. Aside from this, straight-line performance will be key. I foresee the Audi and Hondas being tough to beat here."
Do you have any favorite places to visit in the area? (Restaurants, the lake, Siebkens, golfing, etc.)
"I can't remember what it's called; however, there is a little ice cream shop that I found last time on the high street in Elkhart Lake when I was last there. Celebrating or commiserating, it's a must visit if you like ice cream!
What do you like on your bratwurst?
"We just call them sausages in England, and I'll take ketchup on it, please."
Jerry Kaufman, driver, No. 81 BimmerWorld BMW 328i (F30 chassis):
Tell us about your history at Road America and what you think of the track?
"Road America has always been one of my bucket-list tracks. It has three long straightaways, fast corners, slow corners, big brake zones, and elevation changes. It really has it all. This is my first trip to the track, but I grew up playing racing games, and this was always one of my favorites."
Thunderstorms are always a possibility in the summer. Do you like racing in the rain, or would you prefer it be dry?
"I love the rain. It's a great equalizer that rewards bravery, traction sensing skills, smoothness, and track knowledge. Road America is very fast, so I expect that the stability of the BMW will help us push the car harder than our competitors and roll more speed in the fast parts of the track."
Road America is a lot about momentum. How would you describe momentum to someone new to the sport?
"When you are driving at high speed, the car has less torque than it does at low speed. That's why a car pulls harder out of a slow hairpin corner than a fast sweeper. Because you have less torque it's critical that you carry as much speed as possible through the corners. Road America really doesn't have many slow corners, so rolling speed is extremely important."
Will you be participating in the Tour de Road America bike race on Friday?
"I think that's a very cool event, but honestly, it is not for me. I use the night before a race to study data and go over video then get a good night's sleep."
What do you like on your bratwurst?
"Spicy brown mustard and onions are only things I'm willing to put on a bratwurst. If it's a really good brat, I will just eat it plain then help myself to another one."
The Continental Tire SportsCar Challenge series' action begins with two 45-minute practice sessions at 9 AM and 11:40 AM Friday. Street Tuner qualifying follows at 4:20 PM that afternoon. The fan walk is from 11:40 AM to 12:25 PM on Saturday, and the 2-hour-and-30-minute race starts at 12:35 PM All times are Eastern.
Live video streaming and live timing and scoring will be available on imsa.com and imsa.tv. The television broadcast will be on FOX Sports 1 on a tape-delayed basis on Sunday, Aug. 14 at 11 AM Eastern.
FOLLOW BIMMERWORLD AT: https://www.facebook.com/bimmerworld
STAY UP TO DATE WITH BIMMERWORLD NEWS AT: http://www.bimmerworldracing.com
ABOUT: BimmerWorld is renowned as a leader in BMW aftermarket and tuning expertise, and competes in the Continental Tire Series with a pair of BMW 328is (F30) where the Virginia-based outfit has become a routine winner and Championship contender.
Tags