BimmerWorld Announces New BMW M4 GT4 Entry for 2018 IMSA Continental Tire SportsCar Challenge
January 4th, 2018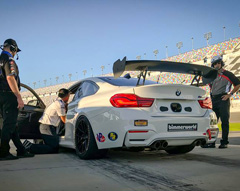 BimmerWorld Racing has stepped up the competition a notch with a brand-new BMW Motorsport M4 GT4 entry to compete in the 2018 IMSA Continental Tire Sportscar Challenge (ICTSC) Grand Sport (GS) class.
Team owner James Clay of Blacksburg, Va. will once again pair with Tyler Cooke of Matthews, N.C to contest the competitive GS class beginning with the Continental Challenge race at Daytona International Speedway on January, 26th. The duo will use this weekend's Roar Before the 24 test days, January 5-7, to sort out their new No. 82 (for the BMW F82 chassis designation) BimmerWorld Racing steed.
"This is a big undertaking," said Clay. "We'll be working directly with BMW Motorsport as we tailor the GT4 car to the Continental Tire Challenge series specifications. This is important to us, both as drivers competing in a Motorsport product and as a business specializing in BMW aftermarket products. We're still also competing with a BimmerWorld-built 328i (F30) in the Street Tuner (ST) class, as we have for many years, with Devin Jones and Nick Galante this season, but the factory car will be a new program for us. So far, we're happy with the testing we've done, and it shows great promise for a competitive season ahead."
"Both the test in November as well as the BOP (Balance of Performance) test for BMW in December were great experiences," added Cooke. "The car is built very well and fits like a glove. It shows a lot of potential, and I'm looking forward to the Roar and starting the 2018 season. I'm happy James and I are back together, as we have been a good pair and we really solidified our driving dynamic towards the end of the 2017 season. The M4 is going to be a great fit for us and the BimmerWorld crew working with BMW Motorsport.
"I'm sure James and I are on the same page when I say this season's goal is to win the championship. James and I were so close to a second-place finish in the championship at the end of 2017. We are go-getters and have the capability to run at the front of the pack consistently. With our determination and the strength of the BimmerWorld crew to know how to consistently run a great car, I have no doubts of this being achievable."
FOLLOW BIMMERWORLD AT: https://www.facebook.com/bimmerworld
STAY UP TO DATE WITH BIMMERWORLD NEWS AT: http://www.bimmerworldracing.com
ABOUT: BimmerWorld is renowned as a leader in BMW aftermarket and tuning expertise and competes in the IMSA Continental Tire Sportscar Challenge series with a pair of BMWs, where the Virginia-based outfit has become a routine winner and championship contender.
Tags