BimmerWorld Racing Announces Driver Lineup of No. 81 BMW 328i for 2018
December 29th, 2017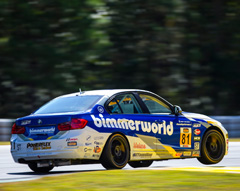 BimmerWorld Racing's team owner James Clay has announced his driver lineup for the No. 81 BMW 328i for the exciting 2018 IMSA Continental Tire Sportscar Challenge (ICTSC) season. Devin Jones of Mooresville, N.C. and Nick Galante of Seaside, Calif. will pair for a run at the Street Tuner (ST) ICTSC championship in the F30 chassis BMW, commencing at the Roar Before the 24 on January 5-7, 2018.
"We're pleased to welcome Devin Jones and Nick Galante to the BimmerWorld Racing team for 2018," said Clay, of Blacksburg, Va. "Both drivers have a range of experience both in the Continental Tire series and outside of it, so we're happy to welcome them to the team as we fight for the championship."
The 2018 season starter will be the official IMSA Test Days at Daytona International Speedway in Daytona Beach, Fla., where the Dublin, Va.-based team will field the No. 81 turbocharged BMW 328i in the Street Tuner (ST) class.
Born and raised in Greenfield, Mass., Nick Galante found himself with a broken back after a snowboarding incident in 1998 and knew that if he ever got out of the hospital he would follow his life-long dream of racing cars. Soon after recovering, he began accomplishing his mission to race.
In 2007, Galante competed in and won the scholarship for the F3 Jim Russell Championship Series and in the following two years won the Masters F3 Championship titles. From 2011-2014, Galante began his professional driving debut in IMSA's Continental Tire Sportscar Challenge and drove his first full season in 2015, finishing tenth overall in the top GS class.
He carried his momentum into 2016 and won the season championship in the ST class in the No. 17 Legistics RS1 Porsche Cayman with co-driver Spencer Pumpelly, followed by a third-place finish last season.
"Joining BimmerWorld has been something I've dreamed about since I first got my foot in the small door of racing," said Galante. "Back in 2006, my first taste of motorsport competition was when I started autocrossing my E36 M3 with the Golden Gate Chapter of the BMW Car Club of America. I knew of the great products that BimmerWorld provided and even had some on my car that helped me win my first championship. I later moved into road course racing and learned of the BimmerWorld Racing Team. I'm very much looking forward to fighting for a championship with such a longstanding and prestigious team, and I feel it's a good fit that has been in the works now for over 11 years from my standpoint. I'm excited to finally be back in a BMW with arguably one of the best teams and crew in the world thanks to the professional leadership of James Clay.
"Co-driving alongside Devin Jones just adds to the great fit of the team. I raced competitively against Devin for the past two years and know that he'll be bringing a fast, smart asset to the team and the championship hunt. I believe our driving styles are sure to be a good fit to help us forge a path to the front."
Galante brings his returning sponsors of Legistics (legistics.net) and the Racing to End Alzheimer's organization (r2endalz.org.) The CEO of Legistics and founder of the Racing to End Alzheimer's organization, Philip Frengs, has been a close friend of Galante for over a decade, with their relationship first forged on the golf course.
Growing up in California, Jones became a young karting star and was considered an "expert" by the age of 11. After his family moved to North Carolina, he began racing in the Legends cars by age 13 and then advanced to the PASS Super Late Model cars. By 2013, he made his debut in the NASCAR Camping World Truck series before transitioning to sports cars the following year. He began competing in the IMSA Continental Tire Series part-time in 2015 before completing full seasons the past two years in a Porsche Cayman with positive results. Last year also marked Jones' NASCAR Xfinity debut at Watkins Glen.
"Joining BimmerWorld for the 2018 season is an absolute honor," said Devin Jones. "They are a top-notch race team and organization. I'm looking forward to continuing their long history of winning races. And with Nick as a co-driver our chances are excellent. Nick's and my goals for the season are simple; we want to compete for wins and go after the championship in the final year for the ST class. I believe we have every tool to do so, and I can't wait to get started at the Roar next week in Daytona."
Sponsors for the No. 81 BMW from Jones include his long-time partner Veristor (veristor.com), a leading provider of transformative business technology solutions, and Forty8Fifty Labs (forty8fiftylabs.com), the DevOps and software development subsidiary of Veristor.
FOLLOW BIMMERWORLD AT:  https://www.facebook.com/bimmerworld
STAY UP TO DATE WITH BIMMERWORLD NEWS AT:  http://www.bimmerworldracing.com
ABOUT:  BimmerWorld is renowned as a leader in BMW aftermarket and tuning expertise and competes in the IMSA Continental Tire Sportscar Challenge series with a pair of BMWs, where the Virginia-based outfit has become a routine winner and championship contender.
Tags