BimmerWorld Heads Out of the Roar Before the 24 Test Days With a Strong Outlook on the 2018 Season
January 10th, 2018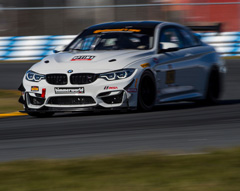 The BimmerWorld Racing team had a successful few days at the Roar Before the 24 test days at Daytona International Speedway. The team's outlook for 2018 is strong after testing both their new BMW M4 GT4 and their BMW 328i (F30) in preparation for the IMSA Continental Tire Challenge season-opening four-hour BMW Endurance Challenge race on Friday, January 26.
"The BMW 328i has been a long-term development project for BimmerWorld that finally came into its own by the end of 2017," said BimmerWorld Team Owner James Clay. "Nick (Galante) and Devin (Jones) have been a fantastic addition to the team, and it looks like we're going to start the season strong this year. They both got in the No. 81 and were immediately quick and acclimated to the car and the team, and we're looking forward to a fantastic year with those two.
"With the BMW GT4, we had a designated plan and saw progression every session we were on track, and we continue to learn this new car. There are still some things to figure out to make it faster in a straight line — this is Daytona after all — but we're at least satisfied with the pre-season balance. Our team has embraced the car and is working well with it. Tyler (Cooke) and I are both dialed in with the No. 82 and picked up right where we left off in the ST car, so we're really looking forward to the season in the new GS car."
STAY UP TO DATE WITH BIMMERWORLD NEWS AT: http://www.bimmerworldracing.com
ABOUT: BimmerWorld is renowned as a leader in BMW aftermarket and tuning expertise and competes in the IMSA Continental Tire Sportscar Challenge series with a pair of BMWs, where the Virginia-based outfit has become a routine winner and championship contender.
Tags