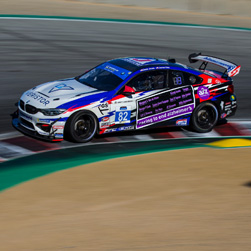 While the BimmerWorld team struggled with an uncharacteristic lack of pace for their car during Saturday's two-hour IMSA MICHELIN Pilot Challenge race at Laguna Seca, there were bright spots in team performance in the pit lane. However, it was ultimately Racing to End Alzheimer's that was the big winner at Laguna, with more than $20,000 raised in this single event for the team's charity effort.
The No. 82 BimmerWorld Racing OPTIMA Batteries/Veristor BMW M4 GT4 of James Clay of Blacksburg, Va. and Devin Jones of Mooresville, N.C. was as high as tenth but finished 14th in the Grand Sport class.
The driving duo went into the event tied for third in the driver point standings, and despite a less than ideal finish in Saturday's race, bringing the BimmerWorld drivers remain tied for third in the championship. The drivers who were leading the point standings going into the race placed second on Saturday and now have a big enough advantage to win the championship simply by showing up at the season finale next month.
Clay qualified 15th with a time of 1:33.380 but spent most of his stint in 13th place, successfully staying out of conflicts in order to give Jones a good car for the finish. Clay set his fastest lap of the race on lap 4 with a time of 1:34.684.
An accident brought out the first full-course caution on lap 24, and the pits opened just as the driver's minimum drive time was surpassed. Clay took advantage of the opportunity and pitted under that yellow with 45 minutes gone. The BimmerWorld team responded with excellent service on that first of two pit stops, gaining three positions as Jones began his stint in tenth place before dropping to 14th shortly thereafter. Like Clay, he ran in 13th or 14th during most of his stint.
The championship-leading car pitted for right-side Michelins and fuel on lap 46 with about 38 minutes remaining. BimmerWorld countered that move with right-side tires and fuel for Jones under green on lap 47 with 36 minutes remaining in the high-speed chess match. Once again, the BimmerWorld crew was up to the challenge and got the car in and out of the pits at lightning pace.
Jones set the car's fastest lap of the race on lap 50 with 31 minutes to go with a time of 1:33.280. He was 11th one lap later as other drivers began to make their final pit stops.
The WeatherTech Raceway Laguna Seca 120 will be broadcast on NBCSN on Wednesday, Sept. 18 from 1-3 p.m.
The Fox Factory 120, the final round of the MICHELIN Pilot Challenge series, will take place on Friday, Oct. 11 from 1:25-3:25 p.m. at the Michelin Raceway Road Atlanta in Braselton, Ga. All times are Eastern.
Post-race quotes follow
James Clay, Blacksburg, Va., team owner and driver, No. 82 OPTIMA Batteries/Veristor BMW M4GT4:
"This was just a frustrating weekend, all weekend. We fought through some mechanical issues and did work to improve the car, but we never had pace. I'm aware that we're still playing a little injured with the current BoP [Balance of Performance], but it feels like we missed on more fronts than carrying a little more weight and with less power this weekend. A big thanks to everyone on the team who pushed hard to the end. Weekends like this with no reward for the result are the most challenging for everyone, and every person on the team worked with the same drive and effort as they would have for a podium finish."
Devin Jones, Mooresville, N.C., driver, No. 82 OPTIMA Batteries/Veristor BMW M4 GT4:
"This weekend was a struggle, but I'm still proud of everyone for fighting right until the end. We didn't have the pace in the car, but we really tried to make as many changes as possible in practice to find something that worked. James did well in the starting stint, keeping us in the hunt, and we had amazing pit stops so I was able to hold that track position. I'm hopeful we can turn it around and end the season strong at Road Atlanta. I have to thank everyone who supports us."
FOLLOW BIMMERWORLD AT: https://www.facebook.com/bimmerworld
STAY UP TO DATE WITH BIMMERWORLD NEWS AT: http://www.bimmerworldracing.com
ABOUT: BimmerWorld is renowned as a leader in BMW aftermarket and tuning expertise. It competes in the IMSA MICHELIN Pilot Challenge series in the Grand Sport (GS) class with a BMW Motorsport M4 GT4, where the Virginia-based outfit has become a winner and championship contender. It was also the Street Tuner champion of that series in 2018. 2019 also marks BimmerWorld Racing's return to the SRO TC America Championship in the Touring Car (TC) class with two BMW Motorsport M240i Racing cars.