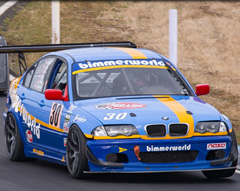 BimmerWorld owner/driver James Clay and a familiar cast of friends and crew members came together last weekend in Northern California to tackle NASA's renown 25 Hours of Thunderhill endurance race, and left with victory in the E0 class along with placing an amazing sixth-place overall in the field of 63 cars.
Clay has been making the annual trek from Virginia to the little town of Willows, CA, for almost a decade to compete in the 25 Hour, and in a partnership with veteran BimmerWorld crew member Lance Boicelli, an ex-BimmerWorld BMW 325i Touring Car has become El Diablo Racing's weapon of choice. The chassis earned its 15 minutes of fame in 2004 when it was flipped at Sonoma Raceway by BimmerWorld driver Matt Richmond who then climbed from the car and stood on the overturned E46 and waved to the cameras.
Prepped by El Diablo owners Boicelli and Scott Smith, and their dedicated team of Bay Area volunteers, the BMW E46 used an uprated M3 motor to propel Clay, Boicelli, James Colborn, Cameron Evans, Charles Postins, and Dale Sievwright to a dominant class win ahead of factory-supported entries from Mazda and Nissan, as well as some fast and solid BMW machinery.
"Every step we took this weekend from the time we arrived was in a forward direction," Clay said. "The car, the drivers, and the team as a whole progressed and improved every lap and every turned wrench. We solved problems permanently, got through a long worklist, and amazingly had zero issues for the duration of the race. This is a true testament to Lance Boicelli and Scott Smith's tireless work, and to the fantastic crew they have assembled over the years. I drove with Lance in his first 25 Hour effort, and it was special to return to his team, get to drive one of our previous cars in classic livery, and score a meaningful win in this grueling race.
Along with the dedicated El Diablo team members, the No. 30 BMW also relied on support from numerous companies to win E0 by a margin of 10 laps.
"In the decade since we raced this car last, we have developed a number of products and technical partnerships for this chassis, and Lance was open to our input and vision on a modern version of an early 2000s Touring Car," Clay continued. "Lance and team get all the credit for the work and car package that endured so perfectly, and our BimmerWorld team partners including Red Line Oil, Motion Control Suspension, Performance Friction Brakes, MagnaFlow, OPTIMA Batteries, and Diffsonline all provided components to make this a quick, competitive, and durable racecar."
Simply making it to the race was a challenge, according to Boicelli.
"Fun has always been a fundamental goal of mine every time I run a car in the 25 Hour, and it is a goal that Scott Smith and I have shared for years which is why we have had so many years of partnered success," he said. "When Scott told me he didn't want to run the event this year with his car, the fun factor faded, and I began to second guess my own conviction for the event. But I'm not one to give up easily, so with less than three months to the event, I set my sights on the BimmerWorld E46 race car I had picked up over a year before that was sitting in my barn shop. Then, in steps long-time friend James Clay.
"Curious about his plans for the event I mentioned what I was considering doing and it sparked his interests in joining forces. James' and BimmerWorld's decades of experience and technical partnerships helped create a package to update the potent 15-year-old race car platform, and from there, it became a race to make the race. Time to build the car, plan the event logistics, and secure crew… That time came and went too quickly. I'll admit there were times were I thought I wasn't going to pull it off; in fact the Sunday before the race the new brake lines were giving me so much grief I was ready to throw in the towel. But as stated before I don't give up easily!"
Thanks to Boicelli's dogged persistence, the El Diablo team made it to Thunderhill and, to make things more interesting, mixed conditions threw rain and inhospitable weather at the field for significant stretches of the race. The 2015 edition of the 25 Hours of Thunderhill was far from idyllic.
"We were running Hoosier R7 tires which were great in the dry, but we made the decision to stay out on them in the early stages of light rain, damp, to drying track, which was a real nail biter for teammate James Colborn and me who called this piece of strategy from the pits," Clay added. "I have always enjoyed driving at night, and in the rain, and when the combination of the two conditions presented themselves in the forecast, I jumped at the opportunity. As next in for the wet night fun, I started my stint on dry tires in mixed conditions and managed to make up some ground, but when the first few big drops fell while I was in Turn 13, we immediately came into the pits where the crew was waiting with a set of Hoosier Wets and prescribed changes to the MCS dampers.
"After several laps I managed to get some heat in them and the car was amazing. The guys came over the radio and told me that aside from the eventual overall-winning R8 GT3 car, I was the fastest car on the track–that is a moment I will remember. We made up about 8 laps with tire strategy and a fast rain car–those Hoosiers made a big impact in our race."
After the race, Clay was glad they chose the faster E0 class for the No. 30 E46, which also gave the growing BMW Spec E46 cars a chance to fight for victory in E1.
"We initially targeted the slightly slower E1 class for our effort, but both BimmerWorld and Red Line Oil are big supporters of the Spec E46 cars and class that fit into E1 for endurance racing, and I wanted to see a true Spec car take the win after a near-miss this year," he said. "A big congrats goes out to our friends and customers at Grip Racing captured 1-2 for Spec E46 in a field full of cars from multiple manufacturers in this new class."
Coming off an incredible result with the debut of a new car, Boicelli's already planning for next year's 25 Hour.
"Now I have my sights on making it two-in-a-row…" he said with a big smile.
DRIVER QUOTEBOARD:
Lance Boicelli: "My drive it was bitter sweet. The start and opening lap was magical as I was able clear several faster cars within the first couple corners. However the difficulty of getting to terms with driving the car had me falling behind our competitors rather than putting distance on them like I have done before. My later stint was intended to avoid the start of the rain that was anticipated. Again that didn't play out as expected. Halfway through my stint I encountered some light rain, adding to my past rain experience that has left me lacking confidence under such conditions. I managed to gingerly navigate the car on slick tires with a damp track. It was pleasing to find out from James Colborn that I was able to recover some laps on our competitors by staying out and that my consistent pace was nearly matching those on rain tires. Then Clay proceeded to move us up the order as the heavier rain fell. From there everyone did an awesome job keeping the car on the track, clear of incidents and penalties, allowing us to finish 10 laps up on second-place car. In a word, spectacular."
James Colborn: "This weekend for me can be summed up in just one word: amazing! It was a fantastic team effort, on and off track, from such a great bunch of characters. The car was super fun to drive in tricky and changeable conditions. I really have to commend the preparation of the car. Zero mechanical issues over the length of the race is testament to the quality of build and quality of components. I am hugely grateful and honored to race with this team and winning E0 is, as said, just amazing! We're already thinking about defending the win next year."
Cameron Evans: "Red Line has worked very closely with BimmerWorld over the past 10 years, so stepping as a supplier and sponsor for this truly-grassroots team was an honor. Lance once again trusted our recommendations and the products worked flawlessly. As a driver, the level of support and coaching amongst the guys was unprecedented. The car was physical to drive, yet very responsive, quick and not too thirsty. James Clay and I have been trying to win a big one for a while and this was it! Can't thank the team enough for allowing me to be a part. It was a very special week."
Charlie Postins: "What made this win so special? An error free run under very challenging conditions. The car did not have one single mechanical issue or concern. Given what had to be accomplished on Thursday and Friday alone made this an extraordinary feat. The same can also be said for the pit crew and the driving team. Obviously James put us in a position to win but all six drivers had to put in solid stints to beat the very stiff competition and that is exactly what was done. In fact I do not think we had as much as a spin or the slightest contact. If you know the event you know will how hard that is to do! This was the definition of a team effort and I am proud to call myself part of that team."
Dale Sievwright: "When I talked to Lance earlier in the year I let him know that I was possibly going to accept a ride with one of the teams with a Porsche Cup Car. I told him I would be a busy guy because I love driving with him so much that I would do double duty. I ended up declining the other ride in the end and it couldn't have worked out any better. Once he told me James, Cameron, Charlie, and James were coming on board, I knew it was going to be special. The moment we all arrived it was magic. No bickering or arguing just set our goals and went to work. I have never seen drivers do this much work on a car. Usually we sit around and the crew guys do the work. Whether it was cleaning bodywork, applying stickers, bleeding brakes, or wiring cameras and radios, it was all done right. My favorite moment in the pits was seeing Clay upside down working on the pedal assembly for about an hour each day! The best memories were the encouragement and the confidence we all had in each other. All I can say is James Clay is bad fast in the wet and Lance builds a great car."