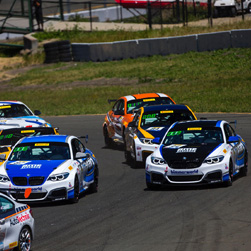 Coming off the team's first win in the SRO TC America Championship at Sonoma Raceway in June, Copart/BimmerWorld Racing heads into Portland International Raceway this weekend with high confidence and great BMW racecars for drivers Cameron Evans and Chandler Hull.
Evans led flag-to-flag from pole position to take his first professional win at June's Sonoma Raceway in the Sunday round, the sixth of 16 on the schedule. Hull placed fourth in his debut at the challenging circuit, as well as picking up the Hard Charger and Fastest Start awards from the series. The duo now sits fourth and sixth in the championship points standings.
Both drivers recently returned from Germany, where Evans took part in his second Nürburgring 24-Hour race. Hull completed his first RCN time trials, gaining experience toward his Nordschleife A-permit and his upcoming debut in the VLN Series in August with the Sorg Rennsport team in a BMW M240iR.
BimmerWorld Racing president James Clay said, "In one sense, we're a new team with new cars, new drivers, and new to the series, but our Copart Racing effort falls under our multi-decade BimmerWorld team that competed in World Challenge Touring Car during the 2003-2009 seasons. We're extremely familiar with a range of modern BMW racing platforms, and it's been cool to see our work translate into results so quickly this season. These M240i Racing machines are a known quantity, and we think we have a nice package sorted out at this point, validated last round with our first win."
"Portland is a historic track. I love the layout, and we have many friends and fans in the area," Clay continued. "I'm excited to return. This is a super-competitive class, and we've improved our results every weekend, so I'm eager to see what the boys can get done this weekend."
Pre-race Quotes Follow
Cameron Evans, Ketchum, ID, driver, No. 82 Copart/BimmerWorld BMW M240iR:
"Getting my first pro win was very satisfying, especially considering Sonoma is like a home track for me, and I was surrounded by family and friends. Even my dog was there! We were quick, and that pace should carry over to Portland where Chandler and I both have experience. The Rose Cup weekend is coming back in prominence, and we want to keep this points momentum in the championship."
Chandler Hull, Dallas, TX, driver, No. 94 Copart/BimmerWorld BMW M240iR:
"Sonoma was a great weekend for our team. It was my first time there, and thanks to our Copart/BimmerWorld guys, I got up to speed quickly and had a solid weekend. My teammate, Cameron, got his first pro win, at his home track nonetheless, and our team continued to show how great they are. I'm excited for Portland this weekend. I did an endurance race there, and we're looking to carry our momentum with us at such a historic track."
FOLLOW BIMMERWORLD AT: https://www.facebook.com/bimmerworld
STAY UP TO DATE WITH BIMMERWORLD NEWS AT: http://www.bimmerworldracing.com
ABOUT: BimmerWorld is renowned as a leader in BMW aftermarket and tuning expertise. It competes in the IMSA MICHELIN Pilot Challenge series in the Grand Sport (GS) class with a BMW Motorsport M4 GT4, where the Virginia-based outfit has become a winner and championship contender. It was also the Street Tuner champion of that series in 2018. 2019 also marks BimmerWorld Racing's return to the SRO TC America Championship in the Touring Car (TC) class with two Copart-sponsored BMW Motorsport M240i Racing cars. Additional sponsorship comes from Lund International, OZIUM Air Sanitizer, Cyclo Industries, Red Line Synthetic Oil, Lifeline Fire and Safety Systems, AMP Research, and Performance Friction Brakes.