BimmerWorld's BMWs Dominant at Sebring But Settle for Less
March 20th, 2017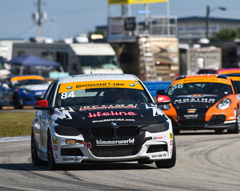 BimmerWorld Racing team owner/driver James Clay led every lap of the first half of Friday's IMSA Continental Tire Sportscar Challenge race at Sebring International Raceway in the Street Tuner division after qualifying second, just 0.182 off the pole. He was able to stretch his lead to over three seconds at one point. Unfortunately, a problem adding fuel to the No. 84 OPTIMA Batteries BMW 328i (F30 chassis) around the halfway point caused the entry to have an extended pit stop, taking 2:01.695, and Clay's co-driver, Tyler Cooke, started his stint from 13th place. Cooke then produced a drive that was equally as amazing as Clay's had been, as he had battled back to sixth place when the checkered dropped at the end of two hours, just 0.035 out of a top-five finish.
The drivers of the No. 84's sister car, Ari Balogh and Greg Liefooghe, had a totally different approach but they were also left wondering about what could have been with their No. 81 Powerflex BMW 328i. Balogh started 14th in class and kept the car out of trouble during his stint, advancing into the top 10. Their car's pit stop at the halfway point only took 1:28.595 seconds, and Liefooghe started his stint in seventh place.
With 51 minutes to go he cracked the top five on lap 25, and one lap later he passed a Porsche for fourth. Liefooghe stayed in fourth place for the next 14 laps until he was passed on a restart with only 15 minutes remaining. Unfortunately, the top-five finish disappeared with just four minutes remaining when the car ran out of fuel, dropping to 15th at the checkered.
The race will be shown on FOX Sports 1 at 10:30 a.m. Eastern time on Sunday, March 26.
The series takes a month off and then travels to the Circuit of The Americas (COTA) in Austin, Texas, for Round 3 on May 4-6.
James Clay, team owner and driver, No. 84 OPTIMA Batteries BMW 328i (F30 chassis):
"Today's race was awesome for me. Being at the back of the GS field on the start, I passed about three of the GS cars and that was enough to provide a buffer for me with the other cars behind me, so I was able to maintain a gap. I felt really good about that, and I felt really good about the car we had under us today.
We had an issue with a pit stop and our fueling; something with the dry break nozzle. We haven't figured it out yet, but the fuel stop was terrible.
We sat there for extra time, and we were fairly confident we got a full load of fuel. The other car had a similar issue. We're baffled and very frustrated that we had one car that ran out of gas.
I don't know if that was related to the fueling issue because we know that we're really short on fuel this year with the fuel tank change and our fuel economy, which seems to have gotten worse. But at least our car finished, and I have to feel good about that."
Tyler Cooke, driver, No. 84 OPTIMA Batteries BMW 328i (F30 chassis):
"We had a really strong car. James led a lot of the race, which is a big confidence booster.
There was a lot of hard driving out there. That's why we race; we race for the intensity, and there was a lot of intense driving out there. It wasn't easy to come through the pack, but they gave us a great car, and we moved up seven positions, which was stellar. You can't ask a team for more than that.
It's really unfortunate for the No. 81 car, because we could have had two very strong finishes, and the team would have had big smiles all around. But now we have to do some homework and get them at COTA. It's going to be a tough race because it'll be hot, and it's really going to test these cars."
Greg Liefooghe, driver, No. 81 Powerflex BMW 328i (F30 chassis):
"I thought we had a really good pit stop. I think we may have been a little short-filled [with fuel], which is why we had a little lower pit stop time than the other guys.
We moved up at that point. The car was super-strong all race long — super consistent. We didn't really use the tires. The motor felt good all stint long.
I'm just really disappointed because we were right there. The other guys were super-strong too, but we were definitely able to mix it up with them.
I think we had a podium car. Whether or not we would've finished on the podium, I don't know, but I think we had a fighting chance."
FOLLOW BIMMERWORLD AT: https://www.facebook.com/bimmerworld
STAY UP TO DATE WITH BIMMERWORLD NEWS AT: http://www.bimmerworldracing.com
ABOUT: BimmerWorld is renowned as a leader in BMW aftermarket and tuning expertise and competes in the Continental Tire Series with a pair of BMW 328is (F30) where the Virginia-based outfit has become a routine winner and Championship contender.
Tags